Reviews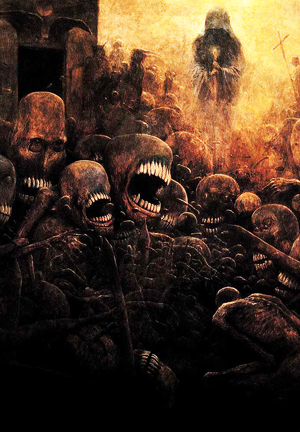 This section is for those interested in sending us music, books, or films for review.  Please note that all items submitted become property of the site. I will not return any submissions.  I accept submissions from anyone whether a PR company or a single person seeking to have their work critiqued.  In particular I have a penchant for the obscure, but MAKE SURE you've given the site a look before sending anything, because far too many times, every week, do I receive things that would never apply. This is the same issue with current exposure.  If a band, for example, has over 10,000 likes on Facebook, look elsewhere.  I'm looking to educate our readers on the unknown, up-and-coming work, and new artists, not something that already has enough press.  The struggle of DIY fills me with joy.  That being said I receive tons of material to review every week, more digitally than regular mail.  I cannot review everything I receive, and focus typically on that which catches my attention most.  I also love negative reviews, so if you can't take creative criticism, contact someone who loves everything and pretend you have worth.  The following is a list of musical genres we cover.  Certain genres are part of general categories, but due to our usual focus, some have been listed separately as well.  If it's dark, brooding, depressing, extreme, hateful of humanity in general, and so forth, chances are I'll review it.
Ambient (all types)
Black Metal (all types)
Dark Ambient
Dark Jazz
Death Industrial
Death Metal (all types)
Doom Metal (all types including Stoner)
EBM
Electronica (all types)
Experimental
Hardcore (all types)
IDM
Industrial (all types)
Metal
Noise (all types)
Punk (all types)
Ritualistic
Synthwave (all types)
Thrash Metal
For films and books we prefer things of an equally dark or extreme nature, but the following genres in particular catch my fancy.
Animation (experimental)
Anime
Documentary
Fantasy
Gore
Harsh Reality
Horror
Psychological Thriller
Science-Fiction
If you feel your music or film fits the genre ideas presented above, submit!  Be sure you understand proper promotion.  The following policies should make it clear.
MOST IMPORTANT IS THIS, IF YOUR ART IS AWFUL, I WON'T EVEN BOTHER WITH IT. Far too many people don't understand the power of good art in selling their presentation. This counts for ANYTHING, especially music! I promote constantly, and people respond when something looks good, as well as sounds. It could be the greatest work in the history of black metal, but I could care less if your art is awful. Thus, EMAIL ME FIRST TO SHOW ME WHAT YOU HAVE.
Email submission is PRIORITY NOW.  In this era of "everything for free" it makes it much easier, in addition to saving you money if I decide your submission isn't worth my time.  Make sure it states in CAPS in the subject line MUSIC/FILM/BOOK (select one, obviously) FOR REVIEW followed by the genre.  For digital submission, use our email: deafsparrow@gmail.com
If you really want to do hardcopy submissions, PLEASE consider emailing me first because of point one above. Even if you don't, please note that hardcopy submissions NO LONGER get priority. I review what first looks good, then sounds good. I receive approximately 1000 new promotional emails every week, so only the best get my attention, regardless of how it's submitted.  I do accept ANY form of hardcopy submission to review, though.  That includes cassette, vinyl, comic books, VHS, DVD, etc.  Try not to get too freaky with floppy disc, or the like, though I can review such material, believe it or not.  To submit hardcopy, use the snail mail address: Deaf Sparrow PO Box 5721 Charlottesville, VA 22905
DO make sure you have samples online.  For music I expect Bandcamp or Soundcloud.  Youtube is NOT preferred, but manageable.  For films Youtube clips or trailers are preferred.  Anything else I don't bother with, and WILL NOT REVIEW YOUR SUBMISSION.
DO have an online presence.  I expect anything I review to have a presence on Facebook.  Any of my reviews are about promotion, and regardless of how underground you are, how can you promote yourself without at least a little presence?  If you don't have a Facebook account, I most likely WILL NOT REVIEW YOUR SUBMISSION.
However you submit, please try to make sure you provide a decent biography of the band, artist, filmmaker, or author in question, as well as a short explanation about the work you want me to review.  It makes it a lot easier for me and saves fact-checking.  A single, one-sided promo sheet is plenty in most cases.
If you've submitted hardcopy and haven't received a review within 2-3 months, email me.  Chances are I'm either slammed with promo submissions, or, also possible, I simply didn't like it enough to review.  If you're worried about spending money on something I may not like, send digital samples for our approval beforehand, as mentioned above.
If you've submitted digitally, it can take me months to get to your submission.  I scan through them quickly for material that catches my attention, and discard the rest.  If you don't see something on the site within typically sixth months, I probably passed it over for something else.  That's the harsh reality of digital submission.  "Everyone's doing it" has become a disease, but it does work faster.