Thantifaxath: Sacred White Noise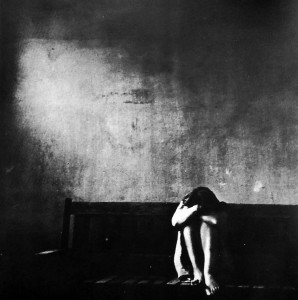 *Insert catchy, hook here to draw in all the interested readers and make this paragraph easier to begin" Thantifaxath are a trio straight outta' Toronto, Canada who wear long hooded robes on stage to remain anonymous. So far, they have only released an E.P. and this album, Sacred White Noise, will be released April 15th by Dark Descent Records. The best way to describe their sound is discordant, piercing black metal. Not quite as dark and horrifying as Abyssal or Portal (Hell, nothing in metal can really compare to Portal's video of "Curtain") but as the album name comes into effect and can only be understood as being lighter yet still blistering. Take that how you may but it the the immediate feeling that comes to mind.
Sacred White Noise is six tracks long with most averaging around 7 minutes except for the last, "Lost in Static Between Worlds," which is around 11 minutes. The guitars here are exceptional and do an amazing job creating atmosphere. The precision is phenomenal and really stands out as some of the more well-crafted black metal riffs that have been released so far in 2014. The bass, oh lord the bass. Bass guitar in black metal is so often overlooked but god damn it is here and if any of you have read my past reviews, you know I loathe an absent bass guitar. The added atmospheric effects/noise/industrial toots and horns do a lot to make this atmosphere even more desperate to match the feeling invoked by the album cover and the song titles.  Most of these added effects are at the beginning of each song which is a pretty good way to start the track off and encompass an entire track, "Eternally Falling."


The vocals do a fine job as well, but don't have much variety, which is kind of expected with a black metal release. Maybe some low growls would have spiced things up but no real complaints here. The drums are also fantastic and even have some interesting snare patterns that add some chocolate chips to this vanilla pudding (vanilla cuz white noise). The only issue with this album is at times, gets a bit repetitive. This is noticeable on "Panic Becomes Despair" and the last few minutes of "Lost in Static Between Worlds." It isn't a huge issue but moments like in "Where I end and the Hemlock Begins" where they take on a slightly slower approach halfway through the song with some more melodic guitars should be more prevalent throughout the album. Hell, on one track they had a brief guitar solo which was purdy good.
Besides some minor problems, this is a great album that will surely make its way on to popular metal forums and blogs upon release and hopefully you'll be seeing some hooded figures on a stage near you because it seems they're already doing some touring with bands such as Castevet and Pyrrhon. They don't have a Facebook but hopefully you can pick up their CD from Dark Descent Records where they have works from Corpsessed, Father Befouled, and Gravehill so you can pick up a pile of good CD's and shirts. Their Bandcamp only has their E.P so you can also try that route (see link below).
Thantifaxath Bandcamp (From Mediatree Recordings)
Written by Cole Olson
Thantifaxath: Sacred White Noise
Dark Descent Records
4.5 / 5