Windbruch – No Stars, Only Full Dark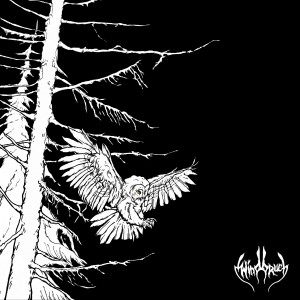 There has been a lot of bullshit coming out of Russia lately – Russian military missiles, caviar, Putin's pubes, Putin's dumb fucking face, Putin's sad, wimpy dick, Putin's pungent asshole, etc,.. Fortunately for everyone not in Russia, there is good news; Russia can produce good music from time to time and Windbruch's No Stars, Only Full Dark, happens to be a gift from a country dominated by some of the worst politicians alive (note – not dead or ever). We don't need to tell you the Russian landscape as it is nearly as big and as popular as your mom (OOOOOOH). You can imagine from word of mouth, dirty internet forums, those days where you somehow lose an hour or two diving into Wikipedia, that Russia is a cold, wintry, place and holds the largest chunk of the world's largest biome  (which is the source to a wonderful documentary about it available on Netflix). While Windbruch hasn't explicitly stated that this album is to serve as the atmospheric background to conjurations of conifer forest terrain, they have a message about ceasing our exploitation of the natural beauty of the Earth. Here is their quote on the Bandcamp page:
"The whole album is something like a message from silent space or another reality. It is a sonic message to humanity to stop the exploitation of our home planet. Hundreds of years of war and overconsumption of the gifts of nature can not last forever. The future is coming. The dark future without stars. This concept finds reflection in the novel "Nomads of the North" by J. O. Curwood in some chapters and the cover itself refers to the same novel". 
The weird thing with No Stars, Only Full Dark is that this isn't bleak, atmospheric black metal – not too cold, not too dark, not too lonely or anything depressing. It's more motivating than anything and feels more like those nights where the snow falls slowly, the wind isn't bitter, and the mood is pretty pleasant. Now don't get too caught up in these words because there are definitely both darker and lighter moments on the album but neither linger too long. This keeps a pretty fair balance resulting in no bad tracks – each is very solid and well composed. It's clear Windbruch put a lot of thought into the structure and had a clear idea of what they wanted to do. The transitions are great, there is nothing abused like synths, tremelo picking, or anything else black metal bands like to turn into a beaten dog. The only problem found was the weird chime-y sound in those wind-up ballerina boxes on "No Stars." Initially it was loathed and kind of ruined the song but it grew in time and works pretty well. "Only Full Dark" has to be the best and brings back previously mentioned sounds from "No Stars" making a full loop and ending the "No Stars" and "Only Full Dark" combo pretty well.
If you follow any of us at Deaf Sparrow, you know how much we like to jerk off Hypnotic Dirge Records and how they're a great label. We are incredibly fortunate to receive their support and receive releases such as No Stars, Only Full Dark. Luckily for you and everyone else, all of their releases are currently "Buy Now – name your price" on the Hypnotic Dirge Bandcamp page so please stop by and help them out. Toss them a few bucks, like them on Facebook, be the generous metal fan you want to be.
Written by Cole Olson
Windbruch – No Stars, Only Full Dark
Hypnotic Dirge Records
5 / 5