Nightstick Interview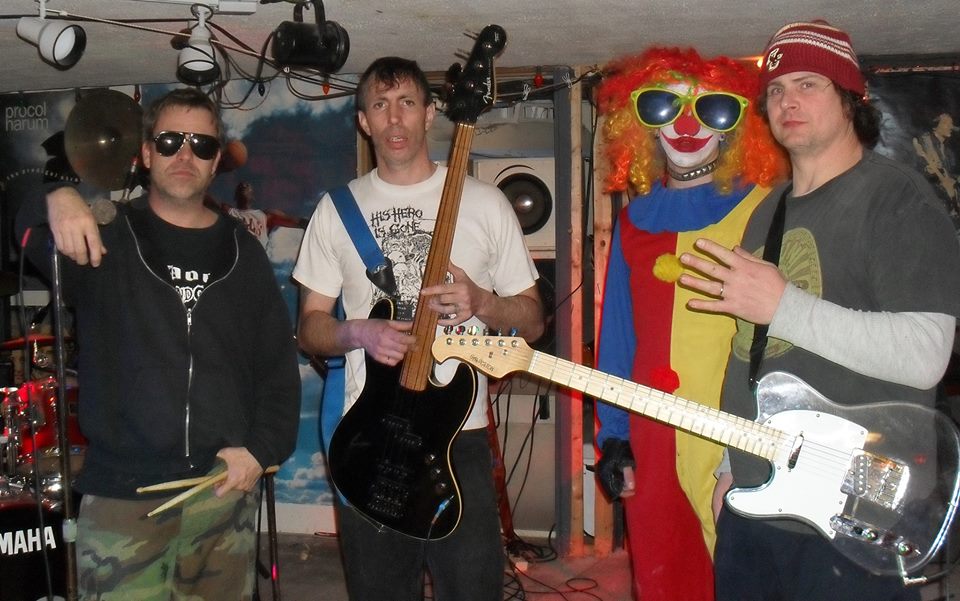 It was an incredible honor to even have the chance to do this, and yet again we're welcome into an online friendship of sorts with Robert Williams, one of the founding members of Nightstick.  He's on the far left above next to Alex Smith (bass/vocals), Padoinka the clown (interpretive dance), and Cotie Cowgill (guitars).  Just like any real underground band, these guys know what it's about, like for real reals.  And people need to get more real about them.  Nightstick is one of the most important bands in the underground today, but their roots stretch back to early-hardcore legends Siege (Nightstick consists of one member of the original line-up), and even some work with Anal Cunt.  But their direction is and has always been much different.  Call it acid rock, noise rock, noise groove, sludge, and you might have an idea  but yeah, probably not really.  Nightstick is Nightstick, leave it at that.  After reviewing their stellar comeback Weymouth Rock + Roll, we here at Deaf Sparrow were given the opportunity to interview Williams and learn some things about Nightstick.  Many details here are, to our knowledge, completely unknown outside of this interview other than the members themselves and perhaps some close associates.  This is a rare glimpse into the history and life of underground legends Nightstick.  All answers have been presented here verbatim, no alteration other than minor typographical corrections.
DS – Most people reading our site are going to know who Siege is, and if not they shouldn't be reading it, so I won't go into the details of that band. Nightstick, however, where did it begin? What were your intentions in its creation (as well as anyone else)?
Williams – I remember reading Spielberg saying he made the movie he wanted to see, an I said to myself 'what music do I really want to hear?" – distorted bass, sick lead guitars like a metal version of Sonic Youth, improve sections – noise like Merzbow but created more organically with guitars and drums…..This became Blotter [Nightstick's first album – editor].
DS – So how did the name Nightstick come about? You mention how Blotter was created, was that the band's original name or did you come up with the album title first?
Williams – Well, 'Blotter' was actually the title of a SIEGE instrumental during the false start with Seth Putnam…no recordings from that era survived except 'Cameras', thank Christ. The music was overcooked, not punk, and positively dreadful – that's one of the things that's been validating for me personally with Nightstick – built something new, from the fucking ground up with some real Weymouth degenerates, Alex, Pud the clown and Cotie…my old friends from SIEGE really didn't fit or deserve the title 'Blotter' anyways..they were more…nerds, smarter. Cotie's the one who did the motherfucking acid, and Kurt Habelt's cousin, a sometimes Nightstick roadie, an autistic bodybuilder named Lee Marshall, who seth produced an album for, in fact…this acoustic improve shit about getting raped in cub scouts. yes, there are many wonderful musicians in Weymouth, truly.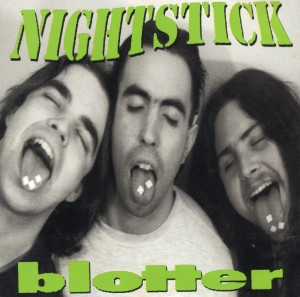 Funny story about this Lee cat, Kurt from SIEGE's cousin…we used to go to concerts, he was taking me to In Utero, and he was wicked quiet driving and I'm like Lee why are you so quiet, and he turned to me, stuck his tongue out, and there were 3 hits of Blotter he was letting dissolve on is tongue…(along with this tan paste of chewed magic mushrooms and saliva…THAT"S where the cover image came from! That plus some mug shots I saw of Action Directe with their eyes closed, trying to recreate that. Also there's some surrealist painting with Dali etc in the border with their eyes closed, these 3 things; the Dada painting, the wanted poster of Action Directe members I saw in Paris in 1987, and Lee, the autistic bodybuilder with hits of acid on his tongue whilst driving. That's where I got the image. But the name Nightstick – I keep notebooks of titles, ideas, and thought it would be a funny name for a cock rock band…always hated cops, got strip searched for pot as a kid and have been…angry ever since. Reading shit like the Black Panther shit fueled it further.
DS – How did Relapse first get interested in Blotter?  Was Cotie in any bands before Nightstick?
Williams – Relapse saw us at Middle East in Cambridge, MA, we used to play great shows with GRIEF…Cotie was a blues obsessed deadhead type guy, who memorized Hendrix and Motorhead riffs and jams…just a natural talent…the kinda guy you could practice your whole life and never play as good as…deeply steeped in Blues knowledge, fingerpicks , delta Blues, plays fing slide – the man's…a great asset and Weymouth Rock soldier…I've seen him on a motorcycle with a guitar on is back to get to a jam…he's the man…
…Habelt, on the other hand, has himself convinced he has a superior ear for audio/studio sound quality – all without playing or recording since SIEGE…it's what I've come to call 'defeatist Perfectionism'…plus I've known those guys (SIEGE) since 6th grade and he had a big water filled head as a kid but a small body…now he's filled out some – Egghead [A song from their third release, Death to Music – editor] refers to that whole chin scratching audiofile 'I'm too smart to rock hard' thing which is just fucking infuriating…
DS – What about some of these stories of people getting cut down with microphone stands and such? How has Nightstick's relationship with other bands been over the years?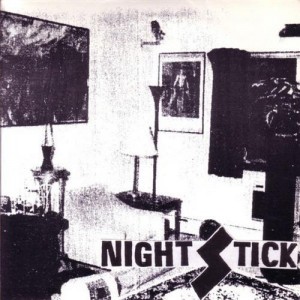 Williams – Yes, stories of violence are uncomfortably true…see, when Nightstick started out, after the In Dahmer's Room 7 inch but before Blotter I hated 'cover bands' (bar bands that play popular songs) I felt there should be original bands booked in our vicinity as in Boston, so I booked Anal Cunt and Nightstick at one of these little suburban battle of the bands and there was a riot where several of the staff had their faces smashed – it was just awful – I even faced charges, was acquitted of course. But it's an attitude – you want to rock, you have proper amplification, and people get…overexcited. That's all. So,…we do it deliberately, because that's what happens when you hear that electric guitar and them drums – it just …happens as an honest result.
Other bands, well, most don't know what to make of us, because we improvise, and make harsh noise and stuff…story of my life. I've always been endeavoring to be…more dissonant, more abrasive and honestly powerful. harsh music comes from your degree of hate, really…in my case, hate for conservatives and right wingers, war, etc. But gave me time in is rehearsal space to start Nightstick…and GRIEF are my favourite band from Boston – it was a real 'scene' back then to play with them. But that dude who you hear cancelling the show on RNR Weymouth [Nightstick's comeback release, Rock n' Roll Weymouth – editor] is from a Weymouth 'cover' band. They just fucking hated me, and I hated them. Nowadays in Boston, there is a turnover of kids in college – bands last 5 minutes; they all seem to wear thrift store sweaters, tennis shoes, have pubic hair growing on their face, knit hats in the summertime, and stretched out earlobes; it's just dreadful. Then the revolving door turns and here's another 'band' ; it has nothing whatsoever to do with rock and roll.
DS – Each of your previous albums, as I mentioned in the review, seem to have this overall sense of a direction to them, a unique presence that ultimately says 'Nightstick'. What were your intentions with each release up to this point (meaning before the most recent)?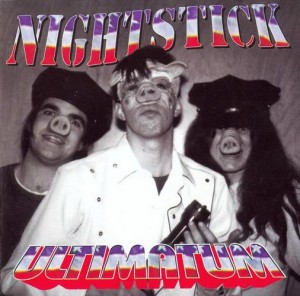 Williams – Relapse gave carte blanche for the follow-up, Ultimatum…an anti-war concept album..this was my journeyman album where I recorded in many formats; live, 4, 8 16, 24 – it's possibly my favourite child – the sax of Jim Hobbes (from Fully Celebrated Orchestra) on the title cut…fing 4 more years…I remember Cotie looking at me when I was laying out the arrangement like 'Huh?' you want me to play that HOW many times? I was like 'Yeah.' Also our cover of "Massacre of Innocence" is one of our heavier moments – but the point of the recording was 2 fold – to record in all different formats, and to make the fucking harshest anti-war statement we possibly could…
Death To Music was a classic rock influenced effort, beginning to become influenced by the magnificence of Cotie's guitar, wanting to showcase it, his riff-ery, his writing, his encyclopedia of classic rock knowledge ability…and also to poke fun at Kurt Habelt of SIEGE on Egghead…re-record 'In Dahmer's Room' for Relapse shit was starting to get real crazy with the various lunatics in the band around this time as well…RNR Weymouth to me combines the accessibility of DTM, and the pummelingness of Blotter. It also has our theme song – a good, good cross section of the aspects of our sound(s)…possibly our crown jewel, also Ummagumma-influenced in that all 3 musicians took a solo piece – all our shit is influenced by 'Saucerful of Secrets' live on Ummagumma in that it goes in movements…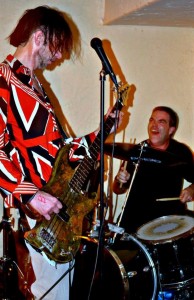 DS – What caused the hiatus before your most recent release? I heard something about Smith being in jail, but unless it was for that amount of time, what else was holding any work back?
Williams – uhmmmm…have a look at the images of Alex on the inside of the RNR Weymouth digipack and you'll begin to understand this hiatus…there wasn't really, though…I did an album on Deep 6 with Kev Mahoney, singer of SIEGE and also 3 Full Blown Aids albums, and a jazz noise thing as well, with Seth Putnam, so it was a productive fucking decadent time throughout…but as soon as Al got out, we rocked anew, and more and more people keep responding…it's just grown like a weed…
DS – What were your intentions for this release? Is this to bring Nightstick back into the fray of the underground? Any plans on touring for the album?
Williams – We are touring now w/ Fistula, first week in sept to start, maybe more later…real big amplification…this is Blotter era deafening harshness. Paying some surprise shit this time too. Pudoinka's psyched – he told me to tell you to greet all of our fans for him…
DS – What are Nightstick's performances typically like? I know, of course, of the clown, what was the actual story behind him (if it can be told)? I've read lots of hearsay online, everything from "he was just some guy dancing at one of their first performances" to "I heard those were the guys who canceled a show because the clown couldn't make it". Who really is he? How integral to your performances in reality or is it something just for live presence and extra craziness?
Shows are like blasts of guitar and improve…the clown does interpretive dance…he is a part of the band and Weymouth family and hangs out smoking weed dressing as he dresses…we love him for him…of course we can't play if he can't make it that's like Elton without….Elton.
DS – Anything else to add?
Williams – …well, a lot of the imagery [He is here discussing photographs from their albums. – editor] is re-created from authentic pictures from the civil rights and more militant anti-war movements photographs from American history..the one of me inside of Death To Music is a recreation of a picture of Angela Davis..the back is a careful re-structuring of a shot of The SLA (Patti Hearst kidnappers) which was pulled from the burning wreckage after a fatal shootout with cops…you should compare the 2, it's awesome…but the canvas of the cover is important to me, for propaganda…of activist compassion…if I can also pay homage to those who have informed and influenced and informed my work as a lyricist I've made the most of this privilege to rock.
DS – How about this upcoming LP release of Blotter?  Any new material included in the new package?  Any other future releases in the works?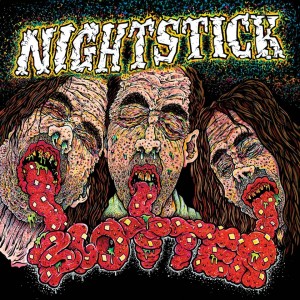 Williams – Nightstick's classic first album Blotter is forthcoming on lp from Armageddon Records in time for you to listen to while you're packing bongs on Christmas, as well as a vinyl edition of Rock and Roll Weymouth coming from At War With False Noise (UK) in 2014…
the definitive version…the sound quality is pristine…Death To Music 2xlp, forthcoming from Ivory Antler, will have the In Dahmer's Room 7″ on it as bonus trx…the archives may be opened for a rarities thing called Cornudopia…perhaps with a film…within the next 2 years I'd say…
DS – Thanks a ton for this interview, man, it was really a pleasure talking to a member of a band that deserves way more attention and whose work continues to confound and disturb all sense of music.
Williams – that's high praise…I am grateful to you….I must move on…too many things…recording more for my anti-war opera Sunday…keep rocking…
Interview Conducted by Stanley Stepanic