Australasia: Sin4tr4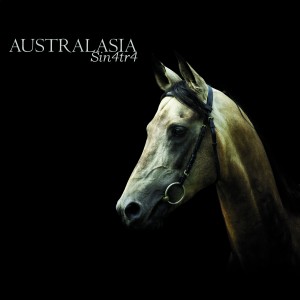 Sometimes artwork doesn't tell you much of anything about a release.  See, that's the problem we have here.  You see something that follows a typical style, say to yourself "aw man some sort of crappy deathcore", you put it in, actually good, hmm looks like we were wrong…  Case in point right here, because the first reaction to this one was: "aw man, what is this, some sort of horse-whisperer folk or some junk, I'll just put this at the bottom of the pile."  Idiot!  You're an idiot, you don't deserve to listen to music anymore let alone review it!.  That was the reaction after putting this in, because Australasia is not just the region of Australia, New Zealand, and New Guinea, it is a way of life, and a band, this band, from Italy.  Forget the horsies on the cover, this stuff kills.  The band calls itself "a childhood spent listening to Ennio Morricone soundtracks", but let's skip the film reference, just like the horses, and stick with the particulars.  Post-rock, post-black metal shoegaze, there you go.  This is the second black metal shoegaze release we've had in the past few weeks, though it leans more towards rock at times with lighter atmospheres, in general, and it's much better.  But, either way, take your tags as you like, because it doesn't take away from the fact that Sin4tr4 makes no sense as album title, but doesn't have to, because it's incredible.
Sin4tr4, we tried our very best, but let's just forget looking it up on the internet anymore, because it clearly means something to the band alone, or we're just not obscure or intelligent enough to figure it out.  Let's just leave that bit a mystery.  In simplicity, for us simple-minded folks, you have here seven tracks running close to 25 minutes in totality.  And it's not nearly enough, God it's not even close to enough.  You're going to need more after this, trust us.  It opens with a light, acoustic dirge with some effects, notable for its eerie melodies that are somehow kept consistent in spite of the utilization of a xylophone in the middle of it, which leads into an absolutely emotional surge of blast beat, black metal catharsis.  And that's basically what you're in for throughout the entire album.
Sin4tr4, as a whole, is an emotionally driven ride.  It's largely instrumental, though there are occasional sections of elegant female vocals that add another tier to the great structure of dominance that is Australasia.  To think that another reviewer out there on another site, both of which we shall not mention, called it a "collection of songs" lacking a fluid connection, causes one to release all the rage within from about the past fourth of a century.  Learn how to type buddy, and properly capitalize might we add.  Some critics should stick to one genre and not bother with others.  Anyway, we're of the completely opposite opinion, because there's clearly a connection in style between the tracks on this release.  Atmospheric, emotional, post-rock/metal darkness that's entirely captivating.  Highlights include, well every song really, but take a listen to the opener "Antenna" or the third track, "Apnea," to get a general feel for these guys, and then after that cry yourself to sleep until they release something else.  Well, actually they did, the old editor just took some time to send this one in a box of other promos…  Anyway, start here, and then move on to Vertebra, which features some of the tracks from Sin4tr4 and was just released this year.  Excellent band, stellar work.
Written by Stanley Stepanic
Australasia: Sin4tr4
Golden Morning Sounds
5 / 5