Fausten: S/T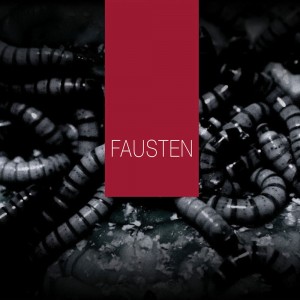 See those worms on the cover?  They're symbolic.  They're going to dig into your body cavity and intertwine with your intestines, wrapping their way up your veins and nerves until they slowly replace your brain and leave only a trembling mass of fetid earth-dwellers in its place.  That was our attempt at providing a cool intro that essentially summarizes this entire release, since some people are too used to the Twitter to read more than a sentence anymore.  We work hard on these damn it, take the time to unwind and engage your reading abilities.  So anyway, here we have Fausten, which is essentially a collaboration consisting of three members of the underground: Monster X (a professional in radio and TV sound as well as an electro-breakcore musician), Stormfield (general head of Combat Recordings and an audio-visual artist), and Emoresh, a Paris-based extreme filmmaker and photographer.  We've had a lot of collabs pass through our hands, but few of them really proved the concept was viable, in fact most of them sounded no better than taking a polka bassist, a country guitarist, a hip-hop vocalist, and a witch house keyboardist and telling them to make a thrash metal band that releases a Gregorian chant on floppy disc.  Suffice to say, most collabs are more divisive than anything, and then to break that monotony we get Fausten.  This self-titled release is their first project, but hopefully not the last.
Fausten again proves that Ad Noiseam is run by some sort of musical god.  Really, we need an explanation to the mystery.  Either the guy has so much street-cred in underground electronics that it's just assumed you'll go to him for publication because there's simply no alternative, or he has some sort of incredible list of connections that will slowly funnel all good electronic talent into his arms.  Otherwise, there's no way to explain how we have yet to come across something released under the label that isn't at least a '4'.  You could practically review anything Ad Noiseam sends with a 4 and never risk your journalistic integrity because there's no way, absolutely no way it could be lower.  So for future notice, if we need to save time, we'll just score it as usual and make the rest up.  Fausten is incredible.  The first seven tracks, and the last, are original takes, and you get three remixes that are thrown in there before the eleventh and final track, one which is by Oyaarss.  Can you explain it all with a blanket tag?  Nope, not going to happen, there's just too much here to strip it apart and call it any one thing.
The bulk of this album rests in the original works.  Fausten covers about every possible genre of electronic without losing focus.  You get breakcore, dub, techno, ambient, glitch, a little noise, and you'll never find a second of it tedious.  The beats are sickening, blackened, interlaced with metallic rumbles and electronic insects, and never easy to define because of the dense mixture of approach.  A suggested opener for a new listener would be "Evisceration", which builds on a hollow, silvery snare-hit, a tight bass kick, and sweeps of static turbulence.  The drum build on that one, in particular, is a hallmark of what the sound on most of this album is like, though it should be noted some tracks are more atmospheric than beat-focused.  Either way, Fausten is something that requires several listens to fully grasp and appreciate; you'll find some enjoyable segments the first time through, but each listen thereafter is another layer taken away, to be only replaced by another you didn't realize existed.  The ambiance is particularly engaging, because Fausten does such a fine job of providing a dark backdrop to the variety of complex beats so your brain can go back and forth from a lull into a turbulent whirl.  Excellent stuff, even the remixes have something to offer, which you don't see very often.  The digipack even features a bonus video from one of the songs, which you can see here on Youtube to get an idea of the kind of video work Emoresh does.  Let the worms consume you.
Written by Stanley Stepanic
Fausten: S/T
Ad Noiseam
4.5 / 5