Aenaon: Extance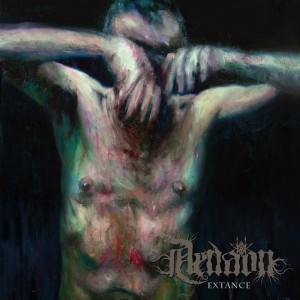 Greek black metal has never really been 'a thing'. Norwegian, Swedish, German, French, Finnish, and U.S. black metal have distinguished sounds and scenes but Greece is one of those countries that really never managed to create a solid metal community. There have been few distinguished bands such as Nocternity, Kawir, Thou Art Lord, Astarte, and Rotting Christ that have managed to survive in a metal-starved country but have never really had mainstream black metal success (except for maybe Rotting Christ).  Now Aenaon has emerged and have become what should be the next big thing from Greece. They have created a sound on Extance, their second album, that is a combination of Shining and Ihsahn. Yes, you read that correctly – Shining and Ihsahn. Aenaon captures the dark jazzy moments of Shining while simultaneously maintaining the progressive nature of Ihsahn.
Extance  is eleven tracks long and starts with "The First Art," which is a decent opener and transitions well into the next track,"Deathgrip Chronicle." The vocals immediately shine with soaring cleans, menacing growls, a melancholic guitar solo, and a wonderful saxophone performance. The sax is slow and sad, but not hopeless, and is accompanied by jazzy drums and a strong bass guitar that descends into a maddening, black vortex like a lunatic, and is underlined by what could only be described as the ghostly whines often seen in depressive black metal acts. "Der Mude Tod" is fucking black. The drumming is amazing and the guitar work phenomenal. Vocalist Astrous is quite proficient in his art with both cleans, screams, and growls and should be well sought after by black metal projects. Watching videos of their live performances, Astrous is able to maintain his quality of screams and growls but the cleans are covered by the bass so perhaps all the credit concerning them shouldn't be attributed to Astrous, but regardless, they sound great. "Closer to Scaffold" is very similar to Shining with an increasingly evil feeling well-accompanied by fantastic musicality. Seriously, these guys are great musicians and very proficient with their instruments.  They don't joke around like some other black metal bands, playing the same chords over and over again, but really deviate from the norm while staying black.  Sadly, since it was just released, you can only check out this sample via Youtube, but enjoy it either way:
The ninth track, "Algernon's Decadence" is slightly over 2 minutes and is entirely piano, which some may consider filler but it adds well to the esoteric atmosphere of the album. The next track, "Funeral Blues" starts off in a bluesy manner and features Tanya Leontiou who has a rather strange voice but it works with the sound of the album. Once again, the saxophone contributes a much jazzier feel but it is a bit overused throughout. If a jazzier feel is desired, other instruments would have been welcomed like a trumpet or trombone. A clarinet might be pushing it but might as well go all out. Extance ends with "Palindrome" which is the longest track at twelve minutes and is one of the best tracks on the album. The melodies are great and the interlude in the middle of the song builds great tension leading to the very monumental ending.
Aenaon have performed a fine feat with Extance. All of the members are fantastic with their instruments, the vocals are crackerjack, and the saxophone is a wonderful addition to an album that could potentially put Greek black metal in the limelight in the future. While at times it seems like the saxophone is overplayed, Extance as a black metal album is refreshing and a great start to 2014. Hopefully in the coming months there will be a lot more publicity for this band as they break 2k likes on Facebook and hit more music blogs.
Written by Cole Olson
Aenaon: Extance
Code666 Records
4.5 / 5