Coil/Nine Inch Nails: Recoiled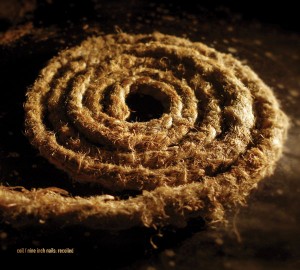 We've previously called the guy running Cold Spring a God.  Now we will refer to him as the thing which created God.  Over the years, whenever we first started to receive submissions as we branched out into ambient, noise, and the like, everything we received from him was a gem.  It seems he has an ear for the dark underground, but at the same time with an incredible sense of familiarity with the scene, evidenced by re-releases of legendary work like Scholl Tegal's Oranur III: The Third and Final Report.  How this guy is able to dig up some of this stuff and get his hands on it is unknown, so hopefully our upcoming interview will shed some light on his powers, though more than likely he'll leave that unsolved.  Anyway, whatever, the guy knows people, and he knows enough to have finally got his hands on the long-rumored and lost NIN The Downward Spiral remixes done by legendary experimental act Coil.  Trent Reznor was actually a huge fan of the band, and it shows in his early work especially, so the plan was simple.  He sent the original multi-tracks and DATs to Danny Hyde and Peter Cristophersen who independently mixed their own versions and then came together for the final work, part of which was featured on the soundtrack for the film Se7en.  The tracks themselves were little more than a rumor, but were released by a dedicated NIN fan on a forum and since then Cold Spring picked them up and added the final, and never-before-heard track of the session and brought it all together for this, Recoiled.




Nine Inch Nails has been through tons of changes over the years.  And in spite of the fact that many have argued he kind of lost his original style after the Downward Spiral era, you can't argue that Reznor didn't push his limits.  It's not so easy to do, break out of what defined you, and his career has always been successful in the process.  NIN's recent release, Hesitation Marks, was actually well-worth the wait, a touch of the old, but some more new.  But many of us, especially those who grew up in the 80s and 90s, have fond memories mainly attached to Broken and The Downward Spiral, and it's hard to argue that those moments weren't his crowning achievements.  The latter stands as one of the most iconic and ground-breaking electronic releases in history, and even after all these years its sound is still more dense and experimental in style, tempo, and structure than lots of the tripe we come across around here today.  And like it or not, it brought it all into the mainstream, or at least got people's attention.  But one of the things that was unappreciated by more casual fans of NIN were the remixes.  Usually you hear 'remix,' you turn the other way, never looking back for fear of being bound into the Hell in which you gaze.  But here, remix is actually something to embrace.  Just look at what Reznor did with the Broken remixes on Fixed to get an idea.  In a word, genius.
So, to have something like this today gets your heart pumping.  You're giddy like a school girl's first kiss and the boy who gave it to her.  Recoiled is only five tracks long, but they have quite an amount of distance to them.  What's incredible here is the amount of familiarity you'll have as a listener if you know The Downward Spiral in even only the most basic of ways.  The sound of the source material is highly evident, but yet altered in such a way as to be entirely different.  The first tear we shed was the amount of material present, hoping for more of a full set before we learned the story of the creation of Recoiled, but this is quickly destroyed by the amount of variety.  Recoiled has ambient vibe, it has beat, it has rumination, anger, energy, even though only three songs have been essentially remixed here to create the five there's enough that it represents the entire album it was derived from.  Beautiful, the stuff of legend, stuff that makes you un-age yourself about twenty-something years, stuff that brings you back to "then" when you wished it was now.  Another impressive release from Cold Spring, and set for shipment in only a few days.  You can still get your hands on the regular vinyl or digipak, but the special splatter vinyl is already sold out, sadly.  Much to our chagrin.  Damn you good music, you have denied us a pleasurable purchase because too many people already know it's worth it.
ORDER/PREORDER at Cold Spring's Official Site
Nine Inch Nails Official Facebook
Written by Stanley Stepanic
Coil/Nine Inch Nails: Recoiled
Cold Spring Records
5 / 5