Dementia Senex – Heartworm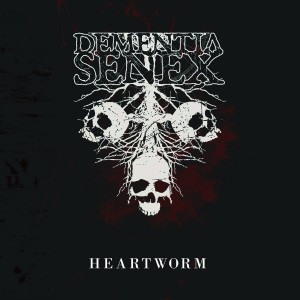 In a strange way, this EP is so, so, so, so refreshing. This winter has brought forth few notable releases to attention leading to a music slump of sorts. This is a light in the darkness. Heartworm is three tracks long clocking a little over 17 minutes and combines death metal, sludge, and post-hardcore into a fearsome creature. The only folks able to tame this kind of monster are the gentlemen in Dementia Senex – an Italian five-piece (sounds like a sandwich) whom have turned the band from a side project into live performing band.  The sound is oppressive with deep, dark guitar chords, strong bass and drums, and vocals that grate your face into the pavement over and over again. They list Ulcerate, Cult of Luna, Gorguts, and Mastodon as recommended bands and it is harder to hit the nail on the head than that. While it doesn't have the abysmal atmosphere and technicality of Ulcerate or the rock influences of Mastodon, it certainly leaves the same taste in your mouth that's something to cherish.
It should be criminal that this EP is only three tracks. If these gentlemen are not working on a full-length soon, hissyfits will be thrown. The guitars – THE GUITARS. As mentioned earlier, they maintain a deep and dark atmosphere but when they bust out the melodic moments such as after the atmospheric interlude in "Unscented Walls," then the volume gets jacked up. They perfectly complement each other and add enough variety and flavor. The bassist doesn't fuck around either. This is one of the few gripes with the album because the bassist is good and isn't just background noise but is just a tad too under-powered. It was a good thing the volume got jacked up from the guitars otherwise he would have stayed hidden, which is never a good thing. It would have been better in the overall sound if the bass had a greater voice. The drums do a great job as well keeping things exciting especially when the tempo increases and the snare comes out in full force. Some drum experimentation would have been pretty cool but this is more along the lines of encouragement rather than criticism. If describing the vocals as feeling like your face is being grated into the pavement isn't enough for you, then there isn't much else that can be said to convince you of this guy's chops. He perfectly captures a violent tone and is just absolutely abrasive. There are just a few moments on "Heartworm" where he intentionally loses the harshness to his voice and it doesn't really click. Overall though, solid performance instrumentally on all parts.
On Dementia Senex's Facebook biography, they've stated in 2012 that they have established a performing lineup and a new sound but it is early 2014 so if new things don't start happening, start getting upset. Heartworm released in April of last year so hopefully we can expect something soon from these gentlemen that will make more than a splash on the metal scene. They're a write-in vote on Metalstorm.net right now for "Best Death Metal Album of 2013," so if this explicit worship isn't good enough to convince you to check these guys out, then Metalstorm should be.
Dementia Senex Official Facebook 
Written by Cole Olson
Dementia Senex: Heartworm
The Path Less Traveled Records
5 / 5