Secrets of the Sky Interview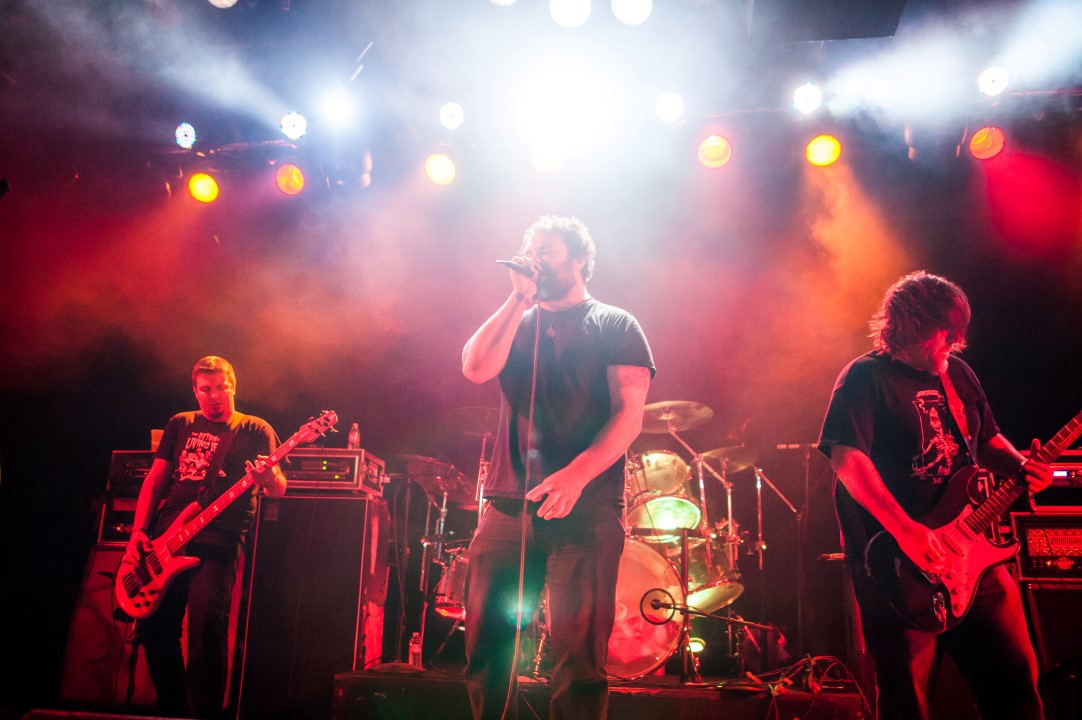 The best part of reviewing metal bands is finding gems here and there that help define and refine your taste in music. Secrets of the Sky with their album, To Sail Black Waters, has become an essential part of my winter playlist. With a little under 3,000 "Likes" on Facebook, they are still relatively underground but as you will see in this interview with Clayton, guitarist and keyboard duty, these guys have some big plans in the next year so expect to see them grow in popularity and don't be surprised when they start showing up on your newsfeed and metal forums.

Deaf Sparrow – Tell us a bit of history about the band. How did you guys meet? Is there special meaning behind the name, Secrets of the Sky?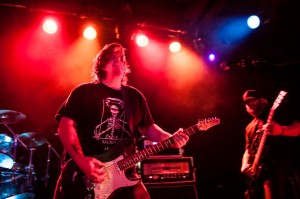 Clayton (guitars/keys)
: Chris (Anderson, guitars/keys) and I have known each other since we were in high school. Around 2009, we touched base about getting together and jamming, as both of the projects we had been involved in had fallen apart and we were both bored. So we started jamming… recording stuff and sending it to each other to work on, that kind of thing. Around 2010 we had a pretty solid idea of what we wanted to do and we talked to Lance (Lea, drums) who Chris had known for awhile. He was down and the three of us just wrote a lot. We went through a bunch of bass players who came and went, but eventually we had enough material to lay down most of the music that was to become the album. We recorded it and then went looking for a singer. Garett (Gazay, vocals) was the first guy we listened to and we stopped looking right then. We added Andy (Green, guitar) to fill in and allow us to pull off the record live. There are tons of guitar and keyboard layers, so that helped. Andy has since added quite a bit musically to the new material we are working on. We solidified the line up with Ryan (Healy, bass) just prior to signing with Kolony Records. The name itself is part of an underlying story that we are slowly unfolding of the course of several albums.
DS – Your sound is often labelled progressive blackened doom. When you gentlemen formed Secrets of the Sky, was this genre what you guys had in mind or was it fleshed out in time? Any specific influences that led to this creation in sound?
Clayton – No, we didn't have genres in mind really. We still don't. I think we knew we wanted to write dark, cinematic music and I think that is what we did with the first record. We played around for a couple years getting it right. When Garett joined, he added a new dimension to the music with black metal influences and just in general. I would say we had horror movie soundtracks in mind as a major influence, but we never set out to sound like any other bands in particular. In fact, I think we make a conscious effort not to listen to other bands when we are writing. Just trying to do something different, something that is ours. As far as labels and comparisons, our PR guy probably started with a few to help give people a ballpark idea and after that, reviewers would make their own comparisons and some of those have stuck. We have never publicly compared ourselves to anything though. We try to avoid naming influences as well because we are all into totally different stuff.
DS – What was the creative process behind To Sail Black Waters? Is there a specific theme or concept behind the album? How long did it take to create the songs and record the album?
Clayton
– As I mentioned, we wrote for a couple years and really took our time with it. There are certain themes and concepts that run throughout the album and certain themes and concepts that we will continue to touch on over the next few albums, but we tend not to really go into it too deeply in discussion. It is always more rewarding for me personally to connect with an album and its lyrics and try to put the puzzle together myself. I don't see the point in just telling people the meanings behind a semi-abstract piece of art. I think you lose a lot of the mystery and the appeal when you do that.
DS – You guys recently released a video for "Decline". Could you explain the concept of the video? How was it like recording the video? 
Clayton – That is another one of those things where we would rather have people tell us what it means to them, you know? It is definitely open to interpretation. I think some things are pretty obvious about it… the contrast between light and dark, the duality of man, etc. Shooting the video itself was a great experience. The director, Andrew Nethery, is a really talented guy and super easy to work with. We drove down to Palm Springs to film the performance shots in the summer and it was 110+ degrees. It was insanely hot and we were all pretty fried by the end of the shooting, but it came out really nicely I think. All the rest of the footage was shot at a later time, but we discussed the entire treatment well in advance. I think he took our ideas and did a fine job of executing them.
DS – As a Minnesotan, Oakland might as well be on the other side of the earth. How is the music scene in Oakland? Does metal thrive or suffer?
Clayton – Oakland has a pretty rad heavy music scene… we get a bit spoiled though because every touring band that does the west coast stops through. It can be hard to get people out to shows simply because there is so much going on, so many bands, so many clubs, etc. At least that is my opinion. It's cool though, I would rather it be this way than live somewhere remote that doesn't see much action.
DS – Any members of Secrets of the Sky want to make a shout out to any side projects?
Clayton – The only dude that plays in another band is our drummer Lance. He has been in a band called Scorched Earth Policy for a log ass time. Their guitar player, Mark, also plays bass in Acid King.
DS – Any plans for the near future such as tours, festivals, or potentially even recording a new album or E.P.?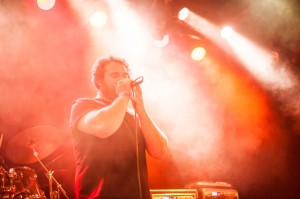 Clayton – Lots of stuff going on actually! We just finished up recording a new song that will be released in May/June on a split 10″ vinyl and cassette with our friends in Godhunter from Arizona. We are touring in March/April through CA, OR, WA, ID, UT and CO. We are also going out again with Godhunter in June for a few weeks. We got asked to play Doom In June Fest in Las Vegas which should be rad. There is another fest we are doing in October, but I can't mention it yet. Oh ya, we are going back into the studio in August to record our second full length as well. Just trying to stay busy!
DS – Clayton, what are your top 5 albums of all time? Top albums of 2013? 
Clayton – Oh man… in no particular order: Godspeed You! Black Emperor- Raise your skinny fists, Dead Horse- Peaceful Death And Pretty Flowers, Robin Trower- Bridge Of Sighs, Pink Floyd- Atom Heart Mother, Led Zeppelin III
DS – Of 2013?
Clayton – Ulcerate- Vermis, Northless- World Keeps Sinking, Before The Eyewall- S/T, SubRosa- More Constant Than The Gods, The Ocean- Pelagial
DS – What is the worst place you have had to stop and get food on a tour?
Clayton – Probably Denny's.
DS – What are your thoughts on people downloading music for free?
Clayton – I think it probably helps a band like ours to gain some exposure… the folks who dig it hopefully decide to spend some cash on physical versions after hearing it. If you are a band that sells a lot, it's probably a different story.
DS – Current thoughts on the current metal scene?  Getting better or worse?
Clayton – I think it is pretty rad. At least the bands and artists I choose to pay attention to. I wouldn't call myself a metal dude really because I don't follow a large percentage of "metal". But I think the diversity is a positive thing.
DS – Biggest guilty pleasure?

Clayton – Watching football.
DS – If you could fight any person – living or dead – in an MMA match, who would you fight?
Clayton – Ghandi.

DS – Again, thanks for taking the time to do this interview. 
Clayton – Thanks for taking an interest, it is our pleasure!
Interview Conducted by Cole Olson