Interview with The Teeth (Not Those Indie Guys)
With all the post-hardcore and hardcore mess we tend to receive around here, it was inevitable that we at Deaf Sparrow would receive a submission from a band that was one, not French, and two, good.  That would be The Teeth, whose second full-length we reviewed a few weeks ago.  With a new tour coming up this summer, including a stint at the Launch Music Conference in Lancaster this coming weekend (April 19th), we figured it good time to dish out this review we did with them for a little press push.  If you check out their official Facebook page you'll even see they're debuting a brand new track, the event for which we've conveniently linked you right there.  The Teeth gave us hope in American hardcore for once, stuff that's not so stuck in its roots that it forgets the rest of the world advanced further.  That stuff can get old, real fast, but this stuff will keep you young.  This interview was conducted with band member Joey.  Live photos featured below the work of Michael Silvestri.
Deaf Sparrow – What kind of background do you guys have in music (classical piano, guitar, bands you liked, etc.)?  Generally like to start with that kind of thing to get a feel for where you guys started out.
Joey – None of us really have any professional background in music. I don't think any of us were taught much of anything past the initial beginning steps on how to play. We've all played in several bands throughout the years. As far as backgrounds of bands we've liked, it's pretty fair to say we've listened to anything and everything from hip-hop to metal. The real fun of this band is that we are constantly influenced by our peers and literally everything we listen to.
DS – How did you all get together? I at first assumed you were that indie band from PA, don't laugh because we actually get submissions like that from people who clearly didn't check out what we even cover.  It's sad the lack of research from some of these bands and labels when they send their stuff out, it really is.
Joey – No laughter here. Being from PA, I can't tell you how many times we've gotten this. There have actually been bands at shows that asked us, "You aren't that old indie band right? There is no way that band is playing a metal show." There's also a Teeth from the Philippines. It's weird for sure but we just loved the name so much there was no giving it up.  We got together from playing in different bands throughout the years. These dudes just stuck it out the most.
DS – How did The Teeth form and why?  Kind of similar to the above, I suppose, but this is more of a "from friends to band" kind of question.
Joey – Well not a lot of people know this, but we used to be an alternative punk band called "A Farewell Rescue." This goes a long way in describing our influences in the past.  [Editor's Note: Purposefully picked this tidbit below.]
Same story, we were best friends from previous bands in the area. John had a small run in "The Nightmare Scenario," while everyone else came from other various bands as well. We had our moments, but we were pigeon-holed in pop punk and our writing was getting progressively harder. We finally just stopped one day and said, "Let's write the music we want to write. Let's put a party thrashy record out and never look back." So it was only natural to change the name. The Teeth fit perfectly.
DS – What is the origin of the name? A very, heh, biting one that really fits the sound well.  I like clever jokes in interviews.
Joey – When we started writing what would eventually become our first EP, Eat.Sleep.Drink., we knew from the onset we wanted our live show to stand out above and beyond how we've perceived bands in the past. We wanted you to have no choice but to bang your head.
The real story about the origin of the name came from John. We've spent many a car ride listening to heavy music and it affects the way people drive. We would joke about the thought of trying to pass someone in a car when they just won't let you over. So the thought would be "show them your fucking teeth." They'll let you in. It just stuck with the feeling we wanted to convey to people in our music. The kind of stuff that makes you head bang with a feverish grin. I don't know about you, but I personally don't get that feeling from the other indie "Teeth" bands, haha no offense of course.
DS – What can you tell us about the PA hardcore scene? I'm originally from Latrobe myself, but back in the day we really didn't have "scenes" so to speak, it was more like a bunch of different bands would get together. Any time there was a straight genre show it always seemed to consist of bands in areas where such things existed. Maybe it was just the time, but then everyone kind of stuck together and played whatever without really caring. When hardcore started people around the area called it "fake metal" and such, and then it caught on and was another thing. How about where you guys are? How are you taken in the scene there?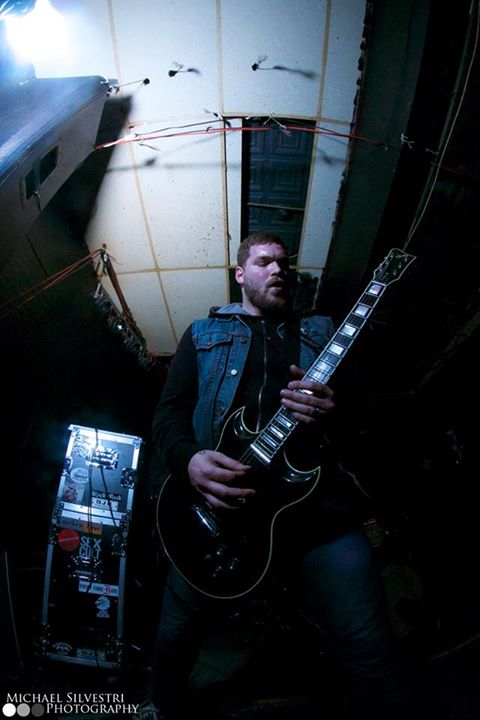 Joey – I think we'd agree with you on that. We're technically from Northumberland, PA. No one knows where the hell that is. We live close enough to Williamsport and some of us work there. We've just taken to calling it our home at this point. You're right in the sense that the shows in central Pennsylvania are really mostly a bunch of bands thrown together. It's less a scene around here with bands that are of the same genre and more of a community outlet.
That's not to say there isn't a hardcore scene, because there certainly is. There are plenty of Pennsylvania hardcore bands that are ridiculously good, Menace, Benchpress, Black Mask, and Full of Hell to name a few. When it comes to how we are taken, I think that it has a lot to do with the community I mentioned earlier. The majority of our support comes from friends we have and friends in bands. At home, as far as when we play shows, a lot of times people can take it or leave it. I'm not sure if that's from years of trial and error with local startup venues, or the fact that we aren't really traditional hardcore in a sense.
DS – What about influences? Your sound has a pleasant touch of old hardcore, but you've got quite a number of post elements in there that bring it up to the next level. Deliberate or just what you do?
Joey – Our influences are all over the place. The Bronx, Glassjaw, Refused, Pantera; the list could go on and on. I think our sound is just what we do. Of course it's easy to say that, but we don't really try to sound like anyone in particular. We all have our different influences and inspirations, but it's natural to yearn to play what you love to hear.
DS – What is your current touring schedule?
Joey – We just got back from a small run with Black Mask. We are hoping to hit the road in April again and tour throughout the rest of the year as much as possible.
DS – How has fan support been live and via the internet?  The internet's really revolutionized how these things work and how smaller bands can get heard, we can't stress that enough around here.
Joey – Live, our support has always been great. We show up and give it our all for a full set and people, at the very least, respect that. Internet support is good, but it's hard for us to measure accurately with the ever changing face of social media. You have to stay on top of every outlet as much as possible.
DS – Are you currently working on any new material? If so can you give us details?
Joey – We are actually. This month we are headed into Atrium Audio again to record a few new tracks. We want to get new material out to people and are hoping to release a new single some time in April.
DS – What are your intentions for the future?
Joey – Tour tour tour. Drop another record and tour some more. It has always been our goal to get out to as many people as possible and generate some interest to get onto a bigger tour to a larger audience. We can only hope that's what's in the cards for the rest of this year.
DS – Any plans on touring around the US or other countries? When?
Joey – Well this past summer we did a run through Canada with our dudes in The Greenery. The overall response to our music was a pleasant surprise to us. We would love to go back as soon as possible. We are also itching to get over to Europe but we have to see what makes sense after our studio time and April touring. The sooner the better; we say.  Thanks for the opportunity man! We really appreciate it.
DS – And mega thanks to you guys to revitalizing our hopes for American hardcore, post, past, whatever man, thanks a ton.
Interview Conducted by Stanley Stepanic