Devoid: The Invasion EP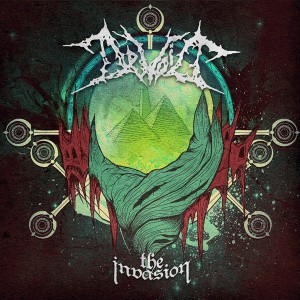 Only the truly knowledgeable of us know that India produces death metal.  And only the truly underground of those who are knowledgeable know that India can produce good death metal.  It's sad because several of their homegrown power teams are actually quite good, others not so much, but that's to be expected anywhere.  Transcending Obscurity came to us with this, Devoid's 2013 EP, several weeks ago, and though we really need to pay attention to hardcopy submissions around here, couldn't pass.  We're not going to go into a history of Indian death metal here.  For that you can read this awesome first-person experience, or check out this more moderate piece written in a general sense.  Now that we let someone else get the history out of the way, let's move on to Devoid.  Devoid has a beast following, and just looking at their Facebook page (if not bloated through fake likes) should be enough to prove that Indian death metal isn't simply some sort of weird desire to be western, it's influenced from abroad, sure, but in many ways it's homegrown and moving into its own territory.  That's largely what you'll begin to find in The Invasion.  Devoid rip, but they need some more of their own identity before they can break the chains that most Indian death metal bands are facing today.  Hell, these guys were even nominated for a few awards via Rolling Stone India in 2013, but it's not yet enough to escape the metal molds from which they're formed.
The Invasion has an absolutely awesome intro, no doubt, though the whole alien thing with pyramids is a little annoying.  Experimental, atmospheric acoustic leads into the title track and yeah, great stuff, in fact it's probably the best track on the album, but trust us, that's not saying anything less about the rest of it, it's just the most unique.  That brings us to the le metal.  Devoid play a combination best described as death/thrash (add more slashes and titles should you choose) with technical solos and some elements of the whole revival thing.  So after the intro, which also reappears for a few moments as an outro, you're treated to some finer riffs.  Devoid command the riffs, they call upon various gods/goddesses, or in this case aliens, to command the riffs.  The riffs they command do their name little justice and turn them into a contradiction.  That's the good thing these Indian boys have going for them, superb writing skills.  Skills with a 'z' even and stress on 'kill.'  Make that killz.  Devoid present some stellar chugs and riff action here, taking the chug to the necessary level to keep it away from banality of the chug for the sake of nothing else to do.  Considering this is only a small sampling of what they're capable of, it's very impressive.  Each track has tons of memorable material, though, unfortunately, it's quite guitar-heavy.  The drums keep tempo, the bass is there, somewhere, for background, and the vocals do their thing, which brings us to the main complaint.
For all of the riffing from out of space, The Invasion fails to truly invade and finish off the human race.  It's kind of like any of the various alien-invasion novels from the history of sci-fi where the aliens fail, take The Pupper Masters, for example.  The aliens come, they devastate, but then they falter because of their own design, and the human race goes on like before eating its burgers and fries, or in this case some chaat.  For all the spectacular space madness these riffs offer via the skilled hands of Devoid, there's absolutely nothing new here, at all.  It sounds awesome, please, don't forget that, but it's nothing you've never heard before.  It's something you've, in fact, probably heard more times than there are alien invasion novels.  Additionally, since the bass and drums are mainly doing their required job, the vocals really, and we mean really, needed to pick up the slack.  But they're very cut-and-dry.  Drier than the desert with the pyramids on the cover.  The lows lack stomach-depth, and the majority of the lyrics are delivered using scratchy thrash throat, which honestly fails to achieve that awesome demon rasp like you'll find in lesser-known bands such as Blessed Curse.  Coming from India, this is definitely upper-tier material, but Devoid needs to push themselves to achieve greater, more creative music; give the bass and drums their proper due as separate instruments, and the vocals more layering and development.  Once they get there, first India, then the universe for these guys, the potential is there.
Written by Stanley Stepanic
Devoid: The Invasion EP
Transcending Obscurity (Distro, Self-Released)
3.5 / 5