Nocturnal Breed: Napalm Nights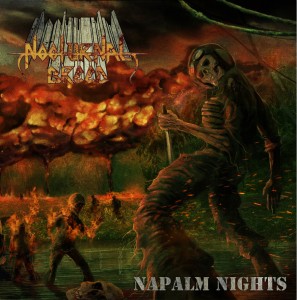 We've encountered this whole retro thrash thing a number of times over the past few years, in fact you're probably sick of us saying that, but there are a couple of worthy bands who were doing it before it was cool, or before it was considered retro.  How can something even be retro if it was simply there to begin with?  When does retro truly begin?  Is it one,or two full decades after the "end" of the original movement?  Can't we all just drop the retro tag?   Hey, we know, we're guilty of pulling out the term, but sometimes you just have to chuck it to the side and call thrash for what it is, thrash.  Nocturnal Breed has been around since the mid-1990s, but they haven't released a full-length since 2007, so imagine our surprise when this beauty popped in the mail courtesy of Agonia Records.  Sadly took some time before listening, primarily because of the huge influx of hard copy promos recently, but let me (editor) tell you right now, right God damn now.  There is nothing better for a long car ride into walls of flame, roasting meat with gasoline, shooting fire extinguishers with an AK, or anything else beefy, than Napalm Nights.  Get out bullets and put them in anything that can fire and shoot them into anything that can explode which is not living.
All this thrash going on, all of it, can get stale, old, tiresome, it can get so stale the leather crumbles and the studs hit the floor and get swept away in the wind.  Not here, not ever.  Listening to Napalm Nights is like applying a fine oil to that leather and those studs, the most organic of extra virgin olive oil made by foot-stamping it in a wooden barrel aged over a hundred years and refined with omega-3s.  Once you listen to this one, a shimmer grows over you, you glisten with the glory of true thrash, you burn the eyes of the fallen with your luster, and you cast them to the ground with various, small puncture wounds in a real pit, none of that self-flagellation, arm-swinging foolery.  Nocturnal Breed is here to awaken you to the presence of the thrash.  Awaken, be free.  And let us get back on track and talk about the actual God damn album for once.
Napalm Nights is fitting, because this was first listened to at night and it coats your skin with a deep burn that won't come off in water.  One of the things that's awesome about this hunk of burning oil is the unique riffing.  Nocturnal Breed have pulled out some clearly thrashtastic yet modern plugs for this one, and it's bulked with plenty of bass.  Goodie.  When they need to unearth a stylistic chug, it's there, but when they need to push the envelope, they pack it so tight the damn thing bursts as they push it in your face.  "Thrashiac," for example.  It opens with sick speed chug, and then leads into sickening thrash assault via vocal wails.  There are decades of material they're drawing on here, even the cover art speaks of it, but it's been updated, and it hinges all on the vocals.  Most thrash approaches vocals like it does thrash, banally.  Oddly, that can often be enough in fan circles, but usually not if they're more attentive.  Nocturnal Breed get sick points from us because this is some of the best lyric delivery in modern thrash.  The content is typical, but the variety not.  Wails combine with harsh shrieks, they mix in some minor effects for atmosphere, they layer, they puke, they spray, they infest, and they draw it all together.  It's likely a crime against nature to call this old school, because it doesn't need the retro fad thrown over it. Burn some skin with this one.
Nocturnal Breed Official Facebook
Written by Stanley Stepanic
Nocturnal Breed: Napalm Nights
Agonia Records
4.5 / 5