Anathema: Distant Satellites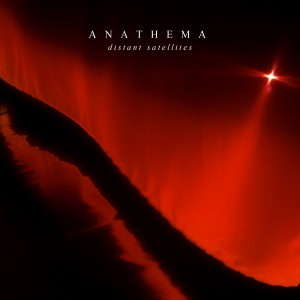 There really shouldn't be an introduction to Anathema – a band who's been experimenting with rock and metal since 19-fucking-90. Their 2012 release Weather Systems won great praise from critics and currently holds an average of 90% from six reviews on Metal-archives.com. Shit, with Distant Satellites being their 12th release, you would think they would run out of stuff to write about but after many, many plays of the album, you'll be pleasantly surprised, hell, even shocked to know that this may be their best album yet.
For starters, pretty much every song on this album is fantastic. "The Lost Song" Parts 1,2, and 3 are like Pudge's meathook pulling you in for an emotional dismemberment. Lee Douglas, the female vocalist, and Vincent Cavanagh, have their best performances and this becomes abundantly clear with "The Lost Song Part 2," which especially tugs at the heart strings setting you off on the feels train. The drummer, Daniel Cardoso, also does a magnificent job at getting some great snare structures in the mix and working his ass off to get an epic feel. The orchestral elements are a lot less dominant than on Weather Systems and there's greater use of keys and electronic/programming/dubstep (HAHAHA NO DUBSTEP ACTUALLY) which really is for the better and is more of a throwback to albums like A Natural Disaster which some may consider one of their finer works. Songs like "Firelight," "Take Shelter," and the self-titled track effectively employ the electronics to create a nurturing, yet experimental atmosphere. The only song where the electronics fail is "You're Not Alone," which is the worst of the album. It feels very IDM and the short amount of lyrics (three sentences) quickly get old and frankly, annoying. Despite this intrusion upon a stunning album, having only one song bad out of ten is nearly impossible these days.
Oh Anathema, how we love you. Truly, we do. The way you treat us makes us feel like trophy spouses. You come home from a long day of work with some great takeout, the latest Marvel movie, and a six pack of craft brews and God damn you know it's going to be a great day. If there were only ways to spoil you guys like you spoil us. Buying your work is great and all but you deserve a giant cake with a quality stripper inside and shots of Jag-bombs at the ready. Keep coming out with albums like Distant Satellites and soon you'll be creating a healthy cult (is there such a thing?) of progressive rock fans. We love you. Don't break up, ever.
Written by Cole Olson
Anathema: Distant Satellites
Kscope Music
5 / 5