The Way of Purity – Equate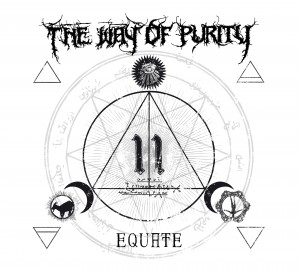 Sent a stack of WormHoleDeath releases to one of our writers to do a nice, giant article on the label, because the guys behind it are awesome, hardworking, and in spite of their underground status really push the promotional level of their stuff and take it with a grain of salt, which is a rarity today.  Accidentally left this one in the wrong place before I sent the stack, so I figured, hmm, might as well.  The Way of Purity has a ton to say about what their music means to them, everything about animal liberation, exterminating the human race while the five elements unite, and they've had experiences with lots of bigger acts like Gorgoroth and Belphegor.  But their sound is much different, and a little surprising at times.  Equate is their most recent full-length, and though we're a bit late in this one, we really don't care about that because of the time put into sending a disc this far, so we like to make sure it gets reviewed.  Their first one, Crosscore, got a ton of hate in the review circuit for its vast blending of genres and lacking a proper atmosphere to back the image, among other things.  Checked out a bit of that one before delving into Equate, and though it's evident what was disliked by some in their previous work, they've come quite a distance by the time we get to this one.
After previous experiences with WormHoleDeath, we are again a bit miffed that they still haven't understood Bandcamp doesn't have to be for digital distribution, it serves as an incredibly useful tool for promotion because we can directly post tracks and even whole albums right in the review here.  Sadly, we have to rely on their usage of Youtube videos to do that, but at least it works and the one we have up there for you has song samples from most of the album.  Anyway, Equate doesn't seem to involve itself too much with direct assaults on the human race in PETA, ELF, ALF, or whatever LF group you enjoy.  The lyrics are more esoteric here, more symbolic, which seems to work better for their direction, if that was truly an issue to other reviewers earlier in their career.  Could have done without the Slipknot/Mushroomhead band photo inside the digipak, though…
But we'll ignore that little slip, because this is an awesome disc taken in totality.  First thing of note, the singer is female.  Hey buddy, what's wrong with that?  Nothing, it's just worth noting because her carry is so varied it's impressive, male or female.  But, being female, she can create more emotional usage of sound than a man, easily evidenced by checking out track three, "Eleven."  Sometimes, when anyone goes clean, it quickly falls, but girl here has good delivery, and keeps her chords tuned even when she goes back to screaming and/or roaring.  Very impressive.  Now, the sound as a whole is heavily atmospheric yet vast, it has a sound to it that creates excellent presence, but yet doesn't lose itself in the ethereal.  Some of the quick switches from roars to actual singing and even some spoken-word is what keeps the album consistent, and that's proving, yet again, how important vocal presence can be to a band's sound.  The one thing Equate could have used, however, was some more power.  The guitars pick up some spectacular, brooding hooks, some more experimental ones, they even mix in some keyboards, but what it lacks is beef.  The vocals are there, they've got it down, but the music itself could use an overall power hoist.  The overall sound of the guitars/bass is somewhat hazy, almost veiled.  It's a simple fix, though, because what's here is entirely an engaging listen from start to finish with some totally memorable moments, other than the Interpol cover, but we'll let that one slide because of the rest.
The Way of Purity Official Facebook
Written by Stanley Stepanic
The Way of Purity – Equate
WormHoleDeath Records
4 / 5