Evadne – The Shortest Way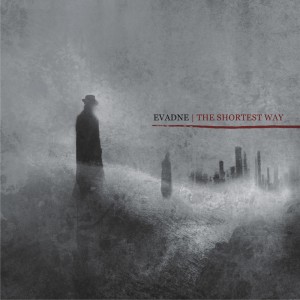 It's time for some doom peeeeeoooople.  Solitude Productions is a stellar label out of Russia with a primary focus on all things doom, though much of it of the 'funeral' variety, generally speaking.  Meaning emotional, sometimes brutally slow, sometimes symphonic, none of that stoner crap stuff.  Well, okay, so there is occasionally some of that, but generally we tend to get from them doom of the brooding quality.  You stick it in, it sticks in your ear, and then you stick a knife into your throat, that kind of thing.  In our latest chunk, we decided to pull out this one first to taste in the funerality.  Evadne is a killer bunch of peeps from out of Spain who play doom of the melodic variety, but with plenty of that emotional sting we enjoy, and The Shortest Way is our first venture into their depressed minds.  This one came in a stack of some other discs from other bands and labels, a bit outdated for other sites, perhaps, but hey, yet again, around here we like to make sure we give full attention to whatever we receive, provided it fits within our general parameters of being one, so underground you'll be like "WTF huh" at the name, and two, along with that, something the mainstream would never touch, and by mainstream we mean Relapse around here.  Yep, that's right.  So what about these guys?  Shall we stay with them?  We shall stay forever, oh yes.
The Shortest Way makes excellent usage of the speed of funeral doom with some moderato added, but it doesn't rely primarily on brutally slow chording.  Evadne utilizes clear and concise riff passages instead, with keyboards and other instruments playing more of a backdrop role.  Light touches of electronic instruments are the way to go, and these guys do it just so you get the feeling without the overwhelming sense of le cheese that typically comes with keyboard work.  At times it fuses together with acoustic work, and there's even some interesting piano sections later, but the incorporation of different sounds that makes funeral doom what it is Evadne commands with relative ease.
One of the better things about this album is their capability going from pure heaviness to atmosphere.  The transitions are seamless, though sometimes sudden, and that takes careful writing.  This, surprisingly, includes clean vocals.  That, my friends, takes skill.  Most doom bands that try to pull out the cleanliness fall horribly upon their faces in the most Fail Blog way possible.  The kind of fail that later becomes a vine that embarrasses the piss out of them for decades.  So, as a whole, this is really quite a beautiful piece of dysphoric doom, with only two faults.  First, it seems to be something in the initial recording stages, but some of the bass (in general) in this album sounds overdriven, almost as though the speakers are flapping in the wind, but this is easy to overlook because of the overall pounding the heavy sections deliver, such as the killer chorus of "This Complete Solitude."  Second, in addition to this possible production issue, The Shortest Way has moments that are much stronger than others, which can draw the listener away.  It's an easy mistake to make, and entirely natural.  It's simple, some tracks simply blow others away, and it leaves those which are below these standards closer to filler, though luckily not entirely deserving of the term.  Looking forward to these guys in the future, because they're apparently preparing to release a new one.  Pls send.
Written by Stanley Stepanic
Evadne – The Shortest Way
Solitude Productions
4 / 5