Infectious Garage Disease – S/T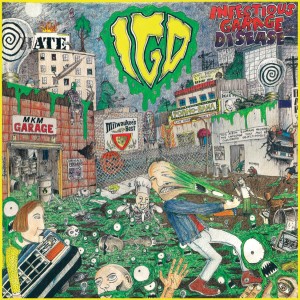 Albums like this are incredibly hard to review.  You can't simply listen to them, toss out the score, dish out some silly words, and call it a day.  This kind of thing requires a bit of thought, because it's not your normal release.  Infectious Garage Disease was barely a footnote in the Sacramento, California punk scene, even though they oddly had loose ties to Slayer, yes that Slayer, and they even shared the stage with acts such as DRI, Kreator, The Accused, and others.  They started out basically not having a clue how to play anything, and sort of ended that way.  The band released two demos around 1986 to 1987, one LP in 1988,, another demo in 1990, and then that was about it.  It fell apart in the typical way, as, according to the band's own words, one of the members started to "flake" and they eventually got sick of it.  It was resurrected in 1997 for a short stint playing some old songs, but by that time it was basically already over.  So what is this S/T then?  This is a collection.  Infectious Gar
age Disease is almost a form of historical documentation.  You get a decently written bio about the band throughout its short history, some lyrics from the actual songs with goofy, street punk drawings, shots from live shows, and even some artwork taken from their earlier demos and such.  When you consider that, there's really more here to evaluate than simply the music.
But let's start with that.  Musically speaking, Infectious Garage Disease are almost a joke.  They have a sound similar to SOD, with that same sort of humorous approach to their music singing about pubic lice and other things the typical gutter punk would find in their day-to-day life while downing beer, smoking, and have illicit sex as much as possible after shows.  The content is not going to blow your mind with anything new, and it's filled with tons of teenage misogyny.  The selection here is massive, might we add.  The first 21 tracks are taken from their 1988 S/T LP, up through track 32 from their 1986 demo My Pet Disease, and the rest up to track 43 from their 1987 demo The Joke That Went Too Far.  In addition, by opening the disc on your comp you have access to two rehearsal tracks as well as two videos; one taken from a public access appearance, the other from a live show.  The first has better recording quality than the second, which has the expected grain and overload from a camera from the 1980s, so no surprises there.  So, really, as you can see, this needs to be considered as an entire package, not simply a collection of music, it's historical preservation, in a way.
Thus, Infectious Garage Disease will occasionally catch your attention with some classic punk hooks that verge on powerviolence at times, with a bit of the gutter/crust thrown in there for extra bite.  In many ways, it reminds one of listening to Scum for the first time.  And, as such, it can grow tiresome rather quickly.  Let's not be fools here, IGD weren't out to blow minds with new technique, they were doing their thing, liking it, pissing off ex-girlfriends, and that was about it.  Many of the tracks on here are reiterations of others via demo versions, so after the first 21, which come and go quickly in typical punk fashion, you've basically heard the whole thing unless you want to hear it again.  It's that kind of 1980s punk that kicks hard with the first few tracks, and by the end can barely bruise your shins since it hasn't the strength to lift its legs any higher.  However, this must be considered an historical artifact.  With the inclusion of the videos, rehearsals, and the overall presentation via the insert, it's clear this is not simply a regular disc to be listened to, consumed, and reviewed, there's more to consider.  Musically speaking, this scores no better than a 3 out of 5 at best, but with the inclusion of the abovementioned, it deserves higher.  Great to see stuff like this happening, taking forgotten bands like this from an era some of us think we have totally pegged.  They obviously have no FB page to speak of, so the link below is for the label of release.
Negative Reaction Records Official Facebook
Written by Stanley Stepanic
Infectious Garage Disease – S/T
Negative Reaction Records
4 / 5