Interview With Regarde les Hommes Tomber (France Is Here to Destroy)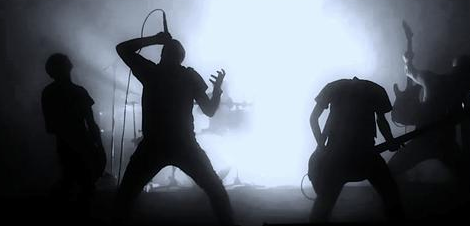 How many times have we said now that French post-hardcore is of the world-dominating caliber?  We try our best to not be redundant, but God help us is it possible as human beings?  You get up, you sleep, you eat, you have babies, really we all do it, right?  So why not do it with post-hardcore?  Properly speaking, and to become once again the genre snobs that we are, Regarde les Hommes Tomber is more like blackened post-hardcore, but either way it's post, so, yeah we got it partially right.  We first came across these badasses via a S/T album we reviewed several months ago, and over about that much time we've been interviewing the band's creator Jean-Jérôme to get the scoop on these guys.  With more killer material on the way and an incredible live presence that recently brought them to the 2014 Roadburn Festival, RLHT, as they can now be known for ease of writing, are slowly developing into a behemoth in the true sense of the term.
Deaf Sparrow – Who are we talking to and what kind of background do you guys have in music (classical piano, guitar, bands, etc.)?  Let's start with the usual silliness.
Jean-Jérôme – Hi, I'm the guitarist and creator of the band. I've been studying classical guitar for ten years and today I have a lot of fun playing guitar in a choir and a metal band! I'm a big fan of post-rock. I took my inspiration from the genre to create different atmospheres. I idolize bands such as Sigur Ros, Mono or Caspian. Norwegian black metal has an important part in my influences. I also listen to a lot of post-core and sludge: Converge, Cult Of Luna, Isis, Envy, etc.
DS – How did you all get together? How did RLHT form and why?  Always like to start with these basic questions to get an idea of where you guys all came from.
JJ – I started to write the songs on my own. That was introspective and lonesome work, very personal. Then, gradually, I played the demo of the songs to my current fellows. Excited, they all decided to take part. We all have been playing in different bands in Nantes for many years. However, our singer is from Paris and he has a good notoriety with his band. We got some experience thanks to different gigs with our former bands. We were already friends and some of us already played together in the past. This helped us to start RLHT and play the songs. When I started to write, I knew I could ask my current fellows to keep this project alive. At first, we were an instrumental band. Then, our singer joined us in the summer of 2012.  We realized we needed a frontman for more dynamics and presence on stage.  Moreover, the vocals add an incantatory side to our music.
We'd been working together for one year and half before going into the studio. We gave our very first gig in May 2012 opening for Wolves In the Throne Room where Gerald from Les Acteurs de L'ombre Productions noticed us. Convinced by our music, he decided to sign us up on his label and produce our first album.

DS –  What is the origin of the name? I'm aware of the film, just curious if it was that or something else and why.  Sometimes you never know with this kind of thing, the most obvious answer may not be the actual answer.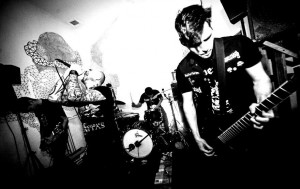 JJ – We took a long time to choose a name for the band. We tried to find one fitting with the music and general theme: the perpetual failure of the human being in his quest for the absolute. We wanted the name to represent the melancholic and desperate side of our music.  Antoine, the second guitarist, was really affected by the movie Regarde les Hommes Tomber directed by Jacques Audiard. That's why he made the proposal to use the name of the movie. At the beginning, we were scared of being penalised because of the French name, but this unusual name, RLHT, is just perfect with the image we want to give of ourselves and our music. We also found it very original and poetic.
DS – What can you tell us about the French scene? You guys are on the fringe of several genres, not straight post-hardcore, and you've got some clear blackened influences. How are you taken in the scene there?
JJ – We are used to play with French bands such Taste The Void or The Great Old Ones. They're good friends of ours and excellent bands. In France, there are more and more interesting groups, which was not the case ten years ago. Things are moving on thanks in part to the new generation who hasn't been influenced by Neo-Metal. The black metal scene has proven itself for a long time, and groups such as Deathspell Omega, Blut Aus Nord, Celeste, Antaeus or Aosoth.  Indeed, we've played in several post hardcore gigs and black metal gigs with band like Kylesa, Juicifer or Enslaved. Whatever, feedback is always good. We often notice that the public is captivated from beginning to end.
DS – What is your current touring schedule?
JJ – Since the start of the band, two years ago, we've played about forty show through France, Belgium and Netherlands. This summer we have a break and this fall we'll be playing several gigs in France. Then we will begin recording the second LP.
DS – How has fan support been?  From videos I've seen you guys have played some capacity crowds with a lot of energy.
JJ – Well, reviewers who come to our shows are the best person to talk about it! Generally, what you can read about us is the fact that our live shows are intense and hypnotic. There is no downtime. From our side, we give the best of our energy and we are often in something of a trance. Last April, we performed at the Roadburn Festival. Publicity from this festival is very demanding. It's a well informed audience, as well. At the end of the set, we heard a huge outcry from the crowd. We found this very touching and that proves that the public can feel our emotions thanks to our music.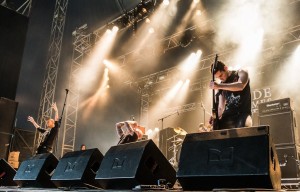 DS – Are you currently working on any new material? If so can you give us details?
JJ – Yes, that's true. We have already begun to write a new album. Last year, we just started because we spent all our time performing. We have really started working on it since the beginning of this year. We have three new tracks almost finished but there is lots of work to be done. We hope it will be released for the first half of 2015, but it's a difficult task. For the new album, no one knew us and expected us. Now, we have a label and we collaborate with an agency in charge of getting us concert dates. They are eager to discover this new album like people who liked the first album. There are also a lot of questions about the musical orientation of the new one. We hesitate between the desire of innovating or composing in the same pattern.
DS – What are your intentions for the future of RLHT?  How about some nice, heheh, details on that new album?
JJ – Writing a good second album and play through all over France and Europe!  The second album will be themed, the tracks are ready and we have the general idea, but I'm sorry, I can't give you more information at this time, it's too early!  😉
DS –  Oh well, hahah, tried to slip it in there to see if you'd just let it out.  Any plans on touring the US or other countries? When?
JJ – We hope so ! Unfortunately, we've no plan at this day. Maybe with tour support.  Let's hope and see…
DS – Thanks again for taking the time, best to RHLT!
Interview Conducted by Stanley Stepanic