The Vault: Aluk Todolo – Finsternis
Been awhile since we pulled something out of the tombs, but if there was any we should have selected, it was this one.  Aluk Todolo is one of the more interesting acts out of France currently, though they haven't put anything out since Occult Rock in 2012.  Excellent work, but nothing quite caught our attention like a prior entry they had from 2009, Finsternis.  Most people who hear Aluk Todolo for the first time are either encapsulated or feel like a high-schooler without a clique to consider home.  You often hear words tossed around in ambient black metal like "minimalist" or "atmospheric", but no one has really grasped how to utilize those ideas in sound.  Aluk Todolo, however, did it and then some on this album.  We reviewed this about five years ago.  How time flies, but how this one still crushes souls.  There were four separate releases of this one, and we reviewed the Utech Records CD in particular.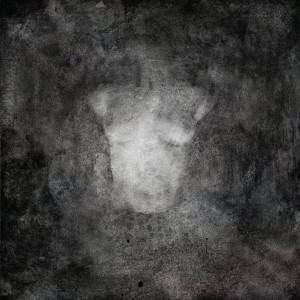 Here, my friends, is a frikken evil release.  Prepare yourself for this should you choose to take the plunge into this album's murky grasp.  God damn this is depressing.  Aluk Todolo have succeeded in making a release in a very, very difficult style; this being straight-up, repetitive minimalism.  Repeat, this is extremely difficult to pull off.  Offhand, I can't even think of an album I've heard that did it and managed to stand out.  Finsternis, yeah, this one does it.  Plus, gotta love that artwork. Like other Utech releases we've encountered, it comes in a nice fold-out in a black slip case with black/white the dominate, and only, color scheme.  The main imagery looks like some sort of dark fog bank with a disembodied female torso in the middle of it, barely standing out until you actually look at it. The CD itself is straight black, and that's what it needs to be.
Finsternis is a five-track opus that does one thing, turn your soul into a lifeless automaton that trudges through life looking for the highest bridge.  It opens with a lengthy, simple drum track, coupled with a single bass note and some light noise.  There is drastic extension going on here.  The first listening is unsettling, as the band continues to drive forwards changing little of the sound other than occasional experimentation on the part of the distorted guitars.  Slowly it builds to a horribly taxing, distorted bass or organ line that continues the relentless onslaught.  What's great about this is album is how they've managed to keep such minimal atmosphere flowing successfully.  The shots of guitar set off the repetition, causing your mind to search deeper for variation, managing to pull it from the endless void of eerie tones, lulling you into an opium slumber from which you will never awake.  The drums occasionally blast out into random, acid-jazz style freakouts, blending back into the stillness of musical litany.  It eventually progresses to more noise-rock while following the general beat-patterning built earlier.  There's just one thing to say, you have to be a God damn man to survive Finsternis.  You have to be damn well ready to accept what these guys are bringing here, the entire experience is so engaging and trance-like it's difficult to explain.  Just, Christ, this is a great album.
Finsternis doesn't really have any noticeable faults, but it is worth noting that fans of ambient, experimental, dark ambient, and similar genres are likely the only ones who are going to enjoy this.  It takes some pretty eclectic tastes to understand exactly what Aluk Todolo has accomplished, and if experimental to you means Einstürzende Neubauten, even in their earlier period, just stay the hell away, you won't make it and you don't deserve to.
Written by Stanley Stepanic
Aluk Todolo – Finsternis
Utech Records
5 / 5