Ovvl – S/T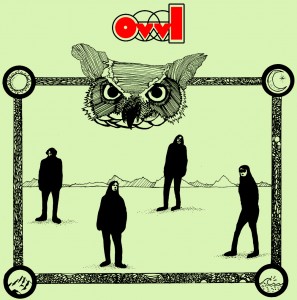 This one needed to sink in for awhile before these my words spilled upon the screen.  Before we get to the band, let us say Stormspell has got a great thing going on.  This whole "old farts stuck in the 80s" attitude with killer covers with an attitude can work.  It's not necessarily refreshing so much as it is cocky.  We can appreciate cocky.  Just check out some of that artwork in their webstore while they rebuild their site for a new format, there are a number of juicy looking albums in there.  So let us now get to Ovvl, who released this S/T album back in 2012, but it has seen rerelease in a few formats including an upcoming vinyl via Magick Hermit.  There's cassette if you like that, and this CD here, from the first label we mentioned above.  Ovvl is pretty easy to call just looking at the cover.  Gloomy wanderers in the wilds, dressed all in black, with the mountains surrounding them, and that big old owl at the top.  Interestingly, they consider their sound to be an approach to classic heavy metal, but in reality it sounds like it looks.  What does that mean exactly?  Let's go back to the label's image, this "stuck in the 80s" thing, and let's make that the "trapped in the 70s" instead, because Ovvl sound like a simple Sabbath worship band, and they generally look the part as well, and are probably stuck in some wormhole of time from which they cannot escape.  This isn't necessarily a bad thing, but usually when we pull out a critic's cliche hesitation may be your first reaction.  In some respects it's warranted here.
Ovvl, yeah, kind of like that spelling variation, it's a bit clever.  As mentioned above, you take a look at this (by the way, the Stormspell version is a much brighter yellow on the cover), and you expect exactly what you're going to hear, and it has nothing to do with classic heavy metal of the 80s, we're talking straight up classic original here.  Ovvl, in many ways, is stuck in the past.  You could pick up practically any band similar to Sabbath from the 70s, take a lesser-known track you don't remember, stick on it on this album, and you wouldn't know the difference.  On the good side, it's almost like finding a lost demo or unreleased full-length from Blue Cheer, something like that.  Sounds like someone dug around in an old warehouse and pulled this one out, and for that it works quite well.  Ovvl rocks it out like they were transported through time, but are unaware it's actually 2014.  When "Gypsy River" pounds in, Ovvl rolls their chords around like smoking through every possible type of plant that can give a high.  And they don't need a gimmick to sound like they can play, ahem Ghost BC, or whatever they are now, who cares?
Ovvl has a classic groove to it, something it feels like these four were born listening to, probably even heard it in the womb.  Three of the members, in fact, are brothers, the girl added in the mix was placed on bass in 2011 and apparently grew up in Africa.  Got to love this kind of family tradition thing, sure.  It's probably why they play so solidly.  But aside from that Ovvl sound a little too classic for their own damn good.  They can groove, they can clearly play, they can pull out acoustic lullabies, they can pull out beer-drenched solos, their vocal delivery is clean and smoke-infused, oh yes it's all here.  But aside from their stellar, tight, and absolutely ace playing, Ovvl offers nothing new.  For all of their charm and genuine playing style, they need to bridge the time gap some, heighten their sound, take their skill to the next level, that being the one of creation, because some of their sound is almost plagiarism.  You could take practically any track from any 70s hard rock band, call it Ovvl, and no one would be able to tell otherwise, and that's their main fault.  They've got all the licks, they just need some kicks the next time around, otherwise they might find themselves fading away faster than a copy of Vincebus Eruptum sitting in the sunlight in the basement of a forgotten record store that survives on selling porn on VHS.
Written by Stanley Stepanic
Ovvl – S/T
Stormspell Records
3.5 / 5