Perturbator – Dangerous Days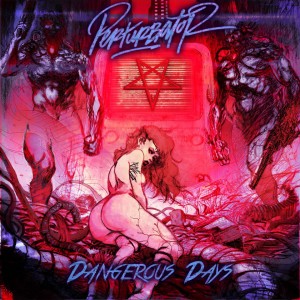 Yeah, been kind of on a kick for this type of music recently, but this is perhaps the best we've ever heard.  Wait, didn't we say that last week?  Around here people change, it's fact.  And we can change in a week.  Perturbator fits nicely into the dark synthwave genre, creating a sound similar to bands we mentioned in that link right there.  What is it?  Simple, make it sound like the soundtrack to any awesome 1980s sci-fi or horror flick, especially if it was straight-to-VHS, and that summarizes what to expect.  Perturbator, though, damn, if all those other guys are part of an army, this beast from Paris, France, is the foam-mouthed rape-revenge electronic demon at the front, driving the wedge forward into the human mass before it.  He calls himself half-man, half-synthesizer, and that's about right, because he has a true connection to his instrument of choice.  See, lots of these bands play the sound, which isn't so easy to do, but it tends to have no real direction.  Perturbator, however, is full of direction.  The tracks aren't merely there, with some shining above others, some with stronger beats, stronger melodies, Perturbator is engaged in building plot through music, that's what makes him different.  He's released a few digital albums via Bandcamp since roughly 2012, but Dangerous Days is his first pro-release, or perhaps we shouldn't offend and state that as hardcopy release.  Like his other work, it seeks to talk to the listener, to open like the pages of a book, and my is it gorgeously dark.
In Dangerous Days, from what we can tell in his own words, summarizing, humanity is now at war with machines because we allowed technology to take control of our lives (classic I, Robot plot, the novel), and within this dreary, urban landscape the listener eventually confronts the computer center of it all, under the codename of Satan.  It's sole purpose is to erase all trace of the human race.  Yeah, awesome.  Now we suggest you listen to it, of course, but before we get to that, let's say a little more.  So Perturbator sets up the listener with a great idea, each track a chapter towards the epilogue, the title track of the album.  And that digipak layout, daaaaaammmnnn (check it out via the Bandcamp link above).  With artwork by Ariel Zucker-Brull, it provides the perfect set of visuals that are extrapolated via the descriptions Perturbator has provided.  But wait, how about the sound?  Sure, we get all the visuals and the plot, awesome, but the sound?
Thankfully, unlike many albums of this type, Dangerous Days doesn't get stuck in simply creating beat with melody.  It isn't merely an experiment in sound to bring the listener back to some nostalgic past sitting in front of a stand full of VHS tapes with cigarette smoke in the air.  There's a deliberate attempt here to tell a story, it's most certainly not a collection of various tracks with similar sound patterns.  It opens with almost a nod towards fans, announcing the return of the greatness that is Perturbator, and this leads into his 'theme', which one can consider something of the composer's introduction to the audience, right before the symphony of sound begins.  From here the story proper makes way.  Dangerous Days features a huge variety of techniques in electronic programming and the theme for each song is amazingly clear.  "War Against Machines", for example, sounds exactly like a God damn war against the God damn machines.  It couldn't be more of proper set of melodies to represent such an idea, but that's not it, every track is practically a soundtrack in itself, furthering the idea of the entire album piece by piece.  Spectacular stuff, we could go on about what he's done here, but Perturbator proves quite easily he is likely the one and only true master of all that is dark synthwave.  Stop wasting time with these meek words of ours and buy the Goddamn thing.
Written by Stanley Stepanic
Perturbator – Dangerous Days
Blood Music
5 / 5