Collapse Under the Empire – Sacrifice & Isolation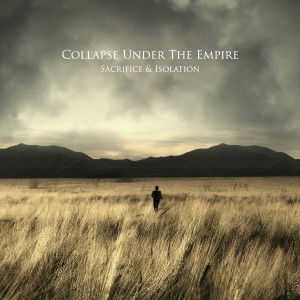 This is something we need to dig out for our 'The Vault' feature coming up soon.  Collapse Under the Empire first came to our attention when they sent us their EP The Sirens Sound several years ago.  It was placed into the car stereo during a long trip to DC, even though the artwork gave no indication what we were in for, and suddenly everything around turned into something new, everything somehow became grander, more interesting.  Life-changing stuff.  Once we get a chance, we'll pull that old review out for kicks.  Suffice to say, this German duo simply amazed us.  Post-rock and/or metal often promotes itself via the genre tag alone, but unfortunately few bands deserve to carry it.  These guys, however, are complete masters of their craft.  They're storyweavers, they utilize a wide range of sounds to achieve higher levels of evocation, in complete command of your emotional boundaries.  We sadly hadn't heard from them in awhile, and taking a quick look online found they had released a massive, enormously ambitious project starting with Shoulders & Giants. This new one, Sacrifice & Isolation, is the second part.  Both share the same themes, however, that being existence, freedom, isolation, and death.  All the things huan beings think about but are afraid to discuss.  So basically they're going War and Peace combined with Being and Nothingness here, musically speaking.  Now, that doesn't make any sense, you think.  It's simple, they combine the plot complexity of the one with the deep thinking of the other.  Make sense?  No?  Well, shut up while we try to explain ourselves better.
Sacrifice & Isolation is the musical encapsulation of the endless mystery of the human being and why we exist, though primarily the parts that make us wish we didn't have to think about these sorts of things.  It's separated into essentially two main musical approaches, incorporating electronics with classical elements, and then dreamy, massive shoegaze sections with hard-hitting chord progressions that ever-so-slightly verge on several genres of post-metal without getting stuck in one or more directions.  Any listener who hasn't heard Collapse Under the Empire quickly learns these German boys are skilled at anything their hands touch, and intricacy is key to their approach.  Multi-layered passages directed primarily by thought-provoking riffs are the hallmark on which the band and this album are built.  And it's absolutely massive in depth.
So how can you accurately describe something so massive, something part of such an encompassing approach?  It's really not entirely possible without experiencing it yourself, but permit us to attempt with these meager words of ours.  Sacrifice & Isolation is almost a cinematic work, meaning that the sound structures and builds will remind you of epic movie soundtracks, but with a distinct, cold sense of melancholia covering all of it, a delicate touch of depression that leaves every note peaceful and sorrowful.  And it's all done without a lick of vocals, because if they added anything more the entire thing would explode.  Compared to their other work, you get the same sense of thoughtfulness found in other releases, but there is a much more deliberate approach to all of the tracks here, it all kind of comes together as one entire whole, with very few faults.  The only real complaint is that certain tracks are so incredible, such as the first one, "Sacrifice", that a few of the remaining can serve more as interludes for what's to come.  But even these have their place, and if anything they serve to better prepare the listener for the grander pieces to be found in Sacrifice & Isolation.  Unfortunately their Bandcamp page currently only has samples of the entire thing, so we've instead linked you to a full version of the first song above.  Since we've first come across them, their fanbase has grown significantly, and trust us, there's a reason for it.
Collapse Under the Empire Official Facebook
Written by Stanley Stepanic
Collapse Under the Empire – Sacrifice & Isolation
Self-Released
4.5 / 5