Beak – Let Time Begin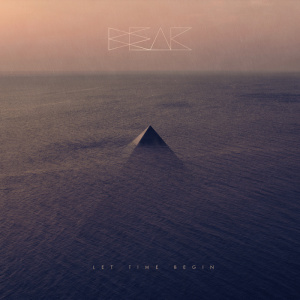 More like let us begin, this review.  What does it take in post-metal?  We hit some post-hardcore the other day, mentioning post-black metal in the same breath of a review, so what about this other post?  What does it take?  Most would argue oddity, pounding riffs, and mixing elements of other genres like sludge.  Blacken some of that and throw in weirdness to make that post tag viable.  Is that all it takes?  No, of course not, it also takes substance, not simply a possession by the demons of the weird.  Beak have been said by some to largely "play it safe," to have confined themselves to a relatively simple approach to post-metal without pushing themselves enough to stand out from the usual Cult of Luna references such a review typically requires.  It seems almost contradictory if you assume post-metal must constantly push boundaries, since frontman Jon Slusher stated Let Time Begin was their musical tour through the origins of the universe, with you, the listener, as the tourist.  If there's anything that should require boundary-pushing, it would be such a concept, but Beak approach it in a different fashion.  One can see why it would be deemed "safe", but in actuality that's a superficial look at what's more of a multi-layered album that simply has a tendency to hit harder than you'd expect, which can sometimes convolute the atmosphere, but you cannot deny it's there.  And trust me, if the wife likes it, it's probably better than most of the raw crud I somehow find pleasurable.
Let Time Begin let's everything begin without starting from nothing.  Beak has no time for build, they move right into the front with slamming riffs that accentuate the overall approach of their music.  But what is it?  Simple, they mix atmosphere with moments of crush.  There is perhaps too much consistency, and it's easy to see why a reviewer we hinted at was so insistent on this album being confined.  However, several listens reveal the depth for what it is, which is not simply frailty mimicking depth, it's a deep that pulls you down with weighty elegance.  When you actually pay attention to what Beak are doing, the music flows and weaves, different patterns coming to the surface with a unique texture that can almost seem different with each listen.  Surprisingly the title track is probably the weakest, easily overshadowed by tracks like "Into The Light", which contains the hardest riffs of the entire album.  If anything it's Let Time Begin's biggest flaw because it's so addicting.
So that's the thing.  Beak is most certainly not playing it safe here, in fact they're playing in dangerous territory and doing a damn fine job of it.  Mixing atmospheric tension with head-smashing riff action requires one to go from soft to hard like a kung fu master.  In spite of all of their strengths, though, Beak does have a tendency to lose their power in the atmospheric sections of their work, which is the main complaint about Let Time Begin.  Their writing skills are upper-level, but in this, their first full-length, they devastate with riffs and throat-focused scream-singing, but at times it doesn't meld with the lighter segments, creating something of a disconnect that can become very evident at times.  But when they've got it down, as in the awesome "Into The Light", it's absolutely spectacular.  They can create epic musical scores to something as pathetic as picking up a pencil and sharpening it, but at other times the shavings are a little more interesting.  Thankfully, these moments are fewer than you might expect reading this review, and when Beak wants to wail, wail they do, like a shrieking specter seeking out the last child to sacrifice for its rebirth.  Let Time Begin has a feeling of power to it that's hard to accomplish with atmosphere, and when they learn to better combine these two styles they'll truly be something to watch, without any need of inane Cult of Luna references in every single sentence.  Hint, "Into The Light" is the future of what Beak can be, and they do it by somehow making a pyramid cool again.
Written by Stanley Stepanic
Beak – Let Time Begin
Someoddpilot Records
4 / 5