PURE FILTH – Book Review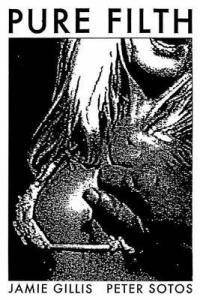 In the world of hardcore pornography, no actor's legend looms larger than that of the Mad Satyr himself, Mr. Jamie Gillis. Once described by no less an authority than Al Goldstein as "the best actor in porn and the biggest pervert as well," Gillis' oevure runs the gamut of perversion and sleaze, from the playful erotica of Radley Metzger to the degradation fantasies of Shaun Costello. Thanks to a resurgence in the popularity of porn among shock-hungry horror geeks, Gillis' work is being rediscovered by new audiences by the truckload. However, the final phase of the strange life of James Gurman has yet to find rediscovery.
Leave it to Peter Sotos to bring up the rear. Sotos, the criminal author behind the PURE series and scribe of such agonizing works of pain-prose as INDEX and SELFISH LITTLE, has built a virtual cottage industry out of plumbing the depths of human desire and the sickness of sexuality. For over a decade, Sotos and Gillis have been threatening an autobiography of the Devious Old Gillis. Alas, what at one point sounded like a particularly odious message-board rumor is now a reality…and that reality is scarier than you could ever imagine.
Peter Sotos was cued to the existence of several "private tapes" filmed by adult film star Jamie Gillis by an ardent fan over a BBS in the early 90's. In essence, this is what PURE FILTH is about: a shocking play-by-play transcript of several films in the "Walking Toilet Bowl" series. Stripped of their odious imagery, Sotos uses the most negligible factor in pornography (the dialogue) to explore his familiar themes of sexuality as warfare and the depths that humanity will go to satisfy their lust.  PURE FILTH reads less like an autobiography than it does a depiction of a sexual libertine at the end of his rope. Like a later-day Marquis De Sade, Gillis devoted his twilight years to the advancement of the same scatological/psychological fetishes he plumbed in the 1975 film Water Power. Sotos uses his power of alliteration like a surgeon's scalpel, digging beneath the cathode glare of Gillis' video imagery to examine the themes of power, lust, and perversion that lurk beneath the underground fetish tapes that constitute the final straw in the porn career of Jamie Gillis. What makes Sotos' work so powerful is his emphasis on emotion and feelings, that moment where both the victim and perpetrator lose all abandon in the moment of our death. No present-day writer captures that loss quite like Sotos, which can make his work unbearable for some. As a writer, he is all too effective in putting the reader right in the shoes of the African-American hooker being forced to engage in a racially-loaded Master/Slave scenario in Gillis' piece de resistance, N***** Toilet (Editor: We censored that for obvious reasons, if you're really interested, look up his "Walking Toilet Bowl" series, it's a part of it).
Rumor has it that before his death, Jamie Gillis begged Sotos not to release this book. From a man who bragged of bestiality and shared anecdotes of jerking off in front of a preteen girl from behind a two-way mirror, that speaks volumes as to the grim power of Sotos' work. The world of Peter Sotos is like that – a nice place to visit, but you wouldn't want to live there. A must for scat freaks. This writer would give it a perfect score if not for the fact that Sotos' work truly is an acquired taste. This stuff can and should be considered shocking, and sometimes that reliance on disgust for effect can be taken as overkill.
Written by David Austin
Peter Sotos & James Gillis – PURE FILTH
Feral House
4 / 5