Interview with Death Valley Driver (Slam It, Jam It)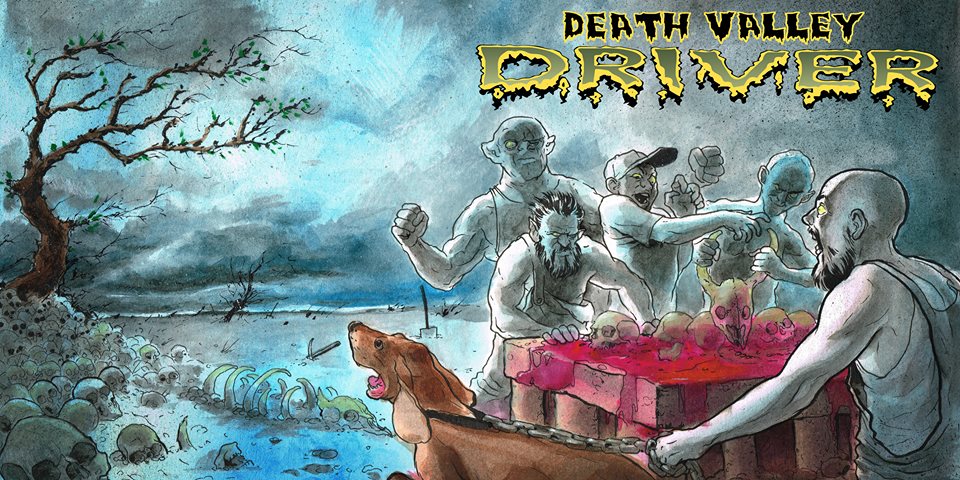 Usually we waste most of your time for this interviews with an intro that pretty much doesn't even need to be here, so let's keep it short today.  We've been slamming with Death Valley Driver for a solid year almost, watching them grow from some dudes to dudes we wish lived nearby.  May we come over for some hotdogs?  Bruh, on the way, stoke that grill and plug in the amps.  Coming from Canada, these sludge metal/death n roll boys took a moment to have a conversation about the band.  Well, it was actually the singer, Dan Hodgson, but still, theoretically they were all there, so just sit back, pretend, and learn about a band that knows how to have fun blasting away and not taking itself entirely seriously.
Deaf Sparrow – God we always start with this one, soon people will just skip over it, but it interests me.  What kind of background do you guys have in music (classical piano, guitar, bands you liked, etc.)? Always like to ask this one even though it's so high school.
Dan – None of us are formally trained musicians. We're just music fans with good ears, I guess. We've played in other bands before, but this is probably the most serious project we've all been involved with.
DS – Tell me about some of the more successful bands you guys dabbled in before Death Valley Driver including genre, exposure, and maybe a bit about any releases. If we're talking jam-bands, don't bother, but I always like to hear about earlier projects that led to your current work.
D – I guess the only other band that made little noise was my previous band Gallactus. We put out three albums, on Diminished Fifth Records, and did some regional touring.
DS – Gallactus is pretty sweet man, and yeah, I mean naming it basically off of such a legendary villain is pretty cool, even though you added an 'L'. I can hear the influences and some of the similarities to DVD, definitely. What happened that led from that to DVD?
D – Just geographical issues. I moved from New Brunswick and our bass player moved to Alberta. So it was much more difficult to practice and write. It was my first serious band, so I learned a lot from being in it.
DS – How did you all get together and form Death Valley Driver?
D – I'm the only member left from the original lineup, but this one has been solid for years. Once each guy arrived in DVD, they have been here ever since. We met by going to shows and having mutual friends. We just felt there was a serious lack of metal music in this area, so we decided to fix the problem and start writing songs.
DS – What's the general timeline for DVD? How did the original line-up form and what caused it to break apart? Are you saying that even from your last release (Graveyard Dead) the line-up has changed?
D – No big issues – just guys not being able to commit to some of the plans we had due to work, family. Like I said, the lineup switches were so early on and the all the guys in the band, except for Adam has been in Death Valley Driver pretty much from the beginning. We started in late 2008 and the guys that decided to leave left early on. So this lineup has been strong for a long time.
DS – What is the origin of the name? I remember I got a small shitstorm on your page for not knowing it was a wrestling move.  Anyone else give you any lip over it?
D – Not really haha. Some people assumed we were from Death Valley, actually. We were just throwing around some ideas and nothing was really sticking. I'm a big wrestling fan, so I thought Death Valley Driver would make a killer name. It has attitude and rolls off the tongue, I find.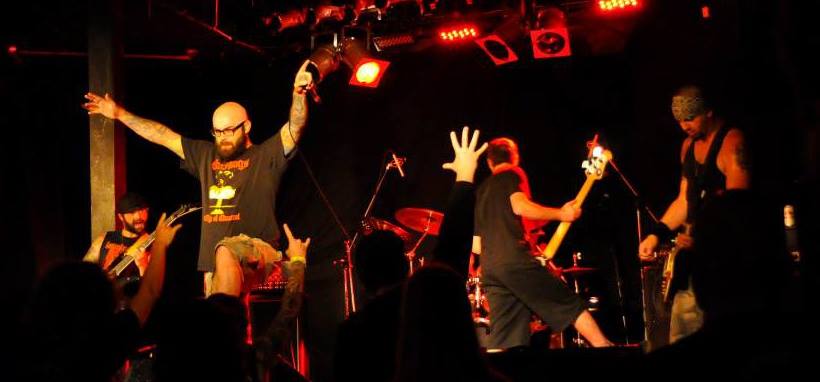 DS – So how have you guys fit into the scene in Canada, specifically in your area (Prince Edward Island)? First hearing you the easy, and stereotypical assumption, would be "this is from the US," but yet you're not. Explain the background of your sound and how you guys are fitting in up there in PEI.
D – In PEI, it's a little easier to get noticed because there are very few metal bands, at least ones who write original music and release albums. Overall, the east coast is pretty healthy with other bands like Black Moor, Orchid's Curse and ZAUM. We all have this brotherhood type vibe.
As far as our sound, our influences come from classic bands like Sabbath, Motorhead, Kiss, Metallica and some more 90s stuff like Eyehategod, COC, Crowbar, Goatsnake. A lot of NOLA bands.
DS – What other kind of genres seem to be stable in your area? Black metal, crust, anything like that? Just curious if you have a pretty wide variety of bands that like to play out together or if it's more of a single-genre thing with shows dominated by one type depending on the night.
D – Yeah, there's actually a few crusty grind core type bands here on PEI. Due to this being a small area geographically and there being a handful of serious bands, you kind of can't be picky with who you play with. We actually do a lot of shows with bands who tour through here and need support like Goatwhore, 3 Inches of Blood, Cancer Bats, Protest The Hero, Morbid Angel, The Agonist, Castle and a bunch of others I am forgetting now.
DS – 
Surprised to see some of the bands you played with, not because I don't think you could but because I surprised they toured all the way up there, but what do I know? Metallica, though, come on bro. Hahah, kidding, but you have to tell me what that was like.  Curious how that one happened.
D – Metallica was like a dream for me. They were the band that got me into heavy music. I still love them to this day. No matter what they do, I will never turn on them. Their music provided the soundtrack to my life and that will never change. It was an amazing experience playing in front of thousands of people. It was actually a battle of the bands … which I normally loathe, but with the opportunity to open for Metallica being the prize, we had to do it.
DS – Interestingly I've come across a ton of underground acts, stuff so corrupted you'd think they'd never even touch something by a band like Metallica, but yet, for most of us, bands like that are where it all started.  Did you win any other prizes hahaah?  
D – Free beer hahaha.
DS – How has general fan support been online and live?  Any crazy-ass fan stories? Crazy stalkers, perhaps? Or this one idiot that won't shut up on forums or something?
D – Nothing too serious. We still get some haters due to the fact we played with Metallica. Kinda funny we still get some shit talk on that a few years after the show. We had one guy say he was gonna blacklist us from playing shows because I disagreed with him on an issue. But most people who dig us are pretty chill and have never came off as "stalker" like. It's always getting more and more supportive each year. So as long as we're on an upswing, we're happy. Being from an area where heavy music isn't super prevalent, we're very pleased with the amount of people who come to our shows. But online, it's so much easier to spread the word of your music all over the world.
DS – Are you currently working on any new material? Was hoping for a full-length, even though that EP (Carnivore's Oath) teared. Anything coming? If so can you give us details?
D –  We just wrapped up shooting a video for the title track from the new EP. We're going to be doing an additional video in the new year. We just started writing again, so hopefully there will be some new Death Valley Driver music released in 2015. It all depends on where we sit financially if we do a full length or EP. Studio time, getting it mixed and mastered and pressing a CD is very expensive – even an EP is pretty big undertaking money-wise.
DS – I was under the assumption that Diminished Fifth had the production of this last one, or is that something you yourself actually run as well? If so, how did that begin? Have you found your CD sales pretty stable or have you considered cassette or vinyl do to their steady comeback rise as of late?
D –  Diminished Fifth has released all our albums. I think for the label itself, the digital sales are fairly strong. As far as CDs, we usually get those sales from playing shows. Cassettes I honestly have no interest in. I think that format is just a quick fad that will die out. I think vinyl is here to stay, though. That's something we'd like to do eventually, but it's a pretty expensive format to release.
DS – Yeah, everyone is all up about vinyl but the cost is immense in comparison to CD or even cassette. The cassette thing has actually been going around strong in metal for a long time now, metalheads just like tapes for some reason, that's one of the reasons I asked about it. In fact, the old editor of DS went on to start his own metal tape label and every tape he's made has sold out in a few weeks. Do you see digital as a detriment or boon to your careers overall?
D – Yeah I still own all my cassettes from high school. I'm a guy who likes collecting though. I'd be a fool not to recognize that digital isn't going anywhere soon. It's not the future – it's now. As a collector, it's kind of a bummer, but from a band standpoint, it's much easier to release our music so people all over the world can hear it.
DS – So speaking about your general themes, I kind of get this gore/zombie sort of thing going on here in all of your work. When writing your music, do you guys have a specific theme in mind or is that something that primarily manifests in the lyrics only? The music perhaps just creating the background for the imagery you decide to go on.
D – Yeah, the lyrics are pretty death obsessed. Not so much violence, but just mortality itself. It's a subject everyone can relate to. No one gets out alive.
DS – What are your intentions for the future of DVD?
D – Just keep perfecting our sound. Live shows and stuff like that is redundant to say, but we wanna just keep getting better as songwriters and work with producers and other musicians who are passionate about their craft.
DS – I'm talking stage antics, man, let's see some! You guys should have some crazy Mucha stuff flying around up there with horror costumes or something. Go full pscyho up there with wrestling gimmicks, fake swords, snakes, chains, ropes, electricity I say.
D – We're kind of olds-school and let the music do the talking. It's funny because the band name is based on wrestling but none of the songs are about that topic. We usually dress up for Halloween shows and stuff.
DS – Thanks again to Dan for taking the time to babble with us about the band and various things, if interested you can check out our review of their latest EP by clicking here, or their last full-length by clicking here.  Now, time to go bust out some arms at the gym.
Interview Conducted by Stanley Stepanic