Execució – Demo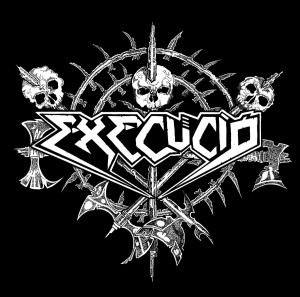 After all the work we've been doing recently, there came a time when enough was enough but circumstances made it pertinent to keep going anyway and push through the pain.  When life gets you down, when work never ends, when you have to finish things in a day you normally do over the course of a few months, there is only one thing that can save you, crusty, thrashtastical metal.  Execució first came our way after our review of Ball de Bastons / Makil Dantza, which was one of our compilation features and happened to be all about the Spanish underground.  Suffice to say these Barcelona blasphemers are from somewhere over there and they come with a hefty serving of fine, Spanish rot and space-wasting alliteration (see start of this sentence).  Sitting there in a lull, there was nothing to do, going to the gym didn't help, either, because the place is filled to the brim with New Years ruffians doing things that can't even be mentioned in print.  So, for the next four weeks, there's only one way to ignore them, with this sick cassette demo.  Hell, maybe we'll even bring a Walkman to strut around with as it blasts for the full effect.  Thank God, Execució has saved us from the horrors of the wave of resolutioners.
When we first got a hold of this, knowing it was a demo set a certain expectation of one of two things.  One, it was either going to be so demo you'd have a hard time hearing much of anything other than vocals, or it would be surprisingly good to the level you question its demoness.  Demos are no other way, there is never an average demo, it's against the very definition.  There are only "demo" demos and "why is this a demo" demos.  This is the latter, largely.  Execució seems to have been around for perhaps only a year, though Metallum claims since 2013.  Either way, this cassette is only a few months old, so they're underground enough that we'd take a look, yet already gathering enough to attention to have played with Toxic Holocaust last March.  Call it luck, call it a favor, call it money under the table, call it something secret in the bathroom, or perhaps call it sufficiency incarnate.
Execució's demo has no time for introductions.  It doesn't even have time for 'hello'.  You come to the front door and there isn't even a proper insult before the fist hits.  Now, that being said, if you're looking for some modern thrash, this has great licks that stick.  The riffs are easy to consume and the vocals steer away from that waaaaaaaaaa quasi-hair metal crossover crap that makes true metalheads cringe in embarrassment unless it's something literally old.  All of us know that whole retro thrash movement is a bit of mystery.  But, at the same time it avoids that, this demo has nothing unique within, nothing to really survive repeated listens.  It has enough bite for several, trust us, but once the songs have fully sunk in and you know where they're going, it's basic safety is too obvious.  The sound quality, production, great, awesome for what it is, but generally it's a straightforward approach.  Some experimentation, or perhaps a bit of that awesome Spanish flair for combining metal with traditional structures would have made it even better.  It has a great sound overall, and for a demo you really can't complain, but let's sit back and wait to see what they do for a full-length.
Written by Stanley Stepanic
Execució – Demo
Raw War Tapes
4 / 5