Igorrr / Ruby My Dear – Maigre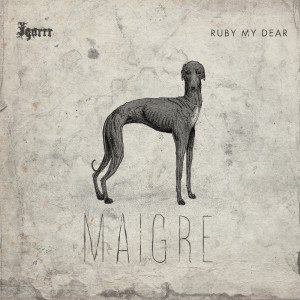 If there was any label we'd trust with a collab, it would be Ad Noiseam, but we were hesitant about this one.  Simply because in the past year we changed direction to focus primarily on bands and labels with low exposure.  Igorrr, well, if you haven't heard of him, don't figure you can call yourself anything close to a fan of electronica, but then again that term's probably too specific for this guy, who messes with everything from classical Baroque to breakcore.  He's close to fifty-thousand Facebook fans, so needless to say, way over by a margin of x5 of what we normally consider for review.  However, here he's done an impressive collaboration with Ruby My Dear, a lesser-known breakcore wizard whose mastery of beats has been gathering followers since his Ginkgo EP.  Both of these guys are not known for subtlety, and together the result is rather freakish.  As freakish as that bizarre, skinny dog creature on the cover of Maigre, and it easily proves the current direction of breakcore, where intense, IDM structures are merged with offbeat humor, absurdity, and cuts that raise your blood pressure.
But we were hesitant at first, because that's way too many fans for our taste, but combining the totals of both Igorrr and Ruby My Dear together, well, the average works out to roughly 2000 fans below our standard, so we'll let it go.  In addition, we simply couldn't pass on it, it was too beautiful for that.  Maigre is proof of the new vision in breakcore, though it's something that's been developing for a long time.  Here, however, it's been absolutely refined to the level of perfection, while defying the greater desires 'rave culture', whatever that means anymore, and making itself accessible only to a new generation or people who can change their foolish ways.  Out with the old, destroy it.  But while destroying it, take the better parts of its constitution that deserve to subsist, and utilize them in the creation of the monument that is Maigre.  It's French for 'thin', but it's anything but.
You'll immediately recognize their skill when it begins.  Igorrr and Ruby My Dear open on a humorous note, in fact if you're not familiar with either of their work you'll be completely misdirected for a few moments.  What sounds a rumination on Water Music is suddenly corrupted with dense beats and bizarre breaks in rhythm, mixed with samples as rapid as they are strange.  Screams, what sounds like cartoon sound effects, children's toys, things which one would assume could not be commanded with such power.  Their clever mastery of humor is practically unmatched in comparison to some examples of this we've heard before, where breakcore degrades if it becomes too "funny" in its approach.  Here funny is not the word, it's rather a case of genius.  Igorrr also brought along two of his live vocalists for the ride, Laure Le Prunenec and Laurent Lunoir, who appear throughout.  The uniqueness of Maigre is on two main levels.  First, the aforementioned skill of these two artists, whose combined abilities couldn't have been more perfect for the future of breakcore.  Two, there's a potential ignorance of the listener to recognize the spectacular undercurrent of classicism here.  Blips of traditional instruments, some with more of an association with French folk, provide a thematically attractive layer some may miss, instead focusing on the brazen ferocity of beats and cuts.  Pay attention to what's underneath, because though Maigre is going to satisfy any breakcore fan, there's a lot more going on than the usual.  The only complaint we had is we wish there was more of it!
Ruby My Dear Official Facebook
Written by Stanley Stepanic
Igorrr / Ruby My Dear – Maigre
Ad Noiseam
4.8 / 5