Bastinado – Worship Fetish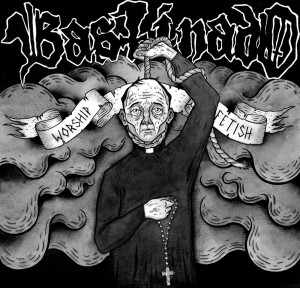 When this one first came in we didn't think much of it, in fact we did a check on the internet and came up with some weirdo dance/house duo that plays with blocks and ripped off Oogie Boogie's face from The Nightmare Before Christmas for a live set.  Seriously, click on that link and explore. "Groan…really," was the first response, and hey, don't be surprised, we occasionally receive promos from country bands who clearly haven't even looked at the site let alone perused what we've reviewed, so it was entirely possible it was those guys, and not these guys here.  Those guys there, though, were the actual guys we should have been looking for, but as you know Facebook gives some sort of weird priority to more likes and can't get its head out of its ass when it comes to properly displaying search results.  Wait this doesn't have 1oK likes?  Nah, not showing that, even though it's what we're freaking searching for.  Jeez.  So these guys are a different those guys.  Honestly we were kind of surprised, hearing they were from Finland brought up that old sting from a flame war we got involved in on the previous site involving our criticism of some bands in the Finnish hardcore scene.  "Uh oh…this again…" we thought.
Phew, actually no.  In spite of how that art, which is very Finnish hardcore in appearance, might we add, it's not of such a genre at all.  And before another flame war starts, there's plenty of great Finnish hardcore out there, we just didn't get any in the past five years.  If you're interested in a sampling, look no further than Killed By Finnish Hardcore.  Anyway so these guys here, the real Bastinado let's say, are actually Finnish grind with a leaning, at times, towards the blackened avenue, which rarely goes bad whenever it occurs.  And they don't waste any time letting you know that.  "An Unkindness" immediately bursts out of the speakers with glass-covered fists.  The highlight of Worship Fetish is Bastinado's solid approach and the occasionally stellar riffs with disgustingly muddy bass backing.  Several moments are memorable, and as a whole it's very easy for any grindhead to grasp.
But that's the thing, in its ease it doesn't offer anything else, in fact it's probably too easy.  We'd say "it isn't anything new" but we've said that before and we like to keep it original.  Bastinado have the grind sound down to a level that's accessible, yet underground, but isn't going to turn your head.  In fact you'll likely direct it elsewhere, especially if a pretty lady in the form of something better comes along (that's our weak symbol for a better album).  Bastinado can deliver some stellar riffs, but at other times Worship Fetish can degrade into chugging fetish. Plus, those vocals.  Suomaa is most certainly a man, we can hear that, he's got the throat, but his delivery is straight-up "heard it, what else you got?"  There's rarely anything unique about this release as a whole, though there are moments when you're going to notice something lurking under the surface, something potentially incredible if they develop their sound in the future.  For example, the main riff on "I Ruin What I Cannot Destroy" is superb, it's got enough grind and blackness to be a thing of its own, and its addicting.  More of that, and well, these guys are going to be the those guys we're looking for in the first place, and Facebook won't make the same mistake ever again.  They're not there yet, but what they present on Worship Fetish should be enough for most grind fans to at least give it a thorough listen.
Written by Stanley Stepanic
Bastinado – Worship Fetish
Self-Released
3.8 / 5