Interview With Bog Oak (Worship the Trees With Fire)
With all of the attention doom metal gets anymore, it's difficult to pick through the mess of wish-we-weres to find the no-one-can-defeat-uses.  But, aside from our awkwardly-worded opener, for which we apologize, deeply, the task is real, the difficulty true.  Let's face it, when anything rises in popularity everyone starts to jump on board until the ship sinks.  Before the finale, well, there are plenty of aesthetes sitting on the upper deck, sipping at fine liquors until as the lower classes meet the waves first.  Bog Oak would be one of these aesthetes, and they're proof of the power of independent promotion.  In spite of the fact they're close to breaching fifteen-thousand fans on Facebook currently, the real reason for that rise in popularity is the internet and a recent snag-up by Svart Records of their awesome EP A Treatise On Resurrection And The Afterlife, which will blow your mind both with its depth in writing and esotericism (not to mention Julie's vocals).  We figured we'd check up with them to learn a bit more about their mystical take on doom.  To some parts of our interview members responded individually, so we've retained that design here.
Deaf Sparrow –  Let's open with my usual duh question, because I always enjoy the responses.  What kind of background do you guys have in music (classical piano, guitar, bands you liked, etc.)? Always like to ask this one even though it's so basic.  Basic builds foundation!
Bog Oak – JULIE: Nirvana and The Fall sparked my pre-teenage self's interest and were my first exposure to stuff that made me think, holy shit, I have to start a band NOW. I took piano lessons for 10 years and hated every minute of it.
PHILLIP: I never took any lessons, I started playing guitar and drums around 1989, just started accumulating broken and/or mismatched gear then tried to figure something out. I would listen to my dad's records (Steppenwolf, Iron Butterfly, Sabbath, etc.) early on, but soon after was introduced to Metallica, Slayer, Vio-lence, Exodus, Dark Angel, Testament, etc.
STEVE: I took lessons for one year just to get some technique advice. I started playing drums 15 years ago when my parents bought me my first set. A big as Pearl 9 piece 80's style, haha. Since then I've obviously scaled it down.  My top 5 influences are Fugazi, Shiner, James Brown, Hot Snakes and Sloe.
JARED: I got into music in 1994 when a friend of mine asked me to play bass for his band at our school talent show. I went out and bought a bass, signed up for lessons and was completely hooked on music ever since. I was heavily into bands like Iron Maiden, Megadeth and Metallica.
DS – You know, someone tore my nether regions to pieces the last time I asked this question (interview not published hahahaah).  It just makes me laugh because sometimes people think "those guys must listen to some crazy stuff," but quite often you'll hear things like Nirvana, Metallica, and the like. How about in terms of metal or your genre or choice? Any bands really hit home before you guys started playing around?
BO – PHILLIP: Right before Bog Oak began I had been listening to both Eagle Twin albums quite regularly and found a huge inspiration with those guys, their guitar tones, the monster drumming, and their unique song structures, their gear, etc. Also, Acid King, Brothers Of The Sonic Cloth, Lycus, Bell Witch, Uzala, Black Boned Angel, Noothgrush, and Brainoil were in heavy rotation during that time providing a similar inspiration. I listen to all genres of metal with a greater emphasis on 70's and 80's metal, but I am also into 70'prog like Camel, Nektar, PFM, and a lot of Experimental, Classical, and Soundtracks. All sorts of stuff, though. Jazz, Blues, Folk, I am all over the place, but heavy metal and horror film soundtracks would probably be my favorite genres.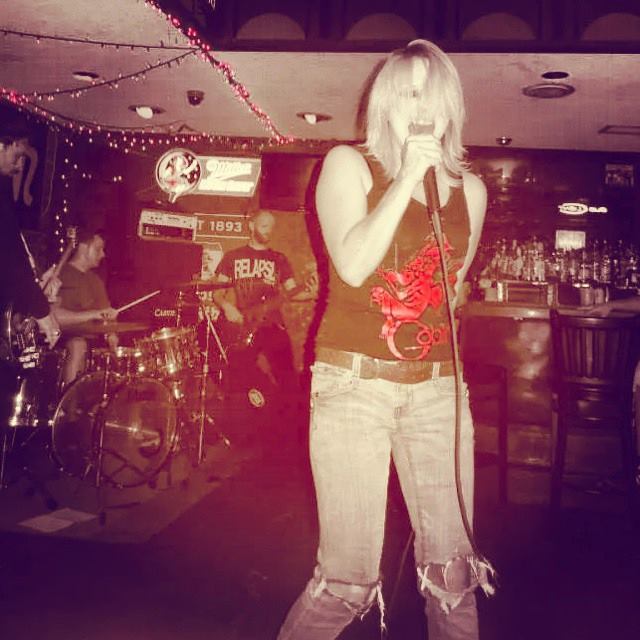 DS – Quite a diverse list there; the usual pastiche of the bizarre with a clear penchant for discovering yourself.  So how did you all get together and form Bog Oak?
BO – I (Phillip) started Bog Oak as a solo recording project just for fun. I would track all the instruments myself then spent hours on end mixing, mastering, etc. After some songs started to take shape, I decided to look for people to start a band with and found Julie (vocals) and Matt (guitars) on craigslist. I then asked my old bandmate Steve to join on drums. Matt quit shortly after Steve joined, and we continued just as baritone guitar, drums, and vocals. After we recorded the EP, I randomly reconnected with my old bandmate Jared who is a solid bassist and was looking for a band at the time. After hearing the rough mixes for the EP he agreed and he's been with us for the past 3 or 4 months now.
DS – One of the things you'll usually read about you guys is your esoteric approach to doom, so I'm curious about the name itself.  What's the origin of it? Most doom band names just have this sort of sound to them, where you hear the name and think "definitely doom." I mentioned it in the review of the EP, just like to hear where the idea came from.
BO – (Philip) I had been coming up with names before even recording anything, but nothing was sticking. My wife had brought home a book about hand carved bog oak stuff; wands, jewelry, talismans, etc. I liked the name right away and thought it was perfect for the ancient themes I was planning and the heavy sound I was going for.
DS – Interesting, so pretty much something of a chance occurrence.  Before we get to talking about your music, how about performing?  How is the scene where you're from and general fan support in your area for your music?
BO – (Phillip) I'm not sure, as I only go to shows when I am playing, or a touring band comes through that I'd like to see. As for fans, we have only played Sacramento one time so not much is known about it at this time.
DS –  Now there's something interesting. So you guys have pretty much stuck to your own area and a handful of local shows? That's pretty amazing considering the exposure you appear to be getting currently. Are you guys working on building more of an online presence before perhaps spreading out further?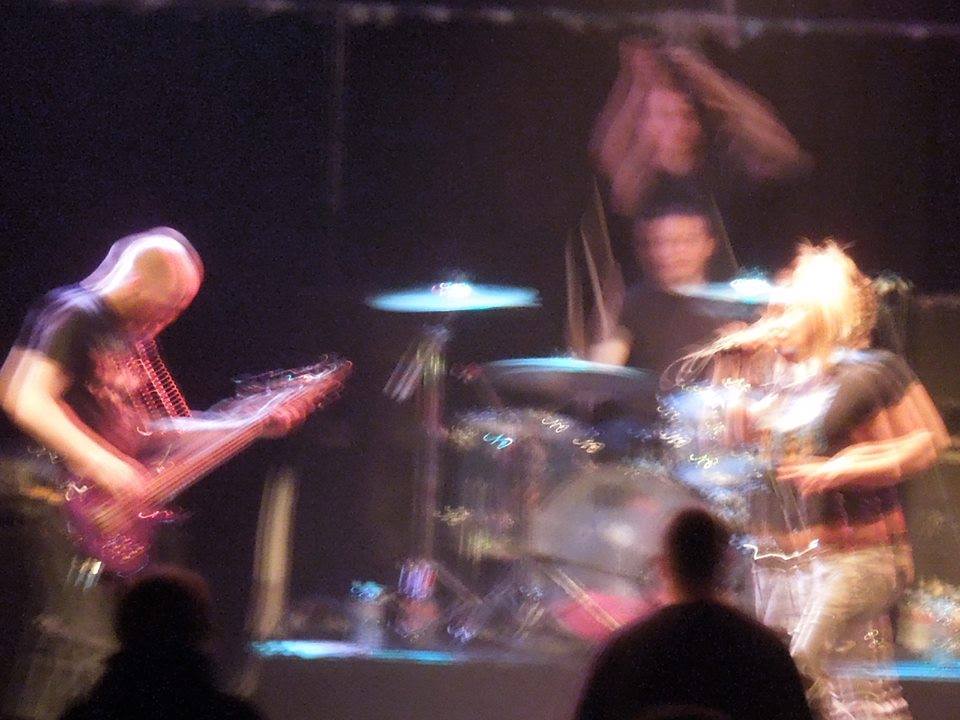 BO – (Phillip) Yea, we've stuck to the the Bay Area, really. We played our first show in Sacramento almost a year ago now. Of course, we would like to branch out, and do some touring. Maybe late spring/summer of 2015 we will do something along the west coast. Until then we will be focusing on writing, recording, and practicing. We've been back to the studio already 3 times since finishing the EP, and we are heading back in Feb. to record a few more songs.
DS – Since you mentioned it, let's move on to that EP.  Your current work seemed quite dense in terms of meaning, that's one of the things that surprised me about it.  None of the usual doom ramblings about tombs and moss growing on trees. Unfortunately, I was only given so much info about it in the promo package and had to figure out the rest on my own. Can you tell me something about the apparent esoteric thought you guys used as a theme for A Treatise?
BO – (Phillip) I had been studying sufism and Iranian philosophy, and discovered many unique metaphors and spiritual concepts which to me, reflect a very ancient frame of mind. Since Bog Oak began as a kind of of tribute to the ancient and primitive, I found an inspiration there. The title is long, and the EP short, but it worked well to describe the inspiration. We wrote and recorded 6 songs total for the EP. It was originally going on a 10'' inch so we had limited space. By the time we decided to just do a 12'', it was too late/too expensive/too much hassle to remaster it all as 6 songs and redo the layout, etc. so 4 it is.
DS – In the writing of the actual music for Treatise did you put some of the concepts into the actual music itself in some way? I hope that's a clear question, considering the amount of thought you put into the ideas I was curious if you derived any structure from it in the actual music, if that makes sense.
BO – No not in the structures.
DS – Cool, just curious about that.  How about new stuff, are you currently working on any new material? Anything coming? If so can you give us details?
BO – (Phillip) Yes, quite a few skeletons are being put together right now for the full length and we are going back into the studio the first week of January. One new song called "Wilderness Survival" I believe will be our best song yet. We are also releasing another 4 song EP on limited cassette tape (100 copies) and will include some older songs and two out-takes from the Treatise EP. That will be self-titled and have a simple cover with the Christophe Szpajdel artwork. We also plan to release the Phantasm theme along with another cover song on a 7''. That will have artwork by Ryan Land. So, if all goes as planned, 2015 will yield another EP, a 7'' and a full length.
DS – What kind of ideas will "Wilderness Survival" be drawing from? Literal or something else? You mean Phantasm as in the film series? Hahah, that will be quite interesting.  I only ever watched the first one, but it was so strange, somewhat unique for its time, that I've been meaning to check out the others.
BO – (Phillip) "Wilderness Survival" will be drawing a lot from neanderthal/prehistoric times. Yep, the theme from the Phantasm films. We recorded that with Patrick Hills at Earth Tone last October for Halloween. It's up Bandcamp for listening or free download.
DS – Interesting, and a pretty solid take on it, no doubt.  I can hear it all right there.  So who are you guys looking to have for a label on your upcoming releases or are you going to go self-released the next time around? How was Svart Records for Treatise? They've sent us some great stuff before.
BO – (Phillip) Our full length will be released by Svart, after that is a mystery. We haven't really interacted with Svart all that much, I'm not really sure how they took the EP, or even what it was about Bog Oak they were interested in from the get go. Our affiliation with them has given us some big exposure in practically no time at all. They offered us a contract at a time when we had only written two or three songs. Svart is a 100% killer label, so how could we say no?
DS – Yeah, clearly.  I mean you guys have just exploded in popularity, but lots of that is simply because you write awesome sounds.  How about the future?  What kind of plans do you guys have?
BO –  (Phillip) To continue writing, recording, and to improve as a live band!
DS – Looking forward to it.  This is a time when we expect the best, and we sure as hell know we're going to get it.  Thanks again you guys for taking the time, in particular Phillip for writing up most of the answers, wish you the best!
BO – (Phillip) Huge thanks for all of this!
Interview Conducted by Stanley Stepanic