DRÅP – En Naturlig Död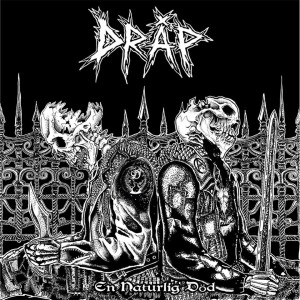 Let's get crusty, let's get musty.  People often ridicule crusts for their absolute disregard for bodily hygiene.  It's the most virulent smelling movement in music, something that's always pushed itself so far away from the mainstream it's often looked at with derision and the holding of one's nose, even when you're just looking at pictures of them from your computer.  Those vile crusts, why do they do such things?  That raw, passionate energy, that disgusting stench coming from the bottom of the most unsightly of squats.  That covering of oneself in studs and black patches with paint-font logos, unwashed since before they were born.  The movement always keeps the critics at bay with its approach.  But that music, oh that sweet music coming from those basements, scuttling out of those sewer-like pits, there's just nothing like it.  Most people stay out of the gutter, but we can't stay away, not when we get to listen to this kind of ill-begotten sludge that cares little for what you have to say about it.  They probably don't even care we like them.
So get ready to be covered in black and white, skulls everywhere, sharp objects with stabbing function enclosing you in a fence like a herd animal in a factory farm.  Your tongue hangs out in animal fear as the cattle prods dig into your flesh and jolt through your muscles the moment En Naturlig Död begins.  You know it's crust, so you know what to expect, don't come in our house asking for experimentation or any of that hifalutin nonsense.  Being one of the few genres of punk that can remain stagnant (in many ways), there's little DRÅP needed to do except deliver the filth, scraping it from behind their ears and between their toes and flicking it your direction via more than one sickening riff that goes on for enough space to provide a backdrop for smashing something, but not so much that you start to smash yourself.
So straightforward this is, because it has to be.  There is no experimentation in crust, there is only misanthropy, a specific hate for the human race, a love for animal life, and a refusal to smell good simply to make sure only crusts or people with an ear for this fecal barrage stick around.  DRÅP have got all the essential elements down and formed into studs upon their jeans.  The majority of the tracks here are fast, delivered in a minute or two, with bonesaw chord action that tears up limb after limb and still grinds it all together into the same scrapple.  En Naturlig Död is most natural in its crust approach and any stinking, bathless fan go into it while still asleep.  Where DRÅP gets it right is they come in angry, get it done fast, and leave it at that.  Many times you'll find crust stretching itself to over twenty songs per album simply because they tend to take a shorter approach, but here they've been content to give you just enough that you feel like you've been gutted and bled, but not enough that you've moldered away in the back of the slaughterhouse and never even eaten for a single bite.  If you go into this expecting to be wrapped in plastic and placed on the counter at $0.25 a pound, you're good to go, but if you expect to be tossed into a high-class dish to be eaten by a food critic, not going to happen.  Go in expecting the crust, and you get the crust.
Written by Stanley Stepanic
DRÅP – En Naturlig Död
Self-Released
4.2 / 5