Sewercide – Severing the Mortal Cord EP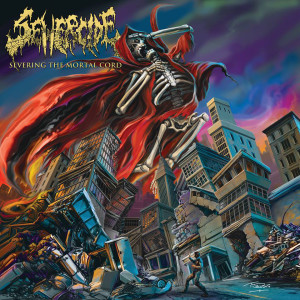 Alright can someone please explain what an EP is?  Seriously, what's the cutoff?  It seems something like a novella, everyone thinks they know what it means, but no one really does.  You'd assume it means a short amount of time is spent musically, but then you get something like this here by Sewercide and it's over 30 minutes in length so isn't that reaching into LP territory?  Is it perhaps the number of tracks that defines an EP?  Who knows?  After the term made sense in the old vinyl era before all this recent plastic hype, it didn't seem to make much sense for CDs.  For us, we'll define it this way.  An EP is something short enough that it leaves us wanting so much more, but only if the band is any good.  Otherwise, we're glad the damn thing is over.  So this one is confusing.  We'd definitely want more, but there's more than enough provided here to suffice for a full serving of Sewercide.  Is it an EP just because it's been defined as such?  More importantly, why in the hell did we waste your time with an intro discussing the merits of the definition of an EP?
Let's move on, to Sewercide.  Apparently based on the slang term that means "passing gas so foul it smells like a sewer", these guys have not failed to take the usual thrash route of somehow referencing things of the "toxic".  Uh oh, is the music thusly toxic as well, going into pure copycat territory?  We wouldn't be reviewing it if it did.  Much unlike other thrash bands out there Sewercide has only been around a short while, and they've done a hell of a lot more worth listening to.  Formed in 2011, these Australian boys have all the necessary medals of a thrash corporal who's seen battles all the way back to the Spanish-American war.  Demo?  Yep, did that.  Several splits with other metal bands for almost every year since their formation?  Yep, did that too.  EP?  Well, here it is, though we feel it's more of an LP.  Either way it's time for some Severing the Mortal Cord.
Please no, we do not want to sever this our life if this is the kind of music being made by Sewercide.  Modern thrash can kind of drag if it has too much of that "retro" sound, which we put into quotes because really it's more of sounding like you recorded in the 1980s and use the term retro as an excuse for how much you suck.  1980s sounding "retro" thrash is not necessarily cool unless you're typically listening to something actually cut in the 1980s.  Sewercide are of the modern, no quotes of course.  Such thrash is harder, it carries that same vibe, that energy and pulse of the old, but it's more produced, more blistering at times, more powerful.  And Severing the Mortal Cord is no exception to our expectations.  It has what any modern thrash band needs beyond a name that references green waste products of some kind.  It's got addictive riffs, drums that known when to snort speed and when to huff downers with some sick ride, and vocals that keep it harsh instead of that old clean style from long ago.  Find a way to differentiate between tracks, as they have, and here comes the money train.  Well, as much money as you can make off of thrash, anyway.  Severing the Mortal Cord, regardless of how you define its length, provides exactly what we needed out of some thrash and it survives multiple listens.  Our only complaint is the damn artwork didn't make it easy to provide a proper header for this review on the main page.  Curse you, Sewercide.
Written by Stanley Stepanic
Sewercide: Severing the Mortal Cord EP
Castigated Records, Infernal Devastation Records
4.6 / 5