She Spread Sorrow – Rumspringa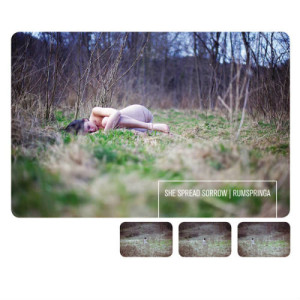 RUMSPRINGA. It's a funny word. It is also an Amish term of Pennsylvania-German origin for adolescents and their rebellious behavior in defying parental or community norms. In some communities, this is considered an unofficial rite of passage for Amish youth (courtesy of Wikipedia, our lord and redeemer). So how does this tie in to She Spread Sorrow, an Italian female solo project from one of the members of Deviated Sister TV, who's been compared to Pharmakon and Sewer Goddess?  According to the promo, this album is "a trip into distorted faith, repressed desires, guilt, punishment, discipline and perversion," which tries to capture what some Amish youth might feel or experience in a society that is incredibly conservative and religious.
Having recently gotten into this noise/drone/industrial, my experience and knowledge has taught me to really emphasize that music like this featuring little lyrical content relies on personal interpretation and what one may gather through extras such as booklets, photos, etc. It's also important in this genre to be accurate in presentation so the listener can understand and acknowledge the vibe. You might find yourself struggling to naba solid feel for the message or interpretation without having researched the term, 'rumspringa', and without understanding what little lyrics one can hear and only a over a few promo photos of panty crotch grabs with the artist laying nearly naked in a field. Initial thoughts should definitely be sexual in nature but not anywhere near rumspringa as defined in the intro. The song "Red Rumspringa" also had me considering if this was some evaluation of the movie, The Shining but with no real screaming, children chanting, and the overall sexual feel, these thoughts were quickly dismissed (although who wasn't attracted to this amirite?). With this in mind, She Spread Sorrow has done asufficient job in conveying the description of the album in the promo, which makes her intention clear. With all of that Rumspringa does a fine job in representing what it intended, it would have simply been preferable to understand the vocals. So that's the point, if you have none of the extras the press gets to see, She Spread Sorrow has done something of a poor job, because the idea isn't accessible.
In regards to the sound, the atmosphere is dark and brooding. It's desperate, anxious, and dirty, like what you'd imagine in an exclusive, underground secretive fuck house with dark red lights, black leather furniture, sweat, drugs, and alcohol. It's an escape or refuge for those who have abnormal fetishes where they can act out their shared fantasies. And after doing whatever gets you to bust a nut, you pull up your pants, grab your cigarettes, and sit outside in the alley and chain smoke until you're sober enough to go home and face yourself in the mirror. While these descriptions aren't necessarily related to adolescence, the presence suitably matches with the "a trip into distorted faith, repressed desires, guilt, punishment, discipline and perversion" tag words mentioned above. However, this is really all there is, there isn't much variety. You have those six ideas, and that's about it.  Maybe coincidentally, maybe not, there are six songs as well. You would hope that there would be a larger palette of sounds but lo' and behold, there really isn't. Just listen to a Sewer Goddess album and you'll find yourself surprised at the range of 'fuck, this trip went south fast' sounds. She Spread Sorrow punishes us with a strapping on our rumps but that's it. Every time I do something naughty, I get the strapping. It hurts but the fear dissipates when I know that my punishment is going to be a good old fashioned strapping. Fuck, I'll drop Timothy's face in cow pies if it only means I get a spanking. If She Spread Sorrow had a larger variety of audio punishment, I'd be afraid of the next song. Like if I smeared shit on Dorothy's bonnet or whatnot and if my punishment was spending a night under the floorboards with the rats, fuck, I'd be a good little boy.  So there's some rumpsringa for you.  Overall, it's average, it captures what She Spread Sorrow seems to have intended albeit with some flaws in interpretation and method. Hopefully any future releases will have some more variety, extras to give the listener focus, and clarity in meaning.
She Spread Sorrow Official Facebook
Written by Cole Olson
She Spread Sorrow: Rumspringa
Cold Spring Records
3.7 / 5