Black Wing – … Is Doomed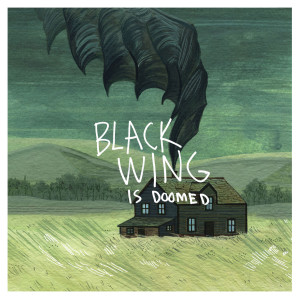 So uhhhh yesterday I went hiking to Wallace Falls State Park in Washington. Completely surreal. Felt like at any moment, some horde of Uruk-hai were going to take away the ring bearer. All you could hear was the waterfall and some distant birds chirping occasionally. I only saw two fucking animals - a squirrel and a hummingbird. And I guess something stung me. I don't know what it was, but I can tell you that the fucker is dead and I still feel his sting in my rib cage. It was so different from all my other hiking experiences because when you hike in Minnesota, you cannot escape animals or noise or bugs - especially bugs. For the most part besides my sting, I had no interaction with any insects during my entire hike. In some weird way, I'm using this connection to explain Black Wing. I came across Black Wing over the summer because I follow Flenser Records on Facebook and they announced Black Wing with a video and I was hooked. I had to have more. I never really cared for electronic music until Black Wing minus a bit of Tim Hecker during some acid trips and finals. It spurred me to go out and explore, leading me to bands like Prurient, Theologian, The Haxan Cloak,  M U H D, thisquietarmy, etc...
In some weird way, Black Wing was that bug bite during the hiking trip; something that I keep thinking about and itching but in a good way (I also didn't crush Black Wing with my bare hands and toss it aside like it was a worthless opponent). I want to itch it more and more. Now as someone who admitted to being very new to the electronic genre, my opinion only means so much. Still, I think I can evaluate this album as it should be. Black Wing is the project of Dan Barrett, the man behind the dangerously melancholic Giles Corey and a member of the drone/shoegazing/post punk duo of  Have a Nice Life. ... Is Doomed surrounded Dan and his stay at the hospital when he was deathly ill and facing his mortality. With darkwave/chillwave/depressedwave as a medium and some rather bluntly depressing lyrics, he is able to create an oddly summer-y, relaxing album. In an interview with The Seventh Hex, Dan was asked about the aura of the first track,"Luther", and he responded with:
"I really wanted a specific feeling. Really, the whole record is heading for this in one way or another…just the feeling of summer melancholy. Driving, with the windows down, warm air everywhere, but somehow feeling disconnected. It's very specific. It's something that that a specific situation brings out in me. I wanted a soundtrack for that moment".
So you get the idea. Each song on the album is memorable to some extent but the stand outs are "Luther", "Black Wing", "My Body Betrayed Me", and "If I Let Him". Like many albums, it isn't without some flaws. Some of the transitions are a bit rough like between "Black Wing" and "My Body Betrayed Me". Like, I just busted a nut and you're already trying to get me to bust another. I need a break. Let me earn my way to another smith-forged erection. I can only commit so much emotionally especially with how dire the album is. The ending of "Death Sentences", while really cool, the vocal monologue of some older gentlemen threw me for a loop. Before I realized it was a part of the track, I thought there was a tab open that it was a commercial and was trying to remove it so I could listen only to the music. Lo and behold, it wasn't and still bugs me. It doesn't sound well integrated. Personally, I would have enjoyed it more if it was more towards the end of the song so I could hear the entirety of it rather than when the synth ends when the old, Jeb Bush sounding-man is understandable.  Other than that, I really enjoyed the album. Dan, if you're reading this (although I doubt you will), you inspired me to explore electronic music and get a synth and since receiving this album, I've been spending a lot of time with said synth. So thanks. Pls send Giles Corey.
Written by Cole Olson
Black Wing: ...Is Doomed
Enemies List Home Recordings, The Flenser Records
4.3 / 5