Nevoa – The Absence of Void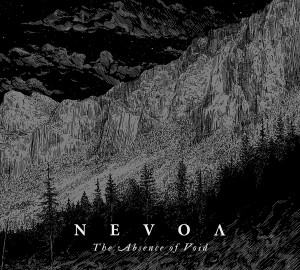 Before I begin, I want to go out and say that if you're going to ask me to review your album or whatever, I would very much appreciate it you – I don't know, gave me the album? I've had a few people message me over the last few weeks about reviews and I want this go out as a blanket statement and say I am not going to buy your album to review it especially if there is a chance that I won't like it. Like "Oh I spent 10$ on your album, now I'm going to delete it because I'd rather use it as a cum rag than keep it as an icon of shame in my music collection." Most of the albums I've reviewed came from Haulix, which if you didn't know, is a website that is used for music promotion so I can download albums and listen to them whenever I can. Speaking of cum rags, get one out for this one. Like my previous review, I went out trying to find an album I really didn't care for. Somehow I failed again and found Nevoa, a band from Porto, Portugal. Speaking of Porto, port wine is great. I went on a sake binge these past few weeks and now I'm tempted to go on a port binge but I'm hesitant because in the past, I used to celebrate Wine Wednesday's with my neighbors. Such reckless celebrations led to some of the worst, most crippling hangovers of my life. Now I don't touch wine especially red. Wowcoolstorybro yeah shaddup I know.
Wolves in the Throne Room. Now I know that name gets some of you so wet in the trousers that you could drown a toddler (I laugh at the horror of seeing a link of drowning a toddler but don't worry, its good clean family fun) so hopefully it's a good trigger word throughout this review. I don't actively search for bands that could replace Wolves in the Throne Room…. (cue sex drips) but if there is any band that could do it, it is Nevoa… and take their throne. Nevoa in the Throne Room (drip more). There is even a track with a female vocalist, "Alma", which Wolves in the Throne Room has done for a few tracks in the past such as "A Looming Resonance". To stretch the connection even further, Stag & Serpent did Nevoa's logo and also did a few pieces of Wolves in the Throne Room. Here's a tidbit from their Bandcamp page that describes the album perfectly:
"A five-track journey that symbolizes passing through a forest, The Absence of Void begins in a hopeful way and becomes darker as the harsh reality of nature is revealed. With no other option, we learn to accept the way Nature behaves, and thus, we ascend, reaching a greater understanding, which marks the end of the journey".
I looked for videos and pictures that could accurately describe how this album makes me feel but there is no better way than the sentence above. I feel nostalgic, sad, angry, inquisitive, young, and old. I turned this fucker up and laid on my cold floor and went through my catalog of memories until I was interrupted by offers of salmon and snap pea pasta which I couldn't refuse. I wish I was drinking at a bonfire up in the woods on a cold night with my friends and talking about days long gone. All the opportunities we didn't see until later in life and the only cure would seem to be to wander up a mountain on a gray day and scream enough to feel like you could start all over again; a big reset button on life. I should get silly with this review but it's hard. Honestly, I haven't ever been so emotionally affected by an album I'm trying to review, really. There is something about Absence of Void so cathartic and I just don't understand. Stop making me feel things.
Only a few complaints. The transitions on "Below A Celestial Abyss" are kind of abrupt; they just faded out too quickly, like very noticeably quickly. I'd rather have the song played longer in order to have a better transition. Also the last track, "The Absence of Void", also ends just too abruptly for my taste. Like pulling off a bandaid but you really don't think it actually helped eliminate the pain. Other than those two infractions, I'm willing to call this something truly special. I recently downloaded a bunch of Gnaw Their Tongues and Cult Leader but I can guarantee you that this will fill my time for the next few days.
Written by Cole Olson
Nevoa: Absence of Void
Altare Productions, Mordgrimm
4.999 / 5