Grime – Circle of Molesters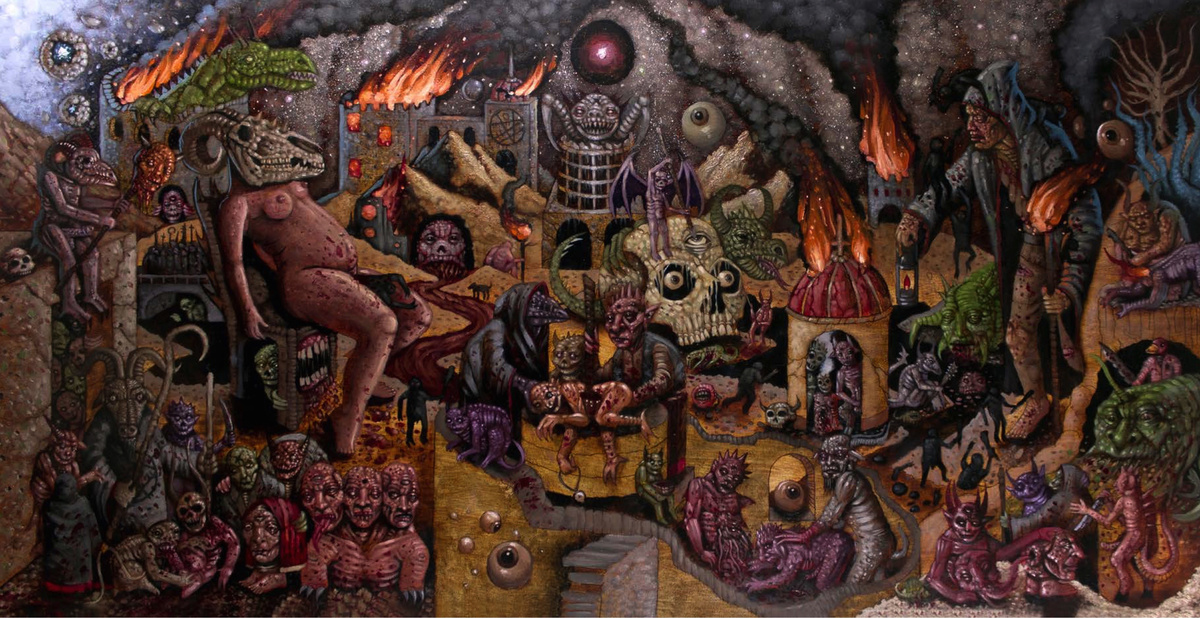 Sludge is an interesting genre.  It's something like grindcore, but with way less blast beats to cover up crap riffs, and more of a groove.  As such, one can consider it grindcore gone meinstreem, or perhaps better to say a genre that can capture the attention of more than a distinct few weirdos who only buy albums on CD-R with Xerox slipcases, the only trve path.  Grindcore is like a collection of pus under the skin.  It stinks when released, so you don't necessarily mind waiting on it to just disappear without all the mess.  It's a genre that frequently wears out its welcome, yet somehow keeps coming back for the holidays to release another CD-R, or four-way split 7″ with four songs on it that runs four minutes.  If you haven't noticed, we rarely review anything of this ilk, simply because most of it's so formulaic it doesn't even deserve a negative review. That would take a chunk out of our lives, like digging out that putrid mass under the flesh and leaving a nice, deep red scar.  So, yes, we prefer good grind, or sludge. Sludge, though, takes a little more skill, a little less aggression, because when you slow down all that pummeling, it reveals pure superficiality.  So give more love to sludge, because it takes a hell of a lot of guts to pull it off properly whilst symbolically spilling your guts and singing about guts at the same time.
Italy's Grime have been making some infectious waves in the underground these past few years in their gut revelations, their last full-length, Deteriorate, receiving tons of praise from some of the bigger-name sites out there. Who cares about those, though? That's why your here. You're elite, and you demand the best musically and visually, especially if it's totally foul. So there's Grime, and they've been applauded for their filth.  Their lyrics are hateful, spattered in blood as the vocalist pulls barbed wire from his throat while wailing.  The drums turn slowly like the wheels of a funeral carriage stuck in the mud.  The guitars shriek and moan like the splitting of a metal trestle, casting all the cars filled with obese cretins on the bridge into the murky river below, filled with putrid garbage that taints the surface with a multi-colored sheen.  The tugboat spewing clouded filth on top of that?  The bass, of course.  That about sums up what's out there about Grime already, we just said it better, but give yourself a clear idea by clicking on the link in this paragraph
So what to find in this most confrontational of album titles, Circle of Molesters?  Well, if you didn't click on that link, we suggest, one more time, that you do.  For this new one, the artwork, taking cues from Flemish masters and perhaps a bit of Italian frescoes (yeah, we know what both of those mean and we won't even provide links), covers all the necessary symbols of disgust.  It's bloody, filthy, and makes one's skin crawl. Very nice, yes, we enjoy this, but what else do you have to offer, Grime?  Musically, they're back to their old filthy tricks, but, strangely, in a way that almost seems toned down, other than that art.  The riffing seems more calculated, more simplistic and less spontaneous, and the vocals lack their manic aggression, almost as though all of the hate he had to offer came through on Deteriorate, and now he's just finishing off the same recording session until he loses his voice.  Most of the energy is dealt in the front-end, especially the lead intro and track two, "Get Immortal", which is totally where most of their putrid energy went.  Easily survives a million listens, ride that hate, ride it all day like one of the grotesque monks or beasts on the cover.  But the rest, well it starts to drag, because, like it or not, sludge is difficult because, as something like slowed-down grind, it reveals very quickly how skilled a band is at writing. Simply put, you need to make those riffs shine, they need to be diverse, too much simplicity and you'll lose the listener, eventually, especially if they've heard your early work, unless they're a die hard fan and take it as it comes no matter the cost.  Grime will catch your attention with their purposeful name, but Circle of Molesters goes no further with their previous work musically, and after a few listens the filth doesn't feel so bad anymore, it feels kind of sterile and clean, and that's never good.  We want it to hurt and leave us dirty, all the time.  Sludgemasters, sure, but hopefully the next time around they bring it back to where they were previously while expanding their sound. Forget the nation, cult doesn't reveal itself, ever.
Written by Stanley Stepanic
Grime: Circle of Molesters
Argento Records
3.9 / 5