Open Call for Correspondents (That Means Writers)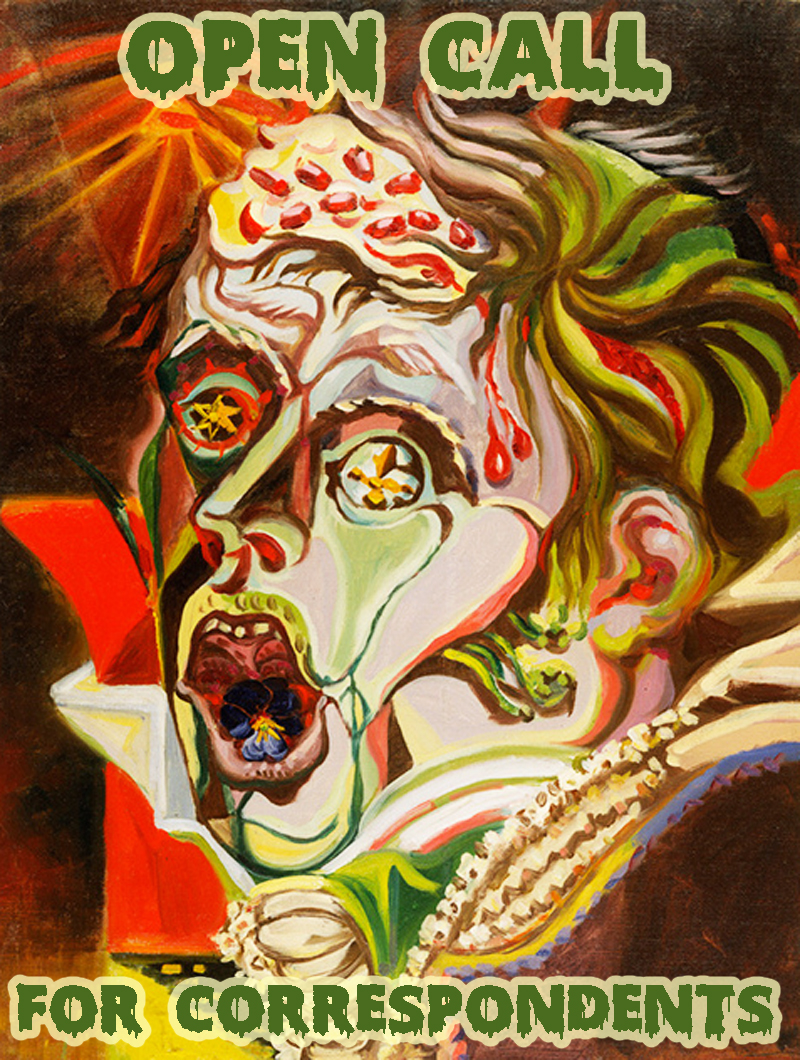 The time has come. For awhile now I've been gathering ideas and starting to build some capital in preparation for a big push for new correspondents. Correspondents? It means writers, but it sounds more archaic and original so just accept it. Before I explain in detail, please note this is a paying position, but not a permanent contract, it is a by-work contractual system. I used to have writers for music reviews, but the lack of reliability has always been an issue, as it is for any site of this nature, and, further, though underground music will still be a big portion of the site, it's time to expand. So what am I looking for exactly?
It's time for Deaf Sparrow to expand into other areas such of underground culture beyond music. This, of course, seems typical on the surface because we all know it, there are plenty of sites in the digital world discussing underground culture, in fact practically everything seems like it's already been done. The problem is the majority of writers on such sites function as outliers. Like a missionary proselytizing, they often have no true understand of the haethen they describe. This is because of the digital world we live in, it's an age of quantity and quick consumption, where the quickest to write and release thrives off of the subsequent sharing and likes. The more controversial, even without good sourcing or knowledge, the better. This constant drive for quantity and shock value have degraded far too many sites, and few have realized there is more power in the writer who truly lives what they're writing about. Many music critics have extended themselves into areas where their knowledge is based on cursory research, the likes of which any of us can do. The problem is they're merely filtering information instead of actually presenting it, leaving a false perception of the truth. Our knowledge of the underground is sometimes, thusly, fraud, or written to stir opinions for more site exposure, because we've been relying on outsiders. Outsiders have been the core vanguard for most underground culture sites, but unfortunately they're often wrong.
I'm instead searching for members of the underground coterie, people who live within it, and are not merely interpreters. I need insiders. Who wants to read about an underground venue in Malaysia, for example, if it's written by an undergraduate freelancer in Ohio who works for Noisey? I'm instead seeking out the direct source, direct contacts. Far too long have many sites relied on content analyzed through a lens instead of personal, direct experience, and that's where you could come in.
This call is open to anyone from anywhere in the world, provided what they choose to write about is something they live, something with which they have first-hand experience. Think you can do it? No previous writing experience is required, and all editing is done by me, personally, checked with each individual writer so that accuracy is retained. Go to a cool DIY venue almost no one has heard of in the middle of Maldives? Speak. Know an artist who paints landscapes in human refuse few people know? Speak. Know a DIY black metal shirt designer making a living on rare shirts on the streets of Belgium? Speak! That's what I'm looking for, provided it follows the general aesthetic of the site. If it's dark, brooding, and misanthropic, chances are it's perfect. Checking out some of my recent articles should give you an idea, though please note that the majority are music because of the site's primary purpose from its inception. You are under no pressure or contractual obligation to finish, I only pay for work already completed. Articles will be promoted for up to 30 days, when the copyright falls back into your hands, though you are permitting the original to appear on Deaf Sparrow permanently, without profit from the article itself. That being said, read below to see what I'm looking for, and not looking for.
Nonfiction
I currently do not need any new writers for music reviews or interviews.
Art correspondents are a high-priority. Dark art is good.
Cultural correspondents in practically anything dealing with the underground are just as important. This is a very wide avenue, and can include almost anything. Articles on venues, shows, material culture (clothing styles particular to an underground community), and the like. Drop an idea my way if you have one.
I will also consider video reviews, provided the music fits the site's aesthetic.
Fiction and Music
I am not looking to publish sections of larger works or samples of music on the site, if you're interested in publishing with me, see my submission policies by clicking the appropriate page tab above.
I am not looking to showcase new tracks like many sites do, and I do not provide streaming services through the site, because who cares? Plenty of sites already do.
I will, however, consider short stories and poetry for publication on the site, provided they follow the aesthetic, and, further, if they include a strong visual component (this means illustrations or a piece of art that symbolizes the work as a whole).
How to Submit
Very simple, if you're interested in writing something for me, read the following.
Please use the site's main email, which is deafsparrow@gmail.com
In the subject line, please write ARTICLE SUBMISSION: (put idea here). If this is concerning a short story or work of poetry, please write SHORT STORY/POETRY SUBMISSION: (title here).
In the introduction of the email, please introduce yourself briefly, including any previous writing experience, though this is not required.
In the body, please write a concise, one-paragraph summary of what you'd like to write about.
End the email with a brief statement of thanks and with CLEAR contact information. Email is preferred, but if you don't have regular access, snail mail is fine, but annoying.
Good Luck!
            – Stanley Stepanic