RUIN – Drown in Blood (Better Through Headphones)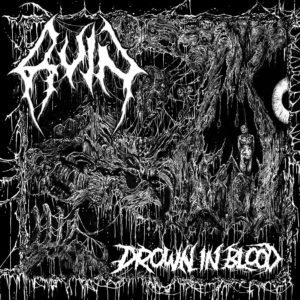 Okay, listen, bands, hey, if you're picking a name, please, please make sure it hasn't been goddamn picked already! I just don't get that. Then you have to add (US), or whatever country, followed by state or territory, maybe even town if you're dumb enough to stick with the name when there's already a band going by it in your same region. Just pick a different name jeez. What is this the 50th time I've said this? Luckily this particular Ruin is the first one in the world, so it's not their fault other people weren't creative enough or lacked a thesaurus. As you could probably guess, I was already hooked by the cover, which at first glance, something like their music, seems a total damn mess. But the more you look at it, kind of like some cloud in a storm, you begin to see shapes, and then epiphany is achieved. CesarCold did a great job with this one, but unfortunately the music does not do as good of a job hiding meaning within mess. So, wait, actually scratch what I just said about the storm.
Drown in Blood exists in a whopping four different versions with three from three different labels. Self-released by the band itself, CD by Memento Mori, cassette by Vonfrost Records, and then finally le vinyl by Blood Harvest. It's amazing these guys got that much reach from what is a pretty tame album. The concept is great, it's a straightforward approach to disgusting, filthy, blackened death metal, though we could do without the serial killer samples that I know have been used by a million other bands. But the real problem with RUIN's approach here is the sound quality is far more interesting than the actual writing,and for some odd reason it sounds much better through trash headphones I got at CVS. They regurgitate some rancid, clot-forming passages, but unfortunately, more often, it becomes a churning, rancid butter riff instead. There's just nothing underground and cruel about that at all. The problem is also further developed due to this album's simplicity. We're talking stuff written back in the late 80s, just with digital recording now. Were it not for the vocals, which are truly what makes Drown in Blood worth more than a moment, it would be more like drown in crud. Some critics have smashed this one into the ground, with good reason, but if one considers the vocals more, it's clear RUIN still has something to prove. The variety, the guttural, gurgling quality of them is a thing in itself, but it needs more worthy, disgusting riffs to really catch the popularity tide.
RUIN Has No Official Facebook (Sigh)
Written by Stanley Stepanic
RUIN: Drown in Blood
Blood Harvest, Memento Mori, Vonfrost Records
3.7 / 5