Drug Honkey – Cloak of Skies
Doom metal is a genre close to collapse, I'm more and more sure of it. It has as much redundancy currently as NY hardcore and baby boomer punk, so think about it, do you really want to keep listening to it? It's far too hesitant to change when change is needed, and far too comfortable with its little collection of themes that no one takes seriously anymore. Weed, witches, women, worship of 70s rock being the usual smattering of creative impotence. Did I forget to mention such themes also occur frequently in space? Great way to give sci-fi a band name, thanks but I guess every classic genre is there in its own way, tired of itself, because "it's all been done," as we hear so frequently. You didn't hear it from me, I just quoted it, though, so never forget. Here on Deaf Sparrow lies only truth, because now and then a band comes my way that reminds me why I keep doing this. They pull me from out of my dying enthusiasm and put back into place my unnecessary sense of dominance. It's not often I say it, but this here is an example of the future, but not just doom, because single-tagged bands just don't amount to much anymore.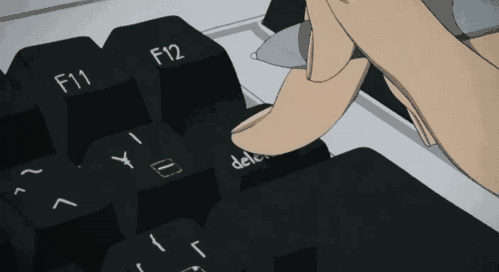 I'm pretty sure Drug Honkey sent me something a few years ago, but I ignored it because this has to be the stupidest band name I've ever heard and I'm pretty sure they also win my award for worst logo that I've never given before (sorry guys,but be proud). But there they were again, asking me to give them a listen, and I almost went straight to the delete button, but thankfully for them they chose legendary metal artist Paolo Girardi to do the cover. That logo almost killed me though, because it hearkens back to their past, which is filled with lame Satan references and arbitrary covers. Never, ever forget the power of good art. But, clearly, after being around almost 20 years, Drug Honkey developed into something more, they've adapted to the stagnation of the times and overcome it with this beautiful piece of filth, Cloak of Skies.
Apologies to the band, because I said about two weeks ago I was going to review this, but let me explain. Kid came down with croup, which the wife got, and then I got it, because, you know, bodily fluids. We've been swimming in mucous and body aches ever since, and really I couldn't have felt worse about myself without this album, because it's pretty mucousal. What a damn fine analogy, I have to say, because Cloak of Skies is like a toxic, churning bog of snot with about three or so people drowning in it. Its foundation is the type of doom that's punishingly slow, which often comes with the handicap of riffs delivered so sparingly it's impossible to connect with it. Where Drug Honkey manages to conquer this challenge, setting themselves up for a fine career, is how they experiment, especially with keyboards and vocal effects. There are riffs here, sure, but these guys are functioning on an entirely different level, easily proven by how Encyclopaedia Metallum can't figure out what in the hell genre tag they should have so they just tossed out some random ones and said "ah screw it."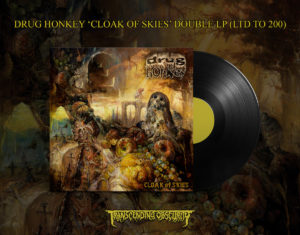 Just forget genre, it's a fault of false critics. There's some doom here, but far too much melding to leave it at that or bother with trying other genres.  What Cloak of Skies does is degrade itself into a sticky mass that cannot be separated. The main lines of the guitar/bass combo are delivered more for atmosphere than providing the expected central focus, leaving the keyboards to fill in the excess space with bizarre, acid-eaten passages made only more viscous by the chattering, staccato vocals. This is one of the few times I've been okay with vocal effects, because it creates out of the voice another instrument instead of a tiresome doom front-man, which makes this entire album an interconnected whole, like for real, rather than simply memorable parts. You can't consume it in part, only in totality. No riffs really stick because they can't without everything else; it's the whole thing that sticks. It's in your throat, it's in your ear canals, it builds pressure, but you can't get it out, not until it's ended by itself. Cloak of Skies is a listen that will never have you latching onto one particular track or passage, it's an entire experience, a rare example of a cohesive album delivered nearly perfectly. If it weren't for the fact that I had never heard them until now, I may have scored slightly differently, because a quick check of their previous releases shows far too much similarity. But taken without background, it's the finest mucous I've ever had the pleasure of not being able to regurgitate. Cloak of Skies currently was printed as a double-LP set (pictured on the left), or as a CD, one in a limited production run, but the band told me a cassette version is in the works, so if plastic boxes are your thing, wait for that. You kind of need to anyway because this is nearly sold out already. We'll see what they do next, there's a tendency here to fall into more of the same, but let's give them some time to breathe from all the fame first. Sometimes that ruins even the most clever of bands within a single release. See the downfall of Lord Mantis, which I just called, for more information on that.
Written by Stanley Stepanic
Drug Honkey: Cloak of Skies
Transcending Obscurity
4.5 / 5