Beastiality – Worshippers of Unearthly Perversions (Let's See This Get Promoted)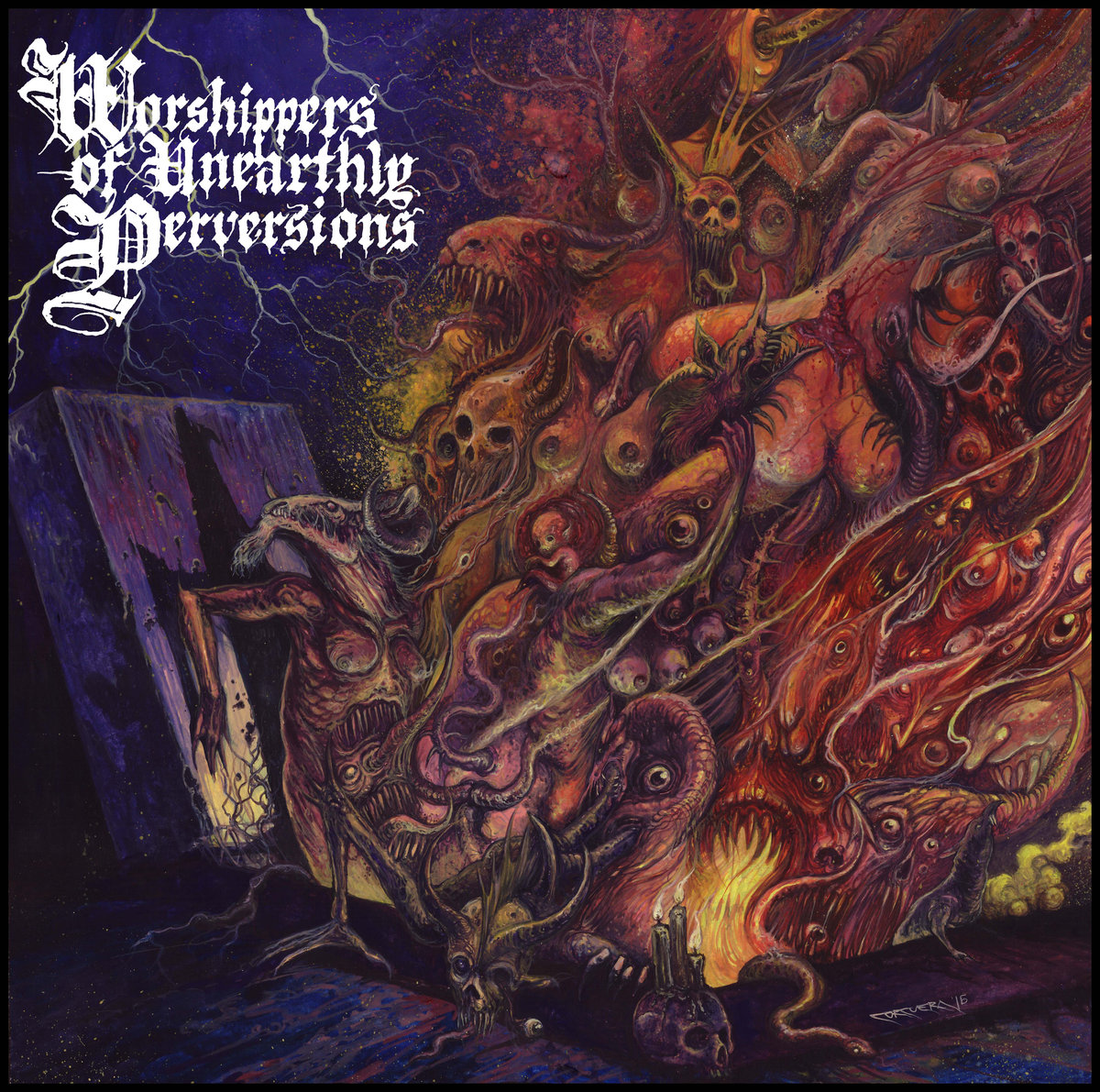 My promotion for this album is probably going to get shot down immediately because of the band's name, but that's the reality of the underground. Filthy names, little exposure because of filthy names. Who would want to name their band after sex acts with animals anyway even if the spelling is slightly changed? It still reads creepy, and you don't want creepy, you want disgusting. So hey, yay, the artwork by Nekronicon (Daniel Desecrator) was the big reason I wanted to give this a shot, even after listening to it, several times. I've covered some art by Nekronicon before, but this one in particular is probably the best work I've seen by him. What makes it great is how it references several works of Renaissance art, in particular all the Christ entombed pieces, with or without the artist's knowledge, but the depraved nature of the imagery completely subverts that, while also darkening the usual chiaroscuro if you want to get really technical and learn a new word (fun website here). Anyway, it's freaking volcanic, defiled vomitus, there's no way you won't dig it. Now the music...
I totally hated Worshippers of Unearthly Perversions when I first listened to it. Garbage. It was one of the most lackluster garbage submissions I ever received, and I receive a lot of garbage. This isn't rotting meat, it's a bit of eggshell at the bottom of the bin. Yeah, I know, my analogy's weak, but you're used to that. Also but, using my oh-so-skilled ear, I suspected it had to do primarily with the environment I was in and the headphones. Never trust your headphones 100% I'm saying, and thankfully for these guys I didn't. But I had to listen to this several times before I really got it, and that's not because I don't get it in general, it's because their sound is incredibly cliche, requiring several listens to really feel what they're doing differently. That's usually a hallmark of Swedish death metal if you're not familiar. What Beastiality does different, to cut to the chase and end this damn review, is similar to the artwork. Classical forms and style is all over this, but it's just better than average because of the band's fervor. At times this comes off awesome, like the main riff of "The Mist of Mayhem" or starting at the 2:36 mark in "Stanken av Uråldrig Död," but at other times, like the start of this same track, the music is blasphemed by that ridiculous tendency in Scandinavian metal to laugh like an imp or mob chat, that in the Swedish context sounds like that they call "kulning" (seriously click on that). To the band's credit they put energy into that too, but such moments can ruin what is otherwise a filthy, though standard, release.
Written by Stanley Stepanic
Beastiality – Worshippers of Unearthly Perversions
Invictus Productions
3.9 / 5