Worship: Ivory Crux – Sexual Bones and Oils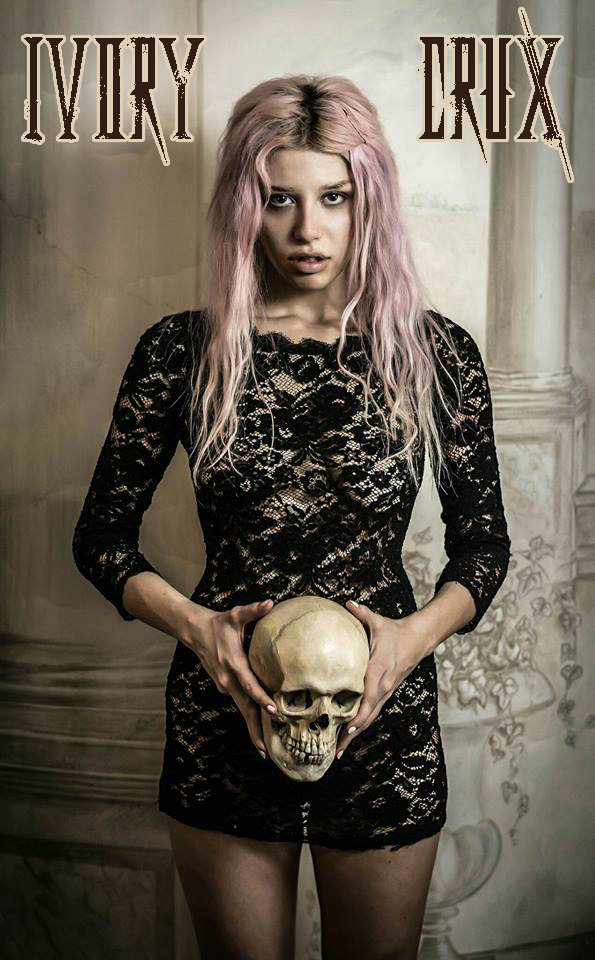 It's been awhile since we've engaged in worship, which means articles reserved for the best of bands, musicians, and artists who deserve to be drawn from the pits. That's my clever thing there, yeah. I first decided to do these because I noticed visual masters of the underground are often ignored, even though their imagery is often one of the strongest selling points of an album. The standard is that artists are downplayed in promotional materials, if their names are mentioned at all. Usually not. Travesty, because their work is critical in the underground community, for without them no musician or band would have an identity. If only provincials out there would understand how important good art is. Hint, I delete 90% of the promos I get for that very reason. So invest in someone, eh? Perhaps this girl, for we're looking at the work of Ivory Crux.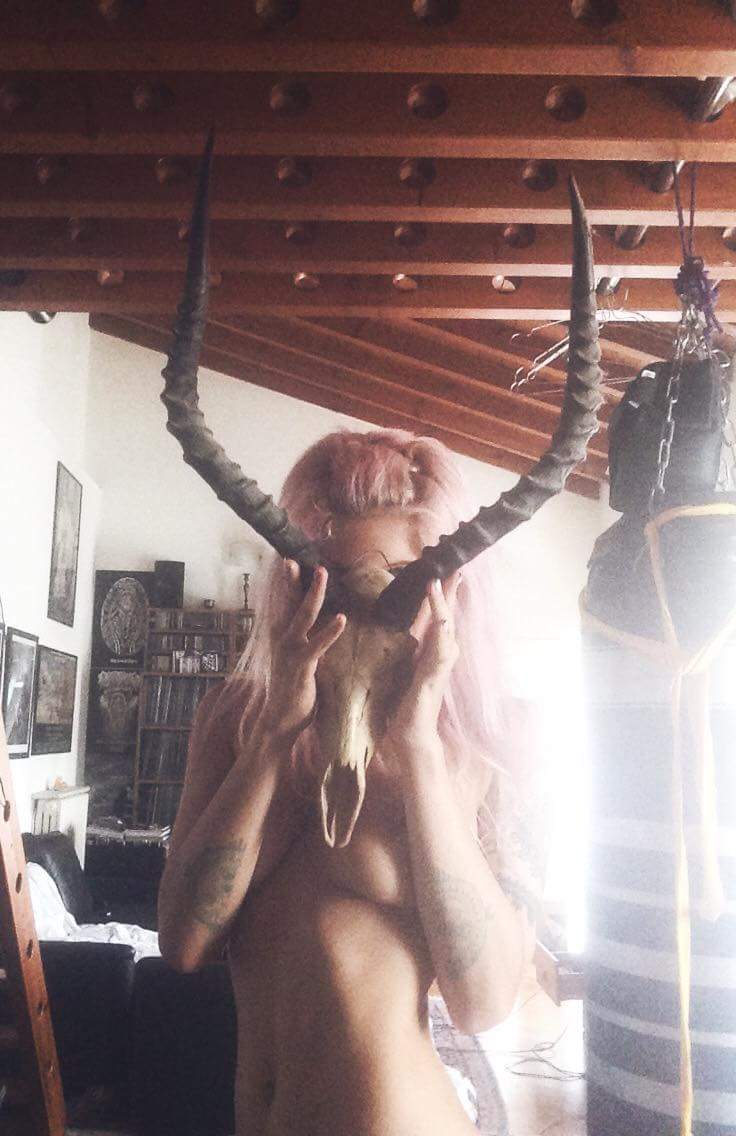 Ivory Crux is a painter, sculptor and illustrator, born on 6 July 1995. From a young age she had an interest in the arts, which eventually led to her studies at the Liceo Artistico Olivieri in Brescia, Italy.  There, she received her first formal training, especially in portraiture, and began to participate in various events for young artists including gallery showings. Her first personal exhibition was on 10 May 2014 at 'Mondo Gondwana,' an intercultural art fair held in the social center of Toscolano Maderno. Her painting style is distinguished by fluid, heavy strokes and a sense of the ethereal, though she has also worked in sculpture, in particular her molding and carving of bones and skulls (one of which are shown in this article). She has made private portraits since she was young but was first discovered in the underground when she began to draw simple sketches in her free time, which eventually got the attention of bands and labels in Italy. Her first work for a band was entitled "Eat the Bastard Flesh" (2013), which you see below in a video promo from the demo by Riexhumation. It gives you a sense of her sketch work before she began to use more complex designs and oils. This is then followed by a video of the full album Witness His Death (2015, Slaughterhouse Records) by Ekpyrosis, to give you a sense of her work in pencil/pen.
Ivory's more pen/pencil work is a complex, dense pastiche of imagery, such as the cover of the Terrorsaw album The Deepest Machete Penetration (2016, Hell's Fire Records) you see at the right. Before we get to her work with oils, her themes deserve a discussion. It should be clear that her subject matter tends to be surreal, with a focus on the macabre and sexual deviance, contrasting the life urge (eros) with the death urge (thanatos). Thus existence, the profane, dualism, madness, disgust, a sexual attraction to death, all of these are powered by layers of haggard emotion. One can find various connections to classical art in her pieces as well in the Italian tradition, including the Symbolist movement, but we will avoid discussing that here and leave it up for the viewer to discern. Currently her sculpture work involves carving and manipulation of bones. The impetus behind these projects started, according to her, as a challenge when a friend asked her "why don't you carve bones?" after she experienced a dream where a "skeletal priest" gave her a passionate kiss. Some of these sculptures are merely for the art, others have an actual function in the form of sexual toys (yes, go buy one guy or girl) or instruments.  One artistic sculpture you can see immediately below. Sorry, if you thought this was going Pornhub free forget it, you can see that on your own time. This is a classy trash site!
Most of Ivory's professional work, however, is in oils, which she began at the time she went through puberty and began to "experience love and grief," themes that became a part of her style. Oil painting is the last medium a newcomer to the metal arts would dare try, because of the difficulty in using it due to the nearly constant, viscous quality, unlike tempura or watercolor. For this reason, most artists stick to pencil and pen. Oil, however, enables a layered effect for more depth to imagery. Artists like Ivory, who are good with it, have created some of the most memorable artwork, though you fops probably aren't aware what you're staring at, at times, is even oil paint. The medium's partial translucence is part of the reason it works so well, but without a good theme and sense of space and color, it's wasted. Hint, she does not waste your time. We will consider some of her works separately momentarily, but for now you can look at three oil pieces for covers below, and one in ink, including full, free streaming for each. The first is Supreme Fire (2016, Iron Tyrant) by Profanal. The second, Soul Demise (2017, Everlasting Spew Records) by Maze of Sothoth. The third, Abyss (2017, Envenomed Music) by Membrance. Finally we have an EP by Black Oath, Litanies in the Dark (2016). Following these albums we will consider three of Ivory's pieces, with a discussion of her thoughts behind each work as provided through private discussions. Feel free to bastardize your ears while you enjoy her art. Each piece can be enlarged by clicking on the reduced size.
This first piece is based on Ivory's personal experiences of her mother's suicide attempt after their father left the family. It was painted after she saw her recovering in a psychiatric facility, emaciated and vomiting a red liquid that looked like blood. The connections between life and death are evident if you analyze the work, with gravestones hidden in the roots of the "tree," which in its trunk and above its branches are images that are highly vaginal in appearance, which she states the viewer must "look beyond." To her, these images are part of the endless cycle of human birth, despair, sex, and death, a being who can never life forever. The art, along with oils, contains drops of her own blood. It was used in only one case, since it was a personal work for herself, a flyer for a death fest in Brixia in 2015.

This particular piece, with its obvious, sexual and death imagery, was based on Ivory's personal experience of a sexually forceful, older, bisexual man who attempted to assault her. She leaves the rest up to the viewer.

This final piece she is currently leaving unexplained. There is an Italian tradition lurking under the surface, if you're familiar with the country's painting traditions, but its obviously modern style places tradition in the background. Various images are hidden within the creature's design, which permits the mind to scan and find shapes as though looking into a black cloud.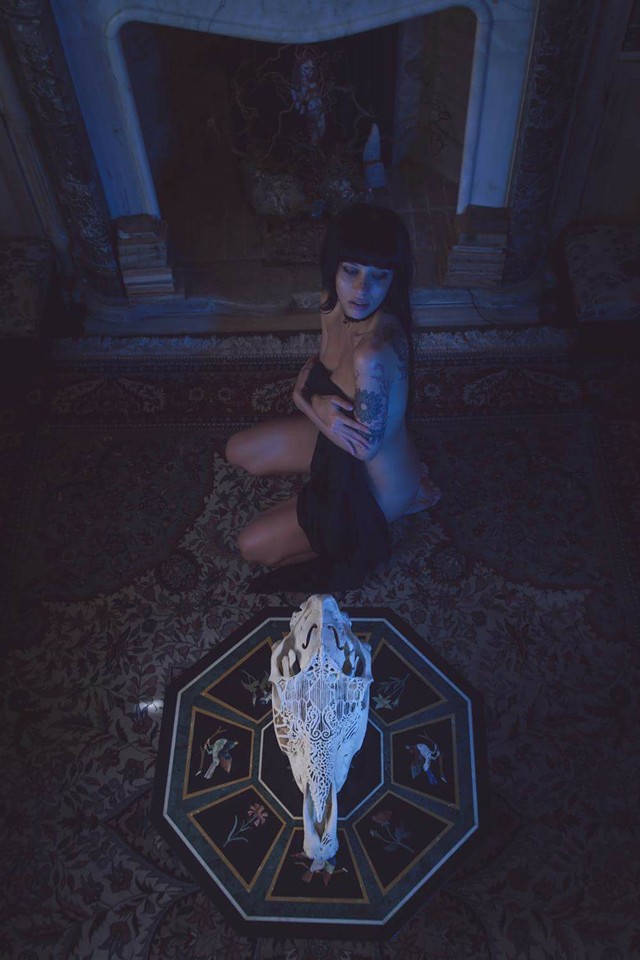 I won't waste any more of your time, as you're certainly still thinking about sex toys made out of bones, or likely stopped reading already to look at them. But, I must give a depressive thanks to Ivory for taking the time to answer me over these past few weeks. It was an interesting, mutually languid experience. These features always take far more time than the usual idiocy I post on here. Be sure to check out her other art via the links below, and give her a follow, because she will likely be a name you'll see more of in the future, if not for the reason that you'll be paying her soon for some of this blasphemy.

Ivory Crux Official Facebook
Ivory Crux Official Instagram
Ivory Crux Official Site

Written by Stanley Stepanic