Gnaw Their Tongues & Crowhurst – Burning Ad Infinitum (Title Ad Infinitum)
When I first heard Gnaw Their Tongues I had no idea what to appreciate or what the fuck I was listening to. My feeble mind wasn't ready to abandon the glittery world of shred guitar solos, crushing breakdowns, and pig squeals. But Gnaw Their Tongues always stuck with me and I know it was an encounter with greatness. We've all been there: that strange feeling of something that appeals to us and we might not be ready for it so we pass it up but it never quite leaves our minds. I mean the name alone I think is enough to illicit a pretty memorable reaction. "Gnaw Their Tongues" has such a tactile sound, feeling, and visceral quality to it. And that is exactly what he brings to all of his releases. And Burning Ad Infinitum is no different, and it's a great thing because, duh, Crowhurst is in the mix. I find myself like the tormented, cigarette-limbed unbeing on the cover.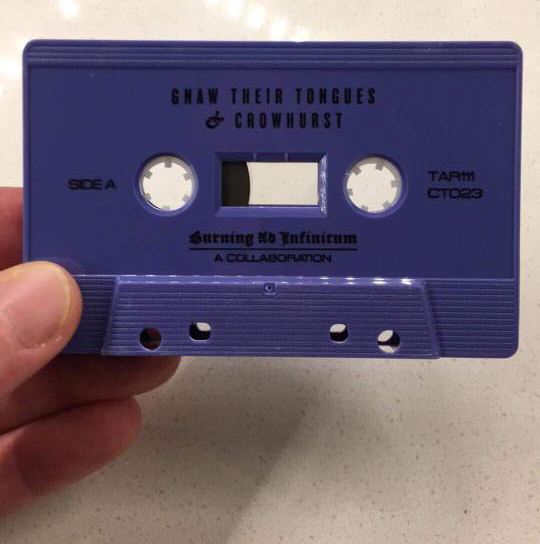 Burning Ad Infinitum is a non-stop mashup of noise and textures with lo-fi trashcan black metal sandwiched right in-between. The opening track is dissonant and ambient with rhythmic battering that knocks around, remaining wholly comfortable while being absolutely unpredictable. Pushing into "Speared Martyrs," the dysrthymic drums, slicing echoes, and clawing pads open the song into a crushing, fast-paced sinister black metal. The end of the song plays out like some kind of sick carousel ride. But as random as everything sounds the disorientation of the music feels good as the four red pig-horse-dragons pull at my limbs.
The 2nd half of Burning Ad Infinitum pushes deeper with unrelenting noise, drenched, distorted synths, crushing guitars, and heavy drums. In a way the whole album feels a journey dark and confrontational. But I think it takes us into realm where we get to see a fuller pallet of musical intelligence on display. Gnaw Their Tongues and Crowhurst manage to push the listener into an uncomfortable contact with greatness while still delivering something that can feel almost familiar. The vibrantly disturbing cover by Caroline Harrison and Brandon Guerts add to what is an impressively wrought package, available, currently, in white, red, or purple vinyl from Crown and Throne Ltd., as well as a purple cassette from Tartarus Records.
 

Gnaw Their Tongues Official Facebook
Written by Nick the Indefinite
Gnaw Their Tongues/Crowhurst – Burning Ad Infinitum
Crown and Throne Ltd., Tartarus Records
4.8 / 5