Pestilence: Obsideo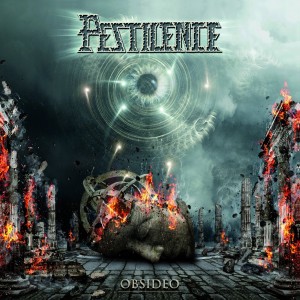 All too often, metal songwriters fail to understand nuance and dynamic. One of the reasons it becomes difficult to navigate the waters of the extreme is that, frequently, and for whatever reason, the people creating this kind of material are of the opinion that if you constantly deluge your audience with "br00tz" they'll be so flabbergasted by your awesomeness and testosterone that they'll have no choice but to call you the Poseidon of grind.
In this way, it can become tedious sifting through the endless reams and compound subgenres of heavy music, looking for something that's well crafted and thoroughly crushing. Pestilence began life as a standout thrash/death band along the lines of Possessed or early era Sepultura, but from the outset it was clear that they had a special flair for songwriting , combining familiarity with a creativity lacking from many bands at the time. Pestilence songs always feel like a well worn leather with some badass new patches on it, never delving so far into concept or pretense that they feel like they're losing the point. When this band experiments, their experiments are a resounding success.
Even after going through some lineup changes and introducing elements of technical death metal and jazz fusion, Pestilence still sounds like Pestilence, and that's only a good thing. Obsideo is everything the band has been doing since the beginning, distilled into fine single malt with all the ingredients they've added over the years. The attention to detail is really key, little flourishes like the split second digital noise in "Necromorph", the subtle use of harmony throughout the entire effort, the little "serial killer" keyboard lick  at the end of "Transition" make this record worthy of repeat listening, often in the same sitting. New elements reveal themselves with each successive listen, and the whole experience is as rewarding as is it fun to bang your head to.
Obsideo is a perfect illustration of how a metal album can be relentless, exceedingly interesting, and both a prime example of the best of the history and evolution of a style, and a logical step forward for a band as well. If this LP doesn't make several year end "best of" lists then someone needs to hand out some beatdowns. Pestilence have a winner on their hands.
Written by Mort Subite
Pestilence: Obsideo
Candlelight
5/5