10 Reasons Why Disney's Frozen SUCKS AND WILL ALWAYS SUCK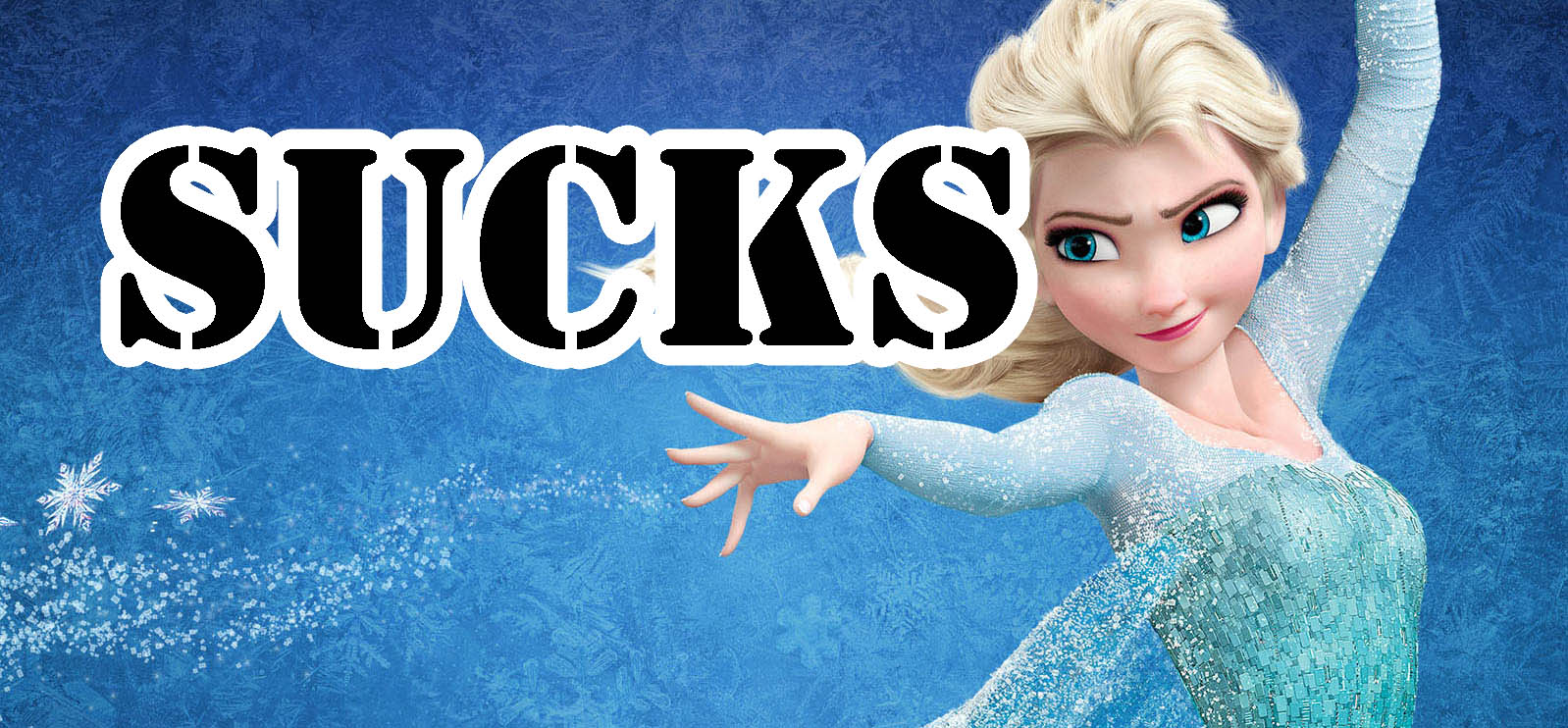 I can't believe this is happening.  Why in the Hell are we bothering with this stupid review?  Whatever, anyway, that's right, this article deserved a full-out CAPS assault to get your attention, and also to get more hits on Google.  Sometimes we do odd things around here.  We're sure you all feel cool being ultra underground, learning about bands like Pollution, black metal from countries you never knew existed, movies most people are afraid to watch, it's all just too cool.  So why in the Hell are we bothering with some pop-culture trash like Frozen?  That's part of the beauty of being so elite and legit underground.  Part of the reason we got here in the first place is we got sick of the lack of substance and creativity above, and learning what that stuff really means down here, well, it enables us to completely trash pop-culture when it needs it.  That means yes, we are trashing this film.  We're going to trash this piece of garbage in the most underground way possible, with a top ten list.
So, what are we all about here?  My wife and I, after hearing all the rave reviews from friends, some of whom we trusted until now, decided to take a quick Redbox trip and see what it was all about.  We saw Tangled a few years ago, and honestly it was a pretty good film and sometimes self-aware.  Groundbreaking?  No.  Something we'd watch again?  Sure, maybe, it was okay, and that's fine.  Expected the same out of Frozen, but we received the agony of watching one of the worst films ever made.  We're talking Waterishtarworldgate level here.  Yep, said it, this film sucks something awful like that portmanteau.  Here are the ten reasons why, in no particular order so that calling it a "top" list makes as much sense as calling the film "good."  We hate it so bad around here it didn't even deserve to be considered a media review, because it hints at the greater problems that Disney still has as a corporation interested in worldwide dominance of your pathetic mind.  But we had to stick to format.
1. Ruined the source content.
Sure, probably everyone knows that Frozen was based on Hans Christian Andersen's genius The Snow Queen, but do you really know how far it diverged from the plot?  It's a lot, like a really lot.  Adaptation is fine, but with such an ingenious story on so many levels, it hurts to see it so watered-down to appease a mass audience of fools.  The central factor here is it's a fairy tale.  Fairy tales, by nature, require the audience to suspend reality, so if you mix too much of the "real" in there it degrades the idea of it all.  Hint, that's exactly what Frozen does with The Snow Queen.  Luckily for true film fans out there, the Soviets, of all people, made a faithful, animated version of it in 1957, which you can watch for free right here.
2. Original altered to stock drivel.
This continues our first point.  Frozen in adapting, or better to say completely altering the original story, has simply utilized stock ideas from the Disney profit-princess concept to make another set of birthday party napkins for you toss in the trash, covered with cake that was so delicately designed with Elsa on the top of it.  That's right, keep eating, go ahead, EAT ALL OF IT.  Really, it's pathetic what they did.  Princess, guy to fall in love with who's really not a good guy, other guy you know she'll actually fall in love with, can it get more obvious?  There's nothing wrong with sticking to a format, but an obvious format does not a good movie make, so stop right there.  It's the most typical story ever told, without a lick of creativity.  If you make it obvious, you need to be very clever with the development. Some people think this was what was actually clever about it, but we'll address that at the end.
3. Wooden characters.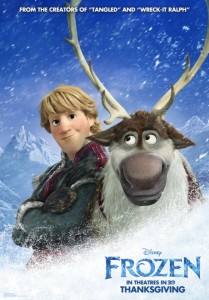 Even for stock ideas of good/evil you need to have some attachments and dislike for characters.  Classic can be good, but only if you retain these sensations with proper development, which Frozen does not.  As soon as you see Kristoff, that rugged yo ho mountain man with his trusty sidekick elk you know immediately he's going to be the main love interest.  He's just there for a moment and you say, "yep, there's that guy."  The most obvious case of poor character focus is between Elsa and Anna, the two sisters.  So Elsa has this power that's potentially dangerous, fine.  The movie then cuts to a song to explain their years growing together/apart, but because of how it's pieced together, with no real explanation of certain things (we'll get to this), and it's done within a scant minute or so, the viewer is left unconnected to the core issues of the film.  Their parents die with no real meaning, because the tragedy isn't developed.  Other characters are merely there for their stock roles and aren't given enough space to evolve.  Will there, oh will there be a cute, lovable, comedy-relief creature of some sort who's so lovably stupid you just have to buy the stuffed toy after?  YEP.  Is it really explained WTF he's doing there in the first place?  NOPE.  SHUT UP TOY GET IN MY ARMS NOW HERE IS ALL MY MONEY.  Let's get to that next.
4. Sidekick bullshit.
Really, honestly, does there have to be a God damn sidekick character in every frikken Disney film?  Why?  Why do you keep doing this?  So Elsa and Anna made a snowman or two in their youth, thus the main song this stupid movie is known for, and later he's wandering around because he's magical now and whatever.  So?  Does he really have to be there?  Sure, they make him have a little importance later in the plot, but the fact that you could do that with someone else and remove him from the rest of the film with no difference other than a removal of trite comedy says a lot.  We don't need to have something to laugh at all the time, just once, please, can't you just tell a story for a story instead of littering it with stupid comedy?  Sometimes serious is the better option.
5. Poor plot development.
The Snow Queen was an awesome story, you can read the entire thing in the link posted earlier.  Frozen's big problem is lots of critical plot development is scrunched into a two-minute song, merely assumed, or comes and goes so it quickly it loses effect.  When the parents die, you really don't care.  They barely say more than two sentences in the movie anyway, so when their ship goes down it means nothing because the sisters forget about it so easily.  Actually, they don't, but it's all condensed into a song and you lose that sense of reality.  Elsa's power is another example.  So she has this great power to control ice that's potentially dangerous.  Where did it come from?  Why is it just assumed?  What is it's purpose in the greater schema of this fantasy world?  Why are we given no details as to what it actually means?  Who in the living Hell would actually fall in love with a prince they literally just met and who 100% of the audience already knows is going to not be the one chosen at the end?  If it's that obvious to a five-year old (true story), perhaps the characters themselves are complete idiots, and that explains the rest of it.  Don't worry, we'll be getting to that bit if you think we don't get it, keep reading.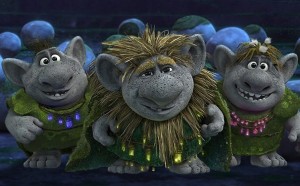 6. Random "wait WTF" shit.
Frozen has a ton of things merely assumed.  It goes along with our last point, but here's a perfect example of it, the rock trolls.  Okay, cool looking, trolls, rocks, kind of like Rock Lords but not awesome, we'll go with that.  Wait, why are they here?  Who are they exactly?  Why do the parents go to them for help in the opening scenes?  What function do they have in this world?  They're just tossed right in there like the balls they resemble and you're expected to simply consume their presence.  Sorry but no.  Or how about this.  So Elsa decides to leave her kingdom because she fears her powers, okay, sure.  Well, wait no.  First off, if love is the key to "curing" her, wouldn't she have figured that out earlier?  "NO," you say in CAPS.  But children have pure love, so umm, wouldn't she have, you know, FIGURED IT THE HELL OUT EARLIER?  And why did they wipe Anna's memories of what happened?  What's the point of that?  Why not just say to her, "listen, dear, your sister has ice powers that could potentially kill you, best to stay away when you can."  Seems pretty legit to me, and we could have avoided another stupid song.  So she leaves all that, okay.  And she goes into the mountains and makes an ice palace!  Wait, and then what?  Is she going to make ice food?  Is she going to have ice parties with ice sculptures and do nothing the rest of her life?  Really, what in the Hell is she going to do now?  ABSOLUTELY NOTHING BECAUSE SHE'S IN THE GOD DAMN MOUNTAINS AND THERE'S SNOW EVERYWHERE.  Fairy tales suspend the majority of reality!  You can't keep mixing it or the viewer questions the plot!
7. Those trolls.
Seriously, can we talk about the trolls again?  Thank you.  Why are they in this movie?  They're just there!  They perform magic, great, there's a leader, great, whatever, but why are they there?  Are there other creatures like them in the world?  What is their role among the greater fauna and flora?  Do they sit there rolled up in ball-form until someone comes to ask them questions about magic or to make it seem like Frozen has plot?  Toss us something so we don't make another point in our list here about it.
8. God damn songs.
This has to be, seriously, the Disney film from their entire history with the most frikken songs ever.  A song is pulled out nearly every scene for no reason, trying to condense plot into short spaces, just for the Hell of it, to prove a "point," whatever.  Why do we have to have all of these stupid songs?  Disney has proven in the past a few songs, or even no songs, can still make a successful film.  Why do they always feel the need to waste our time with these stupid songs?  And nothing's worse than a song that tries to explain 12 years in 2 minutes.  Really, do you think we feel the characters and their conflicts are developed after that?  Really?  Why do you think we ranted about that above?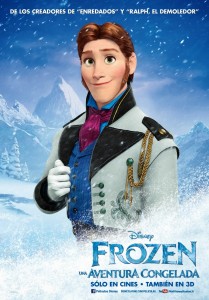 9. Love is WAY too easy.
Love, the driving force behind every plot and tragedy in history.  The driving force behind rebirth, it's like, yeah you get it.  But really, let's be objective here.  Anna falls in love with everything apparently.  As said above, you know from the start that the major female character, that being Anna, is going to go for the stupid mountain man.  They don't even have to introduce him properly,  just showing him on the screen and his elk that acts like a dog is enough.  Why?  Because that kind of thing has been done to Hell by Disney.  But, see, they need to "develop" that.  How?  Well, of course, she instantly falls in love with this other guy, this prince.  Sigh.  Like as soon as she sees him practically.  First glance, sure, heard that one, but they barely talk to each other and then she wants to get married.  So they simply toss out the "guy you'll eventually hate" without much reason for why anyone would want to like him at first.  And, sigh, during the course of the "adventure" Anna will instead fall for the mountain man idiot, because that's what she's supposed to do.  And I know what you might be thinking right now, so save it for the final point in this list, if you please, here we go.
10. NOT subversive.
And that's the big thing.  Frozen has been hailed as "subversive" by many because it supposedly plays with the princess trope and "does something different with it," or because it takes the typical concepts and "lays them bare" to make criticism out of them.  Really?  Well, in watching it we freaking expect everything that actually happens.  Hmm.  First question is then that if it's soooo subversive then why do our female characters act exactly as we expect them to?  Why do the men appear exactly as they always have?  Why do all of the points above hint at everything in this movie being completely obvious or banal?  Everything about Frozen is, in fact, expected, and nothing subversive is ever expected.  Now, the second question is then does that make it subversive?  Because that's what's being argued elsewhere.  In displaying "how not to make a princess movie," has "subversive" been accomplished, or is it simply someone analyzing it and laying that analysis on top of what is, in actuality, a princess movie?
If this were a subversive, self-aware film, then Disney would not be trying to make the entire film in the same way they always have.  Even if we take the "love at first sight" theme at face value as hidden criticism, the rest of the film is still blatantly obvious.  You know exactly who the true love will be, you know love will have a central role, you know the princesses will be pretty, wear nice clothing, you know there will be comedy relief, you know there will be humorous animals with above-normal intelligence, you know there will be songs, etc.  Because, one, it's for children in essence, and two, it's the same freaking thing they've always done.  Making Anna fall in love at first sight has been done in like almost every freaking Disney movie with a freaking princess in it.  And, might I add, Elsa is not set up to be a villain as someone suggested, she's set up in the outcast role, duh, and that's been done a million times too, why do you think Rudy was such an easy sell?  Where in the Hell did anyone get the idea that any of that was subversive?  Go buy the toys, go buy the plates, go buy the cakes, then have a princess party until you're 40 if you think it's something more than it is.  If subversion were the actual goal, then it wouldn't be  a product and it wouldn't have fooled a quadrillion people it was something good like To the Extreme.  Just because something sells, does not mean it's something good.  True subversion is never appreciated for what it is until current opinions are no longer the norm, that's how it's always been.
In the end Frozen is poorly developed, outright boring at times, illogical, broken, full of inane songs, and so forth.  Face it, if you wanted to see a CGI version of Charlie, the Lonesome Cougar, then, well, thankfully we haven't been cursed by anything like that yet.  There's just nothing to be had here, get over it, stop reading into the stupid thing and finding meaning to justify why you wasted time and money.  We, thankfully, only lost the hour-or-so of playing time and a dollar twenty-eight.  Though we did get a good nap out of it, because that's the best it can offer.
Written by Stanley Stepanic