Period: 2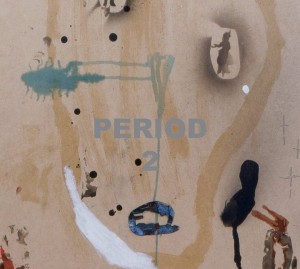 God damn, son, this is good.  There's something naturally frightening about free death jazz (we just made that up) if it's done right, suffice to say this is done right.  Public Eyesore is a wonderful label run basically by one guy that's been dishing out some incredible releases over the years.  The genius of Bryan Day, who runs an incredible outfit of musical weirdness in California, Eyesore (as well as its sub label Eh?) is known primarily for experimental artistry in areas such as improv, acoustic, and the like.  So, it's a little more upper-rung, shall we say, a little more wine-with-cheese than beer-with-wheeze.  Not to say anything negative about all the guttural power we often receive, but it's nice to see this kind of label taking risks and doing something like this, teetering on the edge between classic and strange.  Take a risk that ends up like 2, and the world will thank you for it.  We're currently getting ready to do a nice expose of some of his stuff in a big article, but this one deserved separate attention.  Period is three guys from New York who dabble in free jazz, death metal (with some blackened char), electronics, and glacial rock.  They released a coveted and extremely rare S/T in 2006 you'll never find anywhere, and it's good, it's free jazz/rock.  But this?  This is beast, this is teeth biting down in your skin, this is an entire species wiped out of existence by a single monstrosity.  Check out this sample track (titled "Four") as we get started.
2 is a musical creature of ancient times on many levels, it's the thing you pray to when you pull out the tape deck and cast in something of the avant, no need for the garde part, that's too trite.  This is for the next level of cult worship.  The artistic presentation is pretty typical for the Sore, and that being said something perhaps a bit more fitting would have been nice, because the random, abstract-expressionist thing going on here really doesn't tell you anything about it, and in fact many of the discs he's released look similar to this.  Is it going to be acoustic experimentation, soft noise electronics, what?  It doesn't prepare you at all, at all.  Because 2 is not what it seems.  It really has nothing to do with these splotches of ink with vague suggestions of faces and bodies hidden somewhere in there, it's a much more beastly thing.  It takes the free jazz/rock approach of Period's first incarnation and takes it to the next step in development, with some sickening results.  We're talking the good sick, here, by the way, sign us up without vaccinations, please.
2  consists of seven tracks, three of which are over ten minutes long, the others at least three, but they all go a pretty lengthy distance for this kind of music.  Separating these into songs was perhaps unnecessary in terms of the musical essence, but absolutely required to save yourself from any moment of it, because it's coming without any sense of morality.  There's a harsh, grating presence to the free style at first, but then the drums come in; cavernous echos with off-kilter tempo that create a rumbling that comes and goes, suddenly crashes back into your face again, and then fades as the dissonant chords and atmospheric bass keep going.  It's like the movement of the ocean away from the shore before the tsunami makes a wreck of the place.  That happens by track two (linked above), where Period starts utilizing vocal, as in screams of agony, stuff that would cause the most corpse-painted of "evil" black metal vocalists to shit his pants and turn exclusively to Baptist choir.  Everything lacks a general, purposeful flow, your mind reaches frantically to find something to latch onto, but Period doesn't allow that to happen, oh no, they keep belting you about the brain, ruining all sense of musicality, suddenly bringing some out of the chaos, and then battering it down again like a prisoner in the Gulag who pauses to take a short breath and then is forced to mine for more gold.  It's so rare to hear chaos sound this spectacular.  The screams, the pounding drums, the randomness turned organized terror, the wailing saxophone, it's endless, forceful, it will age you by thirty years by the sheer volume of its power.  2 needs to be an entirely new genre, please, someone make it happen.
Public Eyesore Official Facebook
Written by Stanley Stepanic
Period: 2
Public Eyesore
5 / 5