Nightbringer – Ego Dominus Tuus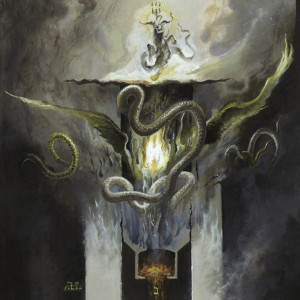 Now here's a type of black metal that needs more representation, and one that raises questions.  Something that goes beyond mere sound quality, elevating itself with the sheer impressiveness of its breadth of concept.  Nightbringer is probably one of the more underrated US black metal acts of the past twenty years, carving a niche into tomb rock for themselves since their four-part split Horde of Darkenwood in 2001.  "Black metal from Colorado?" you ask.  "Yes," we answer.  In comparison to the raw, even hollow sound of most of what was provided from other bands in their first appearance, Nightbringer stood apart and made it clear their variety of pummeling black metal came with something more.  Something extra.  Something forbidden.  Since then they've released several other splits as well as a few full-lengths, but we've only heard them in part.  Still, that was better than nothing, because it's clear one of the special features of these guys is their ability to grow without losing their distinct approach.  You can hear their earlier sound blossoming through each release, not to mention some of the sickest artwork to ever grace black metal, finally culminating in greatness under the control of Season of Mist with this new one here, Ego Dominus Tuus.
What you will find is a refinement of Nightbringer's sound to perfection, perfection in morbidity.  La perfection que la morbidité.  We dare even suggest that you won't think they're from America once you hear it.  In fact, let us cast aside the US BM stigma, now and forever, for Nightbringer has shown us the way.  In terms of their basic approach, which has been essentially retained throughout their career, they utilize incredibly diverse sound structures that are at once cryptic as they are pronounced.  Think of combining the most dark of atmospheres yet driving that forwards with a sound similar to, dare we say, mid-career Dimmu Borgir or similar bands, the kind of black metal sound you'd expect to hear at, ugh forgive us, Ozzfest.  "Dimmu Borgir and Ozzfest?" you respond.  "Correct, we said such things."  They have enough of a balance to bridge two worlds, the plebs and the autocrats, which is an incredible feat.  But, generally, you can expect them to push away the amateurs, because in spite of a drive that will sound routine, the experience of Ego Dominus Tuus is most certainly anything but, in fact we were just using such references to fool the unwelcome into listening without reading further in order to cause their demise.
"Dare ye tread?" would be the question that needs asked here.  Previous questions were merely flavor, this time it's for truth.  This is because Ego Dominus Tuus seems to give an open, safe space for the listener that most neophytes will find welcoming, thinking, "is it something new yet safe?"  It is not, it is merely deceptive.  Once you're two songs in, it's very clear Nightbringer has created new standards for the imagery and sound of black metal.  The corpsepaint, the candles, the darkness, the goat heads, somehow it suddenly appears fresh and vile once again.  Where most black metal bands would take the classic route, here you will find a mixture of such an approach with expansive atmosphere that reaches into our repertoire of terminology to pull out "impressionistic".  Behind what appears like the usual, crushing dirge are walls and walls of texture, boiling over with the absolutely most noxious of sounds.  Nightbringer has found a way to capture the typical mood of black metal at a level that requires experience and almost a higher level of thinking to comprehend.  It draws one in easily with what at first glance is perfection in simplicity, when in fact it's rather perfection in the intricate.  It's the Satanic made avant-garde without losing the attention of the very demographic at which it's directed.  It might be too beyond for some, but take the time to let Ego Dominus Tuus take root, and allow its fronds to sprout from your veins if you seek truth in your black metal.
Nightbringer Official Facebook
Written by Stanley Stepanic
Nightbringer – Ego Dominus Tuus
Season of Mist
4.5 / 5