Valdur – Pathetic Scum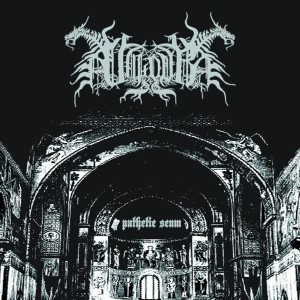 Black metal is often easy to grasp, thematically speaking, as soon as you look at a cover.  Ever hear that old mantra about tanks, or as they call them typically, panzers?  If thou see a tank on the cover, be warned, for it does not deliver the crushing explosions expected.  Well, visually speaking, this one had a whopping six tanks in the artwork on the inside, arranged in an awful half-pinwheel next to Satan heads, followed by some fallen angels or seraphims in the same fashion.  Black and white abounds, there are some Xerox images of the interior of cathedrals, and, yes of course, a logo that is completely illegible and includes two dragon skeletons.  Further, no band name or album title on the spine so you have no clue what it is in your collection, or rather so it hides away among your other black metal, standing out as much as a drop of water in an ocean.  And lo and behold, this album has received some negative press with claims that the music is essentially how it looks.  Though we thoroughly agree with ripping on the rather banal art, never forget, there is music therein.
This one comes courtesy of Bloody Mountain Records, which still refuses to have social media presence, but that's okay because they release some of the most disgusting black metal in their hole in the California mountains and they probably shouldn't have anything to do with social media.  We became something of email buddies with the master behind Sxuperion, who seems to be in charge of the label, but also does session drums on this album.  Seeing that dude and the label were behind Valdur's newest one here said one thing, raw.  Bloody, dripping with stringy sinews, chewy like ligaments, gritty, like fragments of bones they forgot to remove.  Sometimes that's how you need it, that's how you want it.  You refuse to bathe and sit in the depths of your cellar, sniffing black mold lining the walls and entombing yourself in rotting, soaking wet cardboard.  Yes, this type of black metal can make such every day decay all the more enjoyable and truly symbolic, as it should be.
Valdur have been around for almost two decades, but sadly they've been largely overlooked by the black metal plebeosphere for no reason other than it simply didn't happen.  Sometimes that's how it goes, something doesn't catch by virtue of the fact that it didn't, not because it doesn't deserve it.  Considering that, Pathetic Scum almost seems like a self-reflective journey.  If so the artwork's a deep stab at a genre that's largely ignored Valdur, with song titles like "Tank Torture" suggesting they're well aware of what they're doing, purposefully taking on an image that led to stereotypicality in black metal.  Is this a tearing down of that facade by being entirely direct?  Honestly, we're not sure after listening.  Pathetic Scum is raw, so that aspect is clearly there.  You listen to it on the floor of the cellar we already mentioned, smelling the smoke and stains from God knows what in the carpet, as the stereo that dripped blood begins to moan "turn it off, take it out," but you continue.  The blood pours from its cassette deck onto the floor and combines with the stickiness of your sweat, as you allow the ashes of a long-finished drag to light your kutte on fire.  Which makes one think harder on that floor as to whether Valdur is not symbolically sticking a middle finger up the anus and through the throat of the usual black metal fan, tearing apart their tanks, their Satan, their pentagrams, their goat worship.  The only problem with that possibility, is the band isn't clear what they mean, it looks typical on the surface, so it could be entirely the opposite and exactly as it looks, which leaves Pathetic Scum succeeding only through its dark riffing and hauntingly overwhelming vocals.  Valdur prove they're true masters of their craft, with every song having its own moments searing your skin with 666th degree burns.  If self-reflective, Valdur needed to be more clear in that regard because musically it sounds like typical, raw black metal, though easily above-average. These guys could use exposure to prove to the world they're more than the usual, but something tells us they could really care less what you think about them. If so, shout it out next time.
Written by Stanley Stepanic
Valdur: Pathetic Scum
Bloody Mountain Records
4.3 / 5