Regarde les Hommes Tomber – Exile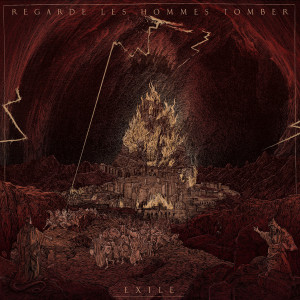 Some people consider us elusive, others bizarre and unnecessary.  Whatever we may be, we always make sure to regard the worst with the most foully derisive of language, and the best with the most confusing of personal journeys through minds that, strangely, have never touched a single narcotic.  Writers who amaze with their unusual prose are cheats if achieved through mind-altering substances, mere hacks who wish that doing opium was still a thing so they could write a sequel (figure that reference out).  We, on the other hand, imbibe music purely. Unlike the addict, we're more like the functional alcoholic, drunk enough that it's a problem, but at the same time quite capable of comparing our wines with some sort of rambling, indirect sense.  This is why we typically never review something yet to be released, because frequently we've been listening to it for months. We let things settle, we peruse, and laugh at, the words of others, and then we sit in front of the android fire (read: propane fireplace) to scribe our experience, letting our own experiences dictate.  As hinted above, we only review the best, the most unusual, or the worst, the most pathetic.  We're constantly at odds with ourselves, two opposing forces coalescing into a single entity that is nothing but a demiurge of music criticism.
One hand is light, the other darkness.  With the hand of light today we write.  The power of this hand is reserved for only the greatest, but this particular release needed not be sampled before our light-hand fingers began to glow with the essence of grace.  For, yes, we have known of Regarde les Hommes Tomber before this day, we knew them long ago, when they were just cocooned in their first release, insect wings growing, piercing the silk, tearing at their bonds until their many-faceted eyes looked upon their soon-to-be believers.  We were one of those supplicants, and luckily they were kind enough to provide us with a rather detailed interview where we first learned a little about their new one, Exile, which now stands before us.
Pleasing it was to our eyes, because the same artist, Fortifem, has returned to continue the band's theme of Christian Decadence.  Collapsing creations of man, hellfire, skyfire, wrathful flames consuming sinners and destroying Purgatory because, well, there's no more room up there for anyone.  The last time, with their S/T (review link above, read carefully next time), their sound was more post-hardcore, which we've said for quite awhile is dominated by the French.  This time, however, RLHT has returned with a wave of dark corruption, leaning heavily towards post-black metal, which we've also said for quite awhile is dominated by the French.  Exile (L'Exil in their tongue) is also more of a journey than their previous.  After a total dirge of an intro that this guy (editor) will have playing at his funeral, the album leads the listener along something like Dante's Inferno, which is really the only part of his Divine Comedy you should bother with because the rest really really sucks, bad.  Knowing the ease of presenting degradation through this process, RLHT takes the listener like Virgil into the rings, but then stops in the middle so all the screaming and wailing from both above and below reaches the point of overwhelming.  The guitars are cold, yet heated with angst and melting strings, the vocals echoing in wide tunnels of wonderful tempo changes.  The only complaint we could find pertinent is that Exile has moments, particular in some of the chording, somewhat close to work in their S/T, but thankfully the overall direction makes that easy to ignore with a thorough listen, once you grasp the complete atmosphere. Thus, going the darker route worked entirely to their advantage. There's very little remaining here of what could be considered post-hardcore, but yet it plays the line so well it's almost something new. But hey, we don't need any more genres, so all we want to know, Heavenly Father, who art now in the fires, what will they craft next?
Regarde les Hommes Tomber Official Facebook
Written by Stanley Stepanic
Regarde les Hommes Tomber: Exile
Les Acteurs De L'Ombre Productions
4.7 / 5