Ectoplasma – Cavern of Foul Unbeings (90s Skeleton Blood Pile)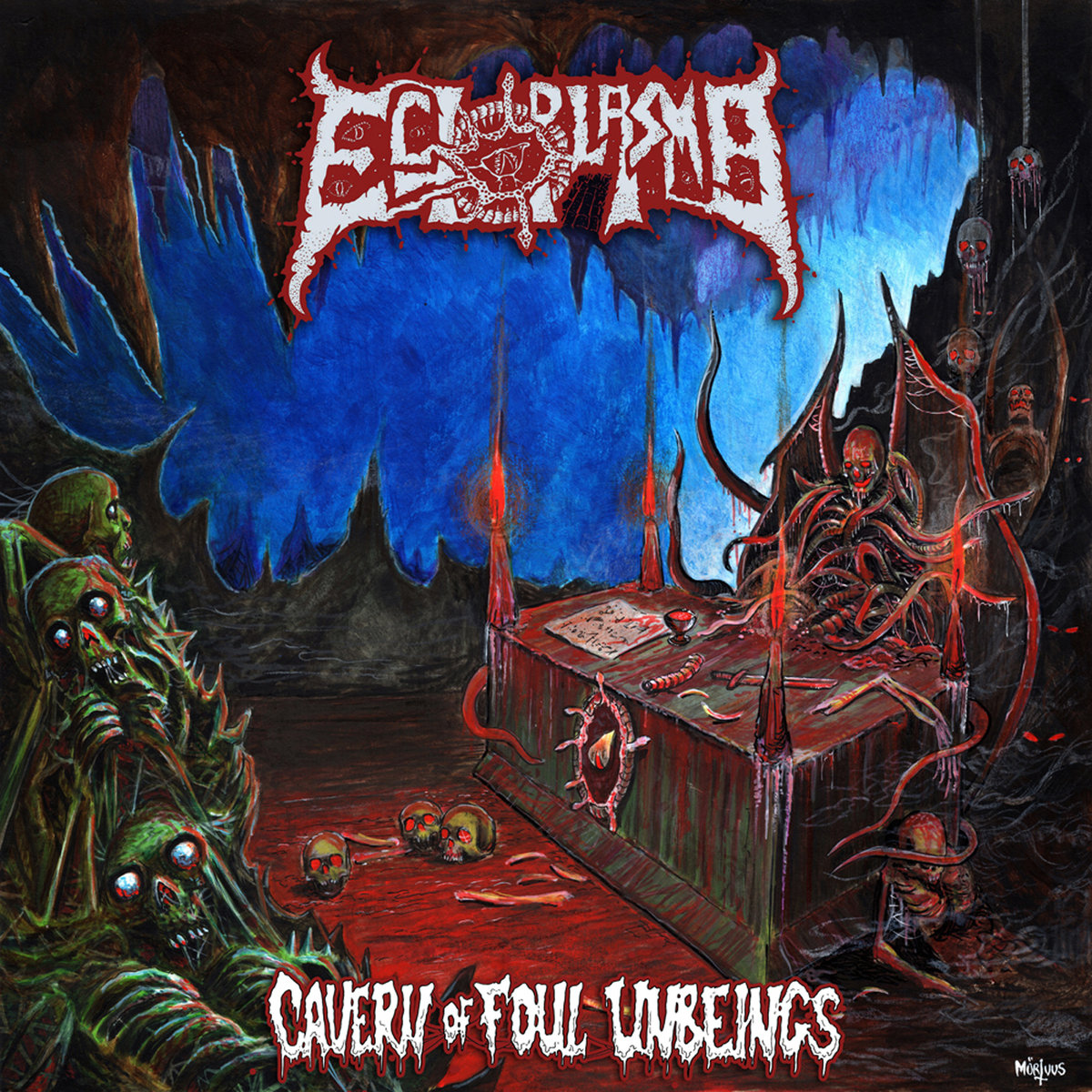 I've been hearing some great Greek metal as of late, and let's add this one to the list. Actually make that sort-of. Maybe a footnote, or a parenthetical mentioning, or maybe a margin scribble. First off, that name, Ectoplasma. It's possibly one of the greatest death metal band names ever conceived, even though they're not the first band to do it. Recognizable and clever, in a sense, always good, though it doesn't  necessarily translate to any real meaning when you listen to it, which is why I said it's only a possibility this is the greatest of names and adds further reason to footnote the band. Let it also be known this is only the second Greek death metal band I've ever reviewed since the new site launched in 2013, so don't think I'm being too harsh. If you know how I recently streamlined my review system to focus on only the best, or the worst, with sick good art, you should know how much of an achievement that is now. Ectoplasma, be proud of yourselves, for you are not of the worst variety, at least not entirely.
Add to the band name that art, by Raúl Fuentes (Mörtuus-Art), with lots of blood and various slithering things among green skeletons, and you're about to go full 1990s sir or madam. Get it yet? That's the thing about Cavern of Foul Unbeings, it's rooted entirely in a fallen era. Had you told me this was a set of unreleased tracks by Cannibal Corpse, Suffocation, or some similar band, and I don't like to admit I've listened to them in the first place, you know, I wouldn't be sure whether or not you were lying, except the fact that I know such bands well enough to pull differences from out of similarities. This brings us to an impasse. On which side do you stand? For whom do you run into battle? There are some who laud the sound of Cavern of Foul Unbeings as true death metal, but yet there are others who consider the era dead and best left to nostalgic swoons we all deal with from time to time. I'll admit it, I do listen to Cannibal Corpse, on occasion, and some others, and that's good enough. Still don't get it? I can appreciate the sound of Ectoplasma on this, and other releases where they're doing the exact same thing, but it most certainly has nowhere to go, it can only stay stuck in place. Until those sweeping the dust from this kind of music stop, there will always be a market for it, but this is not in itself a reason to listen outside of a few cool moments.
Written by Stanley Stepanic
Ectoplasma: Cavern of Foul Unbeings
Memento Mori
3.6 / 5