Ill Omen – The Grande Usurper (Okkvlt Black Metal Ritvalz)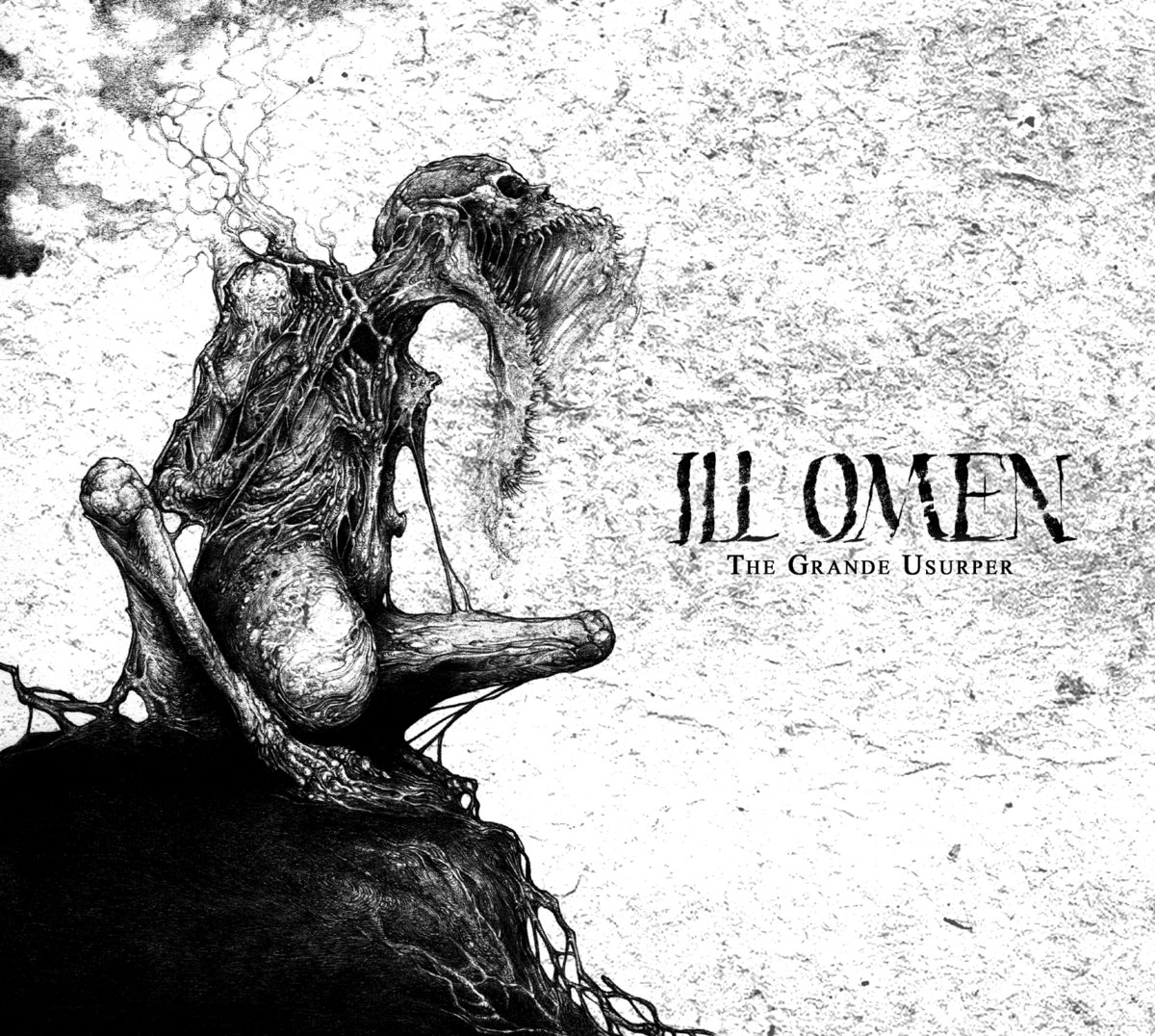 Here we have the latest release by occult black metal mystery Ill Omen, who hails from New South Wales, Australia. The Grande Usurper was released on Iron Bonehead Productions, well known for all that is underground kvlt for superior provincials. And if you're reading this well that's you, whose expected metal offerings demand the occult and a soundtrack for ritual sacrifice a little bit more peppy. There is the requisite amount of drear and gloom to make this EP satisfying and just enough edge to satiate a desire for something new but familiar, and the bloated skeleton larva on the cover doesn't hurt.
In The Grande Usurper the chord structures, rhythm, and vocals are typical, but incredibly tight with a well-balanced recording where nothing really stands out of place. Essentially, the album isn't shit. It clocks in around 30 minutes and pace-wise it's an easy sit-and-listen because the music hits all the right metrics for cliché without being cliché. Ill Omen has no trouble at all issuing authenticity. The first track, "The Ruinous Drear" starts off with a gong, a little dumb, but cool in a "heralding for satanic worship" kind of way. What stands out is the ripping lo-fi solo that screams from the background; a bit disorienting because it doesn't actually sound like a guitar on first listen but the effect is utilized very well throughout. He/she's also not overly reliant on synths or pads to produce atmosphere, either, which is a bonus and reduces the cheesy factor to black mold. "An Eld to Living Darkness" is the centerpiece. It makes use of all the best parts of The Grande Usurper with intelligent craftsmanship, killer guitar sounds, cathedral vocals, and a quiet, thin layer of drumming in the background for tempo. I'm glad this is a 30-minute EP, however, because too much more and I'd get bored as there is little wavering from baseline. But too little and I'd definitely want more to escape the drear of life. I anticipate more great offerings from this one-man occultist and I look forward to hearing the next.
Ill Omen is TOO COOL for Facebook
Written by Nick the Indefinite
Ill Omen – The Grande Usurper
Iron Bonehead Productions
4.2 / 5