Empathy, Inc. (Empathetic Exploitation but in Sci-Fi)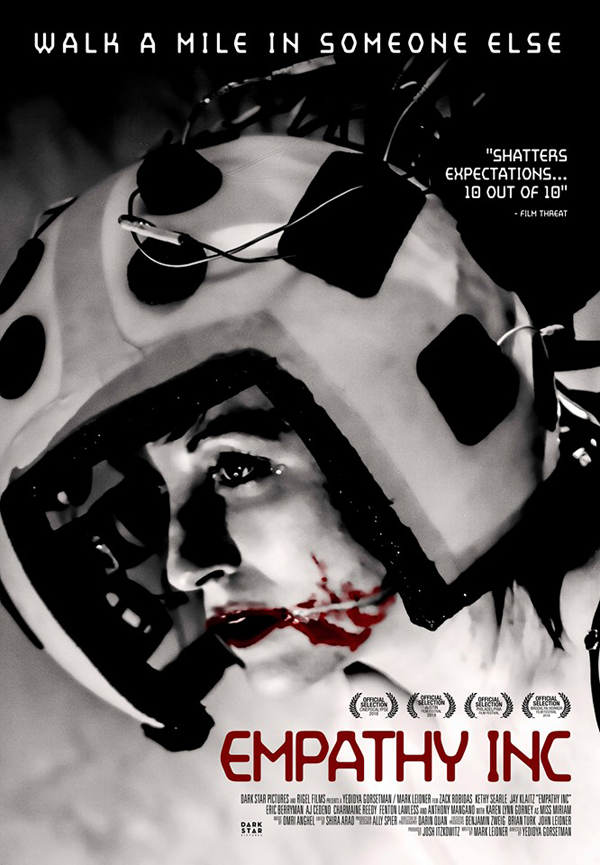 Imagine a virtual reality where you can smell and touch. Commit murder without repercussions, indulge in your deepest fantasies without waking up sore, cleaning up the mess or checking for an STD. Empathy, Inc. is the second film from director Yedidya Gorsetman with writer Mark Leidner, a brilliant sci-fi thriller that takes a look at our obsession with the constant progression of technology, even though sometimes things can be too good to be true. Desperate to bounce back after being fired Joel (Zack Robidas) persuades his father in law to invest in a start-up company called "Empathy, Inc." who are developing XVR (Xtreme Virtual Reality); a new VR experience where the wealthy can experience the life of someone less fortunate. When Joel begins to investigate, however, he finds there's something more sinister and the reality is it isn't virtual.
Filmed in black and white with low budget sets, Empathy, Inc. is something like the original The Twilight Zone series with several darker twists. Beautifully shot it incorporates a classic noir style both in the execution such as the stark lighting and visual distractions, and the story, which has several intricate plots which evolve around protagonist Joel to keep you engaged, with creative cuts maintaining the mounting intensity and an impressive cast that maintains believability. This works especially well in the later scenes as the events start to become more surreal. In the end, what seems to be a way to understand the self better is a form of exploitation are so the rich can for fill their fantasies without consequence and Joel finds that the experience may have made his life too real.
Empathy, Inc. Official Facebook
Written by Phil the Reviler
Empathy, Inc. (2019)
Yedidya Gorsetman (director), Dark Star Pictures and Oration Films (distributors)
4.8 / 5